Compare Our Boats
Compare all of our boats in one easy to read chart! Includes the MiniCat Guppy, MiniCat 310, MiniCat 420, MiniCat 460, XCat, Happy Cat Neo, Happy Cat Evolution, and Happy Cat Hurricane.

MiniCat GUPPY

MiniCat 310

MiniCat 420

MiniCat 460

X-Cat

Reverso AIR

Happy Cat Neo

Happy Cat Evolution

Happy Cat Hurricane

SmartKat

Hobie 16

Hobie Wave

Hobie T2

Hobie Getaway

LOA

9' 10"

10' 1"

13' 9"

15' 1"

16' 5"

11' 2"

13' 9"

15' 3"

16' 4"

13' 9"

16' 7"

13'

16'

16' 7"

BOA

4' 11"

4' 7"

6' 11"

7' 3"

7' 2"

4' 9"

6' 7"

7' 3"

7' 7"

7' 2"

7' 11"

7'

8'

7' 8"

Weight

57.3 lbs

77 lbs

97 lbs

128 lbs

165 lbs

163 lbs

130 lbs

174 lbs

187 lbs

97 lbs

320 lbs

245 lbs

388 lbs

390 lbs

Mast Height

12' 11.5"

12' 5"

16' 7"

20'

14' 9"

16' 6"

20'

20'

15' 9"

26' 6"

20'

16' 6"

25'

Sail Area (Jib + Main)

42 ft²

55.4 ft²

104.4 ft²

124 ft²

(129 ft² Gennaker)

90.5 ft²

64.5 ft²

97 ft²

118 ft²

118 ft²

107 ft²

218 ft²

(161 ft² Spinnaker)

176 ft²

(75.3 ft² Spinnaker)

180 ft²

Crew Size

1 - 2

1 - 2

1 - 4

1 - 4

1 - 3

1 - 2

1 - 4

1 - 4

1 - 4

1 - 4

1 - 2

1 - 4

1 - 4

1 - 6

Hull Material

Heytex 5509

Heytex 5509

Heytex 5509

Heytex 5509

Extruded HDPE

Fiberglass / Polyester Composite with Carbon Reinforcements

1000 dtex

1000 dtex

1000 dtex

PVC

Fiberglass

Rotomold Poly

Rotomold Poly

Rotomold Poly

Carrying Capacity

518 lbs

529 lbs

992 lbs

1,212 lbs

551 lbs

400 lbs

772 lbs

1102 lbs

1323 lbs

992 lbs

800 lbs

529 lbs

529 lbs

1000 lbs

Custom Sails

-

-

-

-

-

-

-

-

-

-

Supports Outboard?

-

-

-

-

-

-

Setup Time

10 Minutes

25 Minutes

30 Minutes

40 Minutes

12 Minutes

< 5 Minutes

~30 Minutes

~40 Minutes

~40 Minutes

~30 Minutes

~45 Minutes

~20 Minutes

~20 Minutes

~20 Minutes

Keel Type

LAR Keels

LAR Keels

LAR Keels

LAR Keels

-

Sabre Daggerboard

Centerboard

Centerboard

Centerboard

Centerboard

Assym Hulls

Assym Hulls

Assym Hulls

Assym Hulls

Available Here?

-

-

-

-

-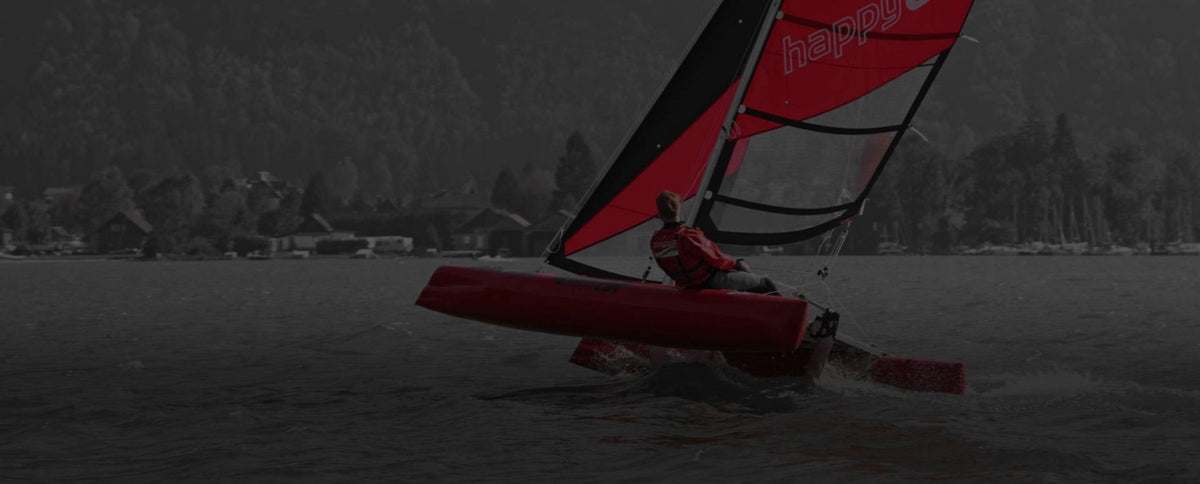 Are you on the hunt for a new sailboat, and not quite sure where to start? As boat-people ourselves, we believe in finding the perfect fit for your sailing needs. With a couple of simple questions, we can pair you with the right vessel from our curated product line. Whether it's an open water adventure, your maiden voyage, or family vacation cruiser, we've got the perfect boat for you.
Top Priority
When considering your new boat, what is most important?
Second Priority
What else is important to your boat consideration?
Find My Boat