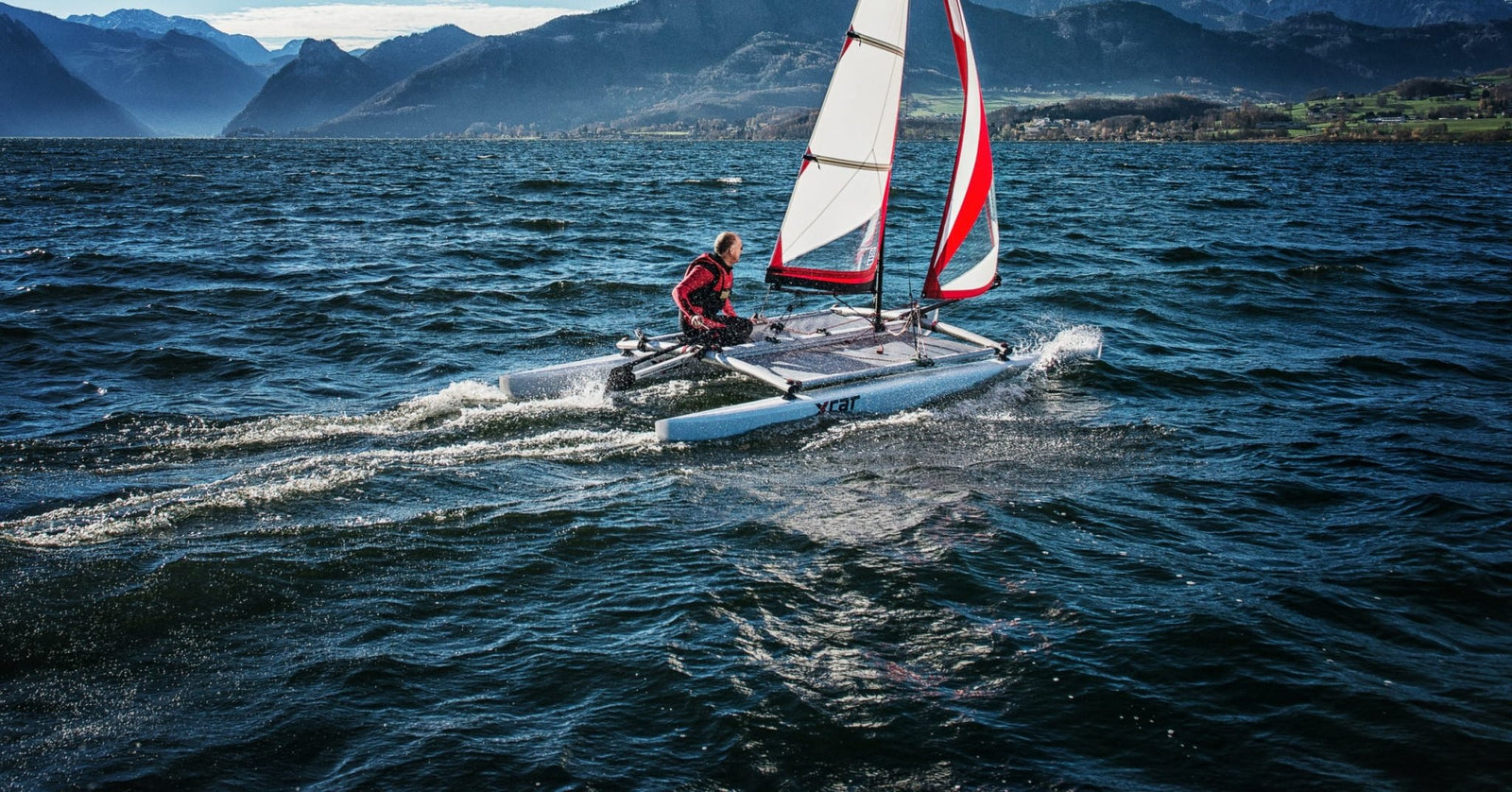 MEET THE MULTI-SPORT CATAMARAN THAT CAN BE
XCAT
ROWED & SAILED, AND ASSEMBLED IN UNDER 10 MINS
XCAT


MULTI-SPORT CATAMARANS
In 2017 the XCAT Sail took home Sail Magazine's, Best Boat Award for Best Day Sailer.
Whether sailing, rowing, stand-up paddling or motoring, the XCAT is the perfect multi-sport platform. This boat is simply enjoyed thanks, in part, to its ease of assembly and transport. Simply unload it from your roof rack or truck bed and assemble it in only a few minutes with no tools. The XCAT is the perfect fit for anyone looking for a portable sail or coastal rowboat and aren't interested in fussing with inflatables or trailers.
A winner of SAIL Magazine's 2017 award for Best Day Sailer, the XCAT combines versatility, portability and performance in a way that no other boat on the market can. From capturing high winds with XCAT Sail, or leveraging the forward-facing RowVista® or rear-facing RowMotion® rowing mechanisms with the XCAT Row, the XCAT opens up a whole new world of adventures.
THE XCAT'S DESIGN IS COMPLETELY
MODULAR
To create a boat as versatile, portable and unique as the XCAT, the cracked team of engineers at Row&Sail developed a boat that can be accessorized with a modular platform. But what does that mean for you? The XCAT starts with the XCAT Basic, you can then configure the boat with accessories to set it up as a 1-2 person SUP, a sailboat, a rowboat (with traditional or forward facing styles) and a motor boat (up to 3 hp outboard). But it doesn't stop there, the XCAT has a trick of it's own. It can be configured with all of these functions at the same time! You can even switch between functions while out on the water. Switching from rowing to sailing (or vise versa) takes less than 60 seconds!! No production boat on the market offers this many functions, and the XCAT delivers by doing each function very well.
Scroll down to explore the unique modular configurations of XCAT.
01

THE XCAT BASIC

Whether you are planning to use the XCAT as a rowboat, a sailboat, or better yet, both, it all starts with a great platform—the XCAT Basic. Made from only 5 parts, the XCAT Basic is easy to transport on the top of your car or SUV and assembles in about 2 minutes or less. The frame is durable and lightweight, made from anodized aluminum for durability and corrosion resistance against seawater. The hulls, which are the single heaviest component of the boat at 38 lbs each, have skins made from a sheet of recyclable HDPE. The sheet is thermoformed into shape then filled with floatation foam—this combines for a portable and unsinkable boat.

While we don't offer the XCAT Basic as a standard offering, we are happy to special order one for you. Click to link below to inquire about the XCAT Basic.
02

THE XCAT SAIL CONFIGURATION

So you like to go fast—like really fast—like 15 knots fast? Behold the XCAT Sail configuration. In this sailing configuration, the XCAT Basic gets a short mast and a generous sail area that provides plenty of speed with just a little bit of wind. The mainsail generates high-power thanks to its proprietary loop system. Not only is the XCAT Sail fast, but it's also the most stable boat we sell, capable of handling big water and bad weather, with a built-in, heave-to feature that will work even in the strongest of winds.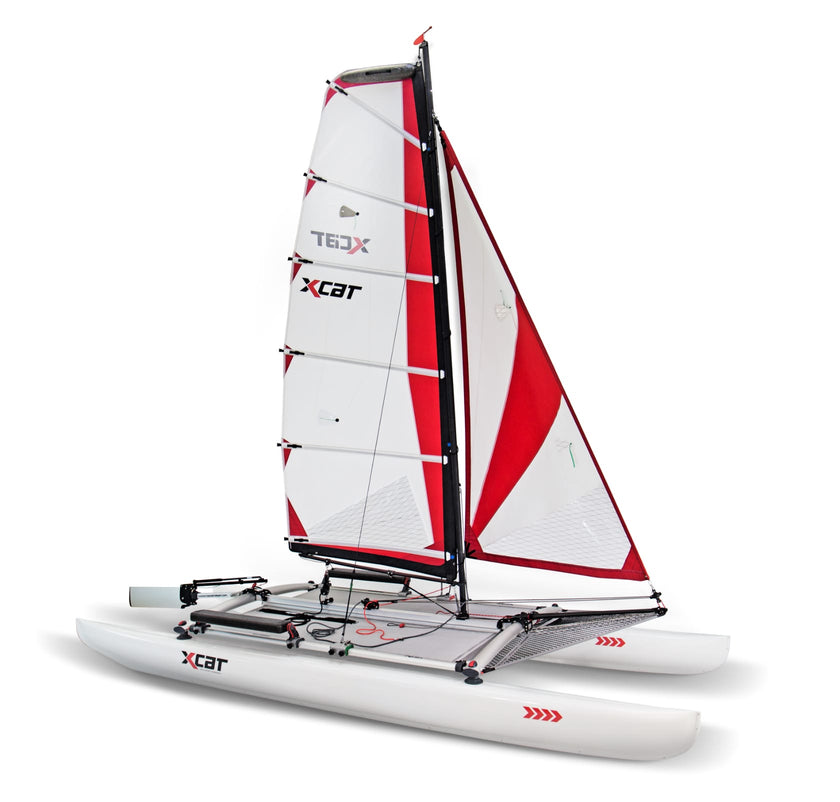 With a tool-free assembly time of just 12 minutes or less (Red Beard Record is 7:30), you'll be on the water in no time. To explore the XCAT Sail configuration, click the link below.
03

THE XCAT ROW CONFIGURATION

Here's where the flexibility, versatility and unique functionality of the XCAT's modular design system really shines. The XCAT Row is a smooth and stable rowing platform, thanks to being built atop the lightweight XCAT Basic. At Red Beard Sailing, we've pre-configured the XCAT Row into three different packages: the XCAT SUP, the XCAT RowMotion (available with or without oars) and the XCAT RowVista, our proprietary forward-facing oar system, to accommodate your rowing/paddling style.

XCAT SUP
The XCat SUP lets you stand up and paddle for fitness or fun. The catamaran stability, coupled with the optional tiller-fix accessory helps keep you on track whether you paddle alone or with a friend.

XCAT ROWMOTION®
The XCAT RowMotion is a traditional rowing system—available with 2-piece carbon fiber oars—that takes advantage of the catamaran's stable platform resulting in a safe, comfortable ride. The XCAT RowMotion comes outfitted with Concept2 oarlocks which allows you to use your own oars if you'd like!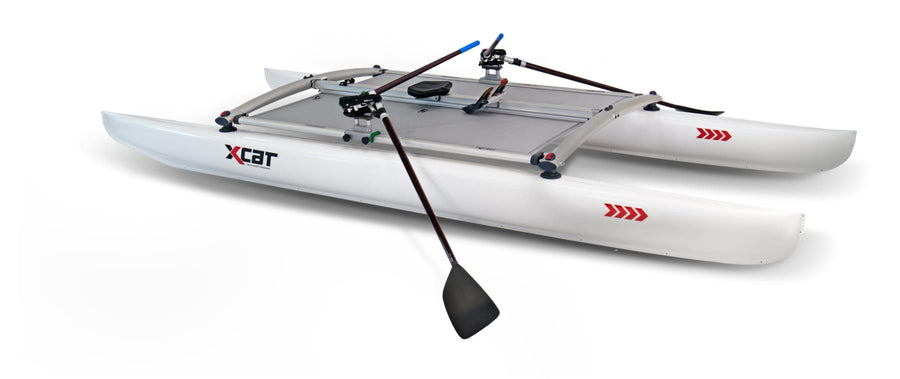 XCAT ROWVISTA®
The XCAT RowVista is an award-winning forward rowing masterpiece that not only allows you to row in the direction you're facing, but with an optional add-on sailing kit, you can both row and sail (downwind) at the same time.
Boat Specifications
Sail Area (Jib + Main)
90.5 ft2
Keel Type
Full-Length Keels
RowMotion Option Oar Length
115"
RowVista Option Oar Weight
8.5lbs each
Assembly Time
3—12 mins (depending on model)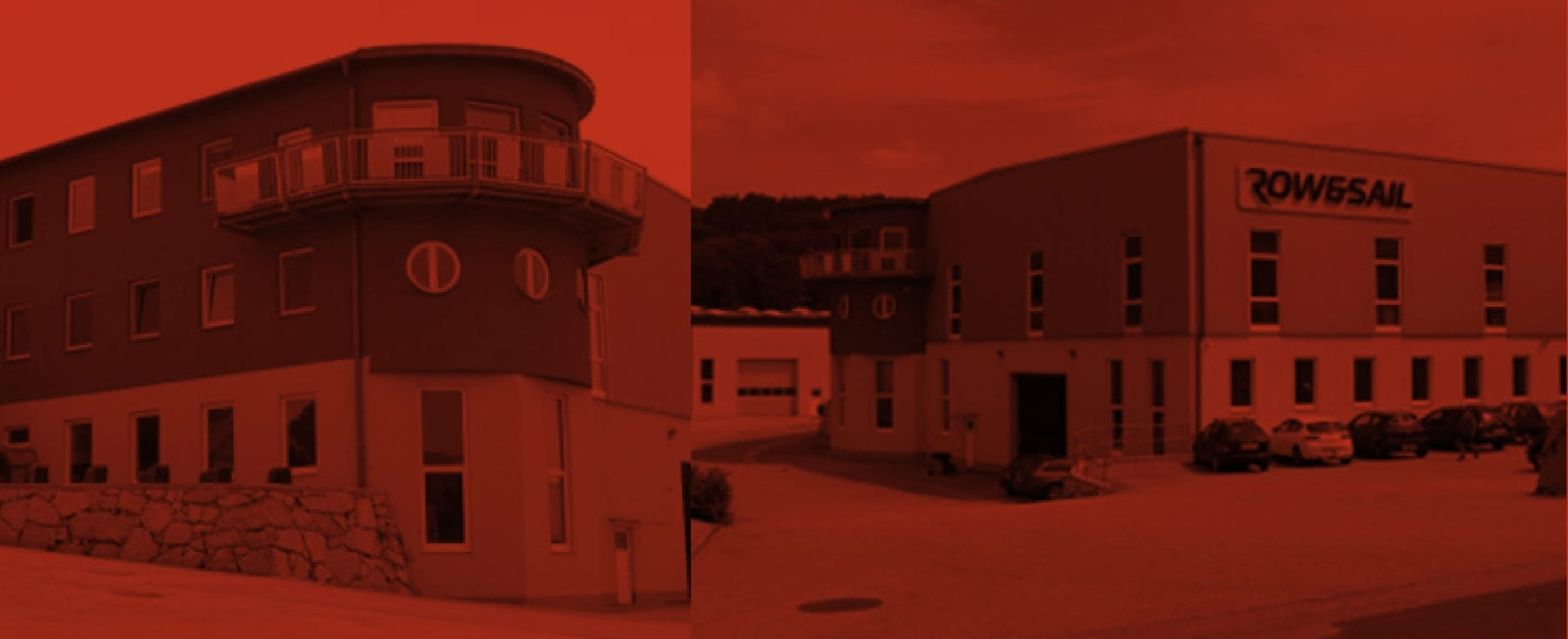 As the perfect multi-sport catamaran, XCAT has taken everything you know about boating and flipped it on its head. It is the ultimate sailing, motoring and rowing machine all rolled into one amazing boat.
XCAT
ENGINEERED FROM THE GROUND UP
The XCAT Story
Jochum Bierma, founder and developer of XCAT, was motivated to put sailors and individual customers first. The end goal: to have as much fun as possible while being equipped to discover something new every day.
To drive this innovative product, the XCAT team focused on selecting quality materials and then put those materials through rigorous testing to ensure that even the most skilled and daring sailors would be satisfied with the end product.
The result is an award-winning ultra-portable, ultra-lightweight boat designed for sailing, rowing and outboards.

Industrial Series Production
XCAT production control is held to the highest standards. The unsinkable hulls are filled with EPP foam and are made using production machinery that was designed specifically for XCAT. The unique hull manufacturing process in expanded polypropylene is proprietary to XCAT.

The Everglades Challenge
Red Beard himself sailed the XCAT in the 2018 Everglades Challenge. In his journey he experienced 20-30 knot winds and 6-8 foot waves. He also camped aboard and poled out the genoa with a SUP paddle to row and sail down the ICW and Lemon Bay. The XCAT performed beautifully, beating every Hobie Adventure Island and Tandem Island to CP1. Click here to read the whole story.
Enthusiasm and Innovation
We're not overstating when we say the XCAT development is a feat of engineering. The XCAT team was dedicated to providing an experience that exceeded expectations in all aspects of boat ownership. The result is the world's first hard-hulled catamaran that can be transported on the roof of your car and assembled in 12 minutes—all without sacrificing quality or performance.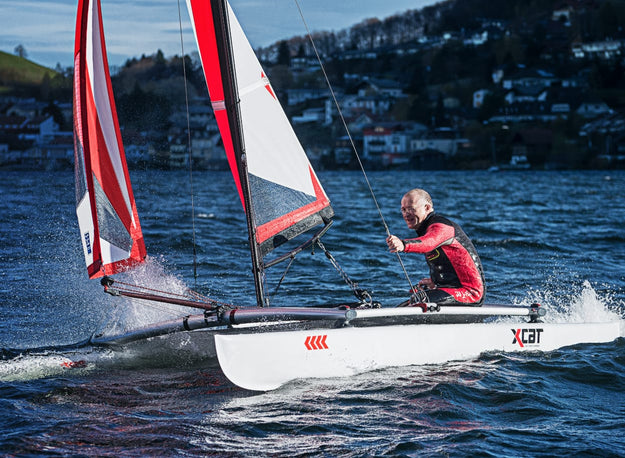 The XCAT combines versatility, portability, and performance in a way that no other boat on the market can. From capturing high winds with XCAT Sail to leveraging the forward-facing RowVista and rear-facing RowMotion rowing mechanisms, The XCAT opens up a whole new world of adventures.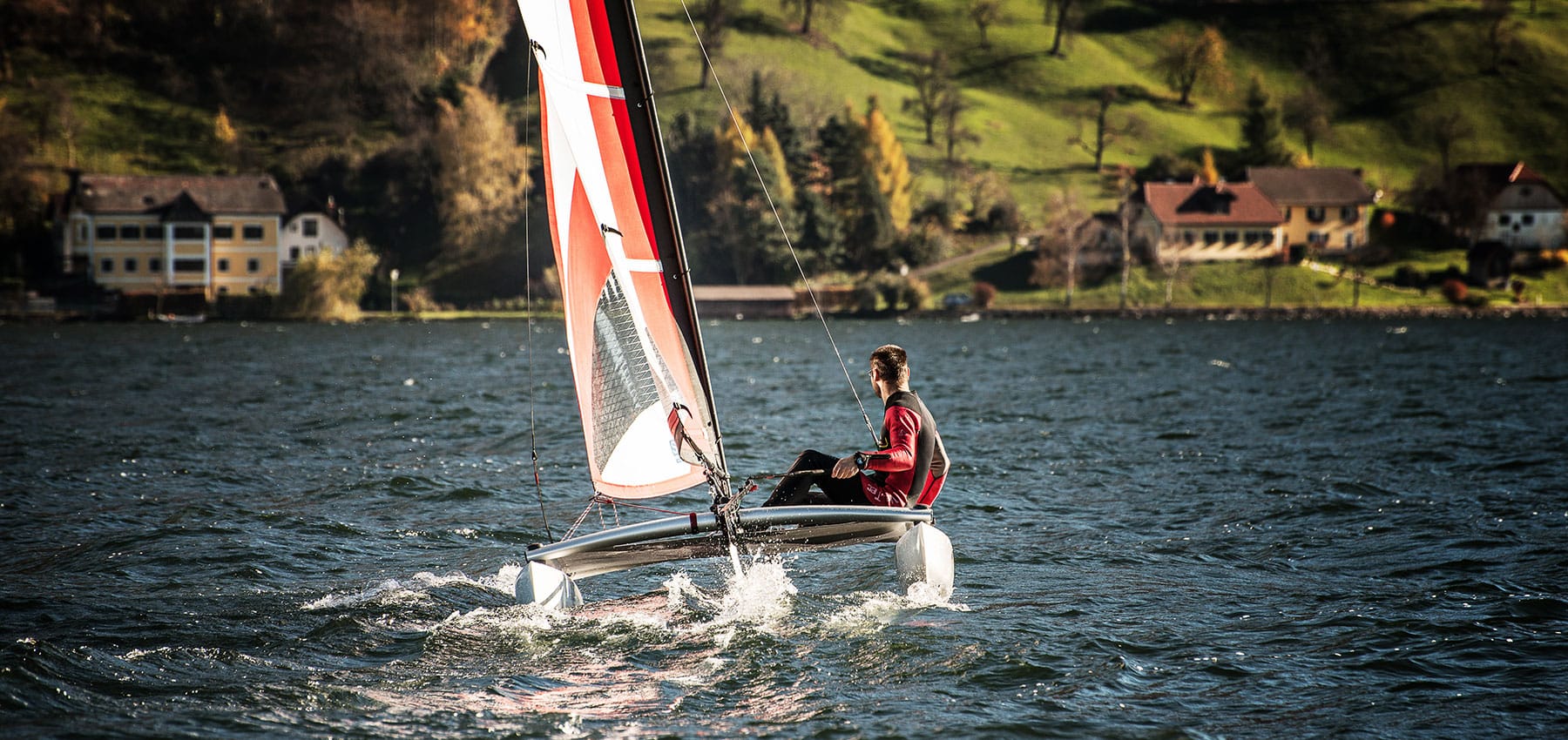 The XCAT Warranty
The XCAT provides a 2-year warranty on fabrication defects. This warranty does not cover normal wear and tear of parts and components.
For more information on the warranty, reach out to the Red Beard Sailing team. We're happy to answer any questions you have!