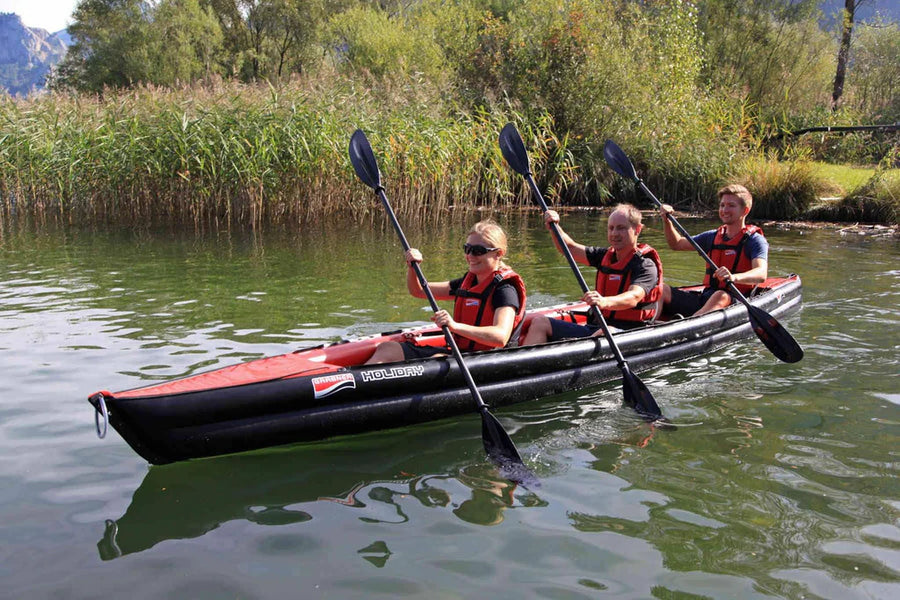 The way in which Grabner boats perform in the water is beyond impressive. And today, we're going to take an in-depth look at the science behind these inflatable whitewater canoes' design and durability. You'll learn what makes these boats special - and why they are a worthy consideration for anyone seeking the absolute best inflatable canoe. 
Before we get into Grabner, specifically, let's take a quick look at how the anatomy of a canoe affects its overall performance, stability, & durability. Then, we'll explain the science behind Grabner's revolutionary inflatable whitewater canoe design.
How the Anatomy of a Canoe Affects Performance, Stability, & Durability
Our canoe buyer guide is an incredible resource. It covers in great detail everything you need to know to help you choose the right boat for your unique preferences, application, and budget. We encourage you to take a look if you haven't already. But right now, we're going to take a deep look into the anatomy of a canoe - particularly, inflatable whitewater canoes. How do the specific construction and design of a canoe affect the performance, stability, and durability of a boat? 
The anatomy of a canoe, particularly the hull design, has a direct impact on the stability, speed, and capacity of the boat. For example, a flat-bottomed canoe will be more stable than one with a V-shaped hull. However, the flat-bottomed canoe will also be slower and won't track as well in the water. The V-shaped hull will provide better tracking and speed but won't be as stable.
The width of the canoe also plays a role in stability and capacity. A wider canoe will be more stable but may not paddle as smoothly or efficiently through the water. A narrower canoe will paddle more smoothly but may not be as stable.
The length of the canoe also affects speed and capacity. A longer canoe will be faster but may not be as maneuverable. A shorter canoe will be more maneuverable but may not track as well or go as fast.
The material of the canoe directly affects its durability, too. You may not immediately think of inflatable canoes as particularly "durable" - but this is a common misconception. In fact, inflatable boats are perhaps stronger and more puncture resistant than their tin or fiberglass counterparts. The degree of durability comes down to the materials. Some brands and models - like Grabner - use EDPM tire rubber, which is as strong as it gets.
As you can see, the anatomy of a canoe is a bit of a balancing act. To achieve stability, you may have to compromise on maneuverability and speed. It's rare to find an inflatable whitewater canoe that offers the best of all these worlds - speed, maneuverability, stability, and durability. 
And yet, somehow, Grabner has done it. Their entire range of inflatable boats has been thoughtfully designed and manufactured to exceed expectations. Without any further ado, let's take a look at the science behind their whitewater canoe design.
The Science Behind Grabner's Inflatable Whitewater Canoe Design: 6 Characteristics That Set it Apart 
There are many reasons Grabner's boats stand alone in the inflatable whitewater canoe industry. But, really, it all comes down to their unique whitewater canoe design and construction.
Today, we're going to highlight 6 characteristics that set these inflatable whitewater canoes apart from the rest. The first is the intuitive raised bow-stern design consideration.
Raised Bow-Stern Design Offers Astounding Agility
When you look at the design of the Grabner Outside Whitewater Canoe, you'll notice an interesting design element that you may not have seen on a boat like this before: a raised bow & stern. 
This short water line design is the ideal shape for agility. Changing direction throughout winding whitewater passages is effortless. Steer stern first and glide through the most intense white water waves with ease - barely getting into contact with any spray along the way!
Unparalleled Strength & Durability Starts With EPDM Tire Rubber & Hot Vulcanization Process
Earlier, we touched on the fact that a quality rigid inflatable whitewater canoe will actually exceed the strength and durability of its hardshell counterpart. And this starts with EPDM tire rubber - coupled with a hot vulcanization process. 
Grabner uses this EPDM material as a part of their triple-layer boat skin. This is because it is age-resistant, ozone-resistant, seawater resistant, and color-proof. This is paired with a high-strength backing fabric which distinctly outweighs steel in strength and weight ratio. Then, the inner surface features a mixed compound lining of natural butyl caoutchouc - providing sufficient air tightness and flexibility. 
Together, this triple-layer boat skin creates an abrasion-resistant, weather-resistant, and UV-stable material. Due to the unique hot vulcanization process that brings all this together, firm seam connections are created for permanent high operating pressure. The end result? The most durable, dependable inflatable whitewater canoe in the industry. With proper storage and maintenance, this style of boat will be in good condition 25 years down the road. PVC boats don't even compare.
These Vessels are Handmade With Incredible Care & Attention to Detail
To further add to the durability of these inflatable whitewater canoes, Grabner makes their boats by hand in Austria with incredible care and attention to detail. These craftsmen are among the best in the world and have hundreds of thousands of boats behind them in terms of experience. 
As a result, you can trust that no detail is left unconsidered not just in the design process - but in the actual construction of these boats, too. 
This Particular Whitewater Canoe Design Eliminates the Risk of Sinking
Whether you're hitting class-5 whitewater rapids or just floating the lake with a group of friends on board, the importance of stability cannot be overlooked in an inflatable whitewater canoe design. This is another area the Grabner lineup shines.
This particular design virtually eliminates any risk of sinking. You already know by now that the material itself is puncture-resistant - so you don't have to worry about that. But the folks at Grabner took things a bit further when designing this particular whitewater canoe. 
Due to the highest airtightness (through the vulcanization process we discussed earlier), the buoyancy always remains intact. This is due to the large volume of air that sits within the inflatable boat. Never worry about sinking or capsizing again! 
Generous Dimensions & The I-Beam Bottom Create Stable Tracking
Grabner boats are thoughtfully designed with generous dimensions - balanced to offer the perfect combination of stability and speed. Meanwhile, you have ample room to spread your legs or stow some luggage/gear. 
And, the lineup features a directional stabilizing i-beam on the bottom and steering device. These work together to keep the boat on track, getting you headed in the direction you want to travel - effortlessly. 
Smallest Packing Size & Footprint for Effortless Travel or Storage
Perhaps the most important design feature of the Grabner boat series is the tiny footprint upon deflation and breakdown. This makes it easy to store the boat in tight spaces - or to travel with.
The entire boat breaks down into a single bag so you can store it under your bed, on a shelf in a closet, or anywhere else you've got a bit of space - you don't need much.
When exploring new destinations with Grabner,  you can throw it in the trunk of your car, place it in an overhead bin on an airplane/train, or even sit it next to you in an Uber. 
Comfortable, Versatile Design for Any Application
One final design element we want to touch on is in regards to the versatility these boats offer. Through a combination of slanting seat boards and a narrow inside beam, you can kneel comfortably while maintaining a good grip and contact with the boat. 
While it's true that capsizing is virtually impossible, Grabner incorporated an additional layer of safety: the slanting seat boards fold up to help s an easy, quick escape. Meanwhile, a D-ring underneath the seat board helps you strap in - or stow luggage!
Moreover, the trim is flexible so you can match the exact loads and water conditions on any given day. With a continue eyelet strip around the entire boat, you can even add additional seats if necessary. 
In terms of application, Grabner boats can do it all - powered by an oar, paddles, rudders, or a motor. While today's discussion is specific to inflatable whitewater boats, these revolutionary canoes perform in lakes or at sea, too. To optimize the performance of your Grabner boat for a specific use-case, you can customize it with ease.
One final design feature we want to mention is the self-bailing drain. This unique addition to the anatomy of this whitewater canoe helps you drain off spray when traveling forward without having to stop and empty the boat. When traveling in calm waters, you can retract and seal the drain altogether. 
Additional Reasons You Can't Beat the Grabner Inflatable Whitewater Canoe's Value
That concludes our breakdown of the anatomy of a canoe made by Grabner. By now, you can see what separates the whitewater canoe design they've implemented from others.
But, the performance and durability of these boats isn't the only reason they're the premier choice in the industry. Here are a few others…
Environmentally Friendly & Sustainable 
One of the best parts about investing in a Grabner boat is that they're highly environmentally friendly and sustainable. You can feel good about treating yourself to one of these canoes, kayaks, or rafts and hitting the water regularly. Here are a few highlights on the eco-friendliness of these boats:
PVC-free

: the renewable, natural rubber contains no toxic plasticizers, poisonous chlorine, or other harmful compounds (for you or the marine life).

Strict manufacturing standards

: Grabner boats adhere to the strict EU environmental standards in all of Germany.

100% recyclable

: the entire boat skin can be recycled at end of life (25+ years under the right conditions), recovering 95% of the primary energy.
Exceptional Customer Service
Another Grabner benefit is that you can enjoy peace of mind knowing they have your back. Should you ever experience problems or have questions about your boat, their staff is on standby ready to take care of you personally. 
Long Lasting, Economical Choice
As we've mentioned a few separate times at this point, Grabner boats can exceed 25 years of useful life. That alone is a testament to what a long-lasting, economical choice these boats are. But, that's not all. The resale market for these boats is incredible. Even used Grabner boats are in high demand - and you can find a new owner for your boat in no time if you decide to upgrade down the road. Talk about a great investment. 
Wrapping up our Breakdown on the Science of Inflatable Whitewater Canoe Design & Durability Considerations
At this point, you should be left with no more doubts surrounding the performance, safety, and durability of Grabner's whitewater canoe design. Whether you want to embark on a whitewater rapid expedition or you're just looking for something you can use to explore the best fishing spots in the USA, this is an excellent consideration. 
Despite the wonder of Grabner boats, they're not the only inflatable watercraft we offer here at Red Beard Sailing. You'll find a wide range of small catamaran boats - including Takacat boats, Minicats, and more. Explore all our portable inflatable boats today and start experiencing the water in all its glory!