$6500
Buy today or finance with Bread
click Finance below to Learn More.
Forward rowing, backward rowing, or SUP, the XCAT Row configuration does them all flawlessly.
 
XCAT RowVista®
With traditional rowing, you are pulling the boat backwards, and your line of sight is opposite of the direction in which you are traveling. With RowVista, you're pulling the boat forward, and your line of sight is forward so you are facing the direction you are headed, much like driving a car or operating a powerboat. You will feel the breeze in your face and you can row at a relaxed pace without fatigue. Moderately fit people can row much farther than they think with RowVista.
If you want to be able to row forward and sail at the same time, choose the RowVista System from the dropdown menu on the left and add an XCAT Sailing Kit from our accessories below.
XCAT RowMotion®
The XCAT RowMotion uses a classic reverse rowing motion—the way that it's been done since rowing was invented. The stable catamaran design provides a smooth safe ride on the water while an adjustable stop limits movement to the rear so that you can row without using foot straps. This is extremely beneficial if you want to row in flip flops or barefoot in the summer.
The XCAT RowMotion is available with or without oars. Choose the option that best suits your needs from the dropdown menu on the left.
XCAT SUP
The XCAT is a super stable platform for stand-up paddling. This boat can easily be walked around on and even surfed in waves. This is the perfect boat to SUP with a friend, especially for longer distances in coastal waters.
If you want to use the XCAT Row like a stand-up-paddleboard (SUP) choose the XCAT SUP from the dropdown menu on the left.
Boat Capabilities
XCAT Row
Max Rowers / Paddlers
1 People
Max Carry Capacity
551 lbs
XCAT Row Innovations
Designed with rowing in mind, the XCAT is built to excel at rowing while providing an unparalleled platform that can withstand coastal conditions and constant powerboat wakes.
XCAT SUP
XCAT RowMotion
XCAT RowVista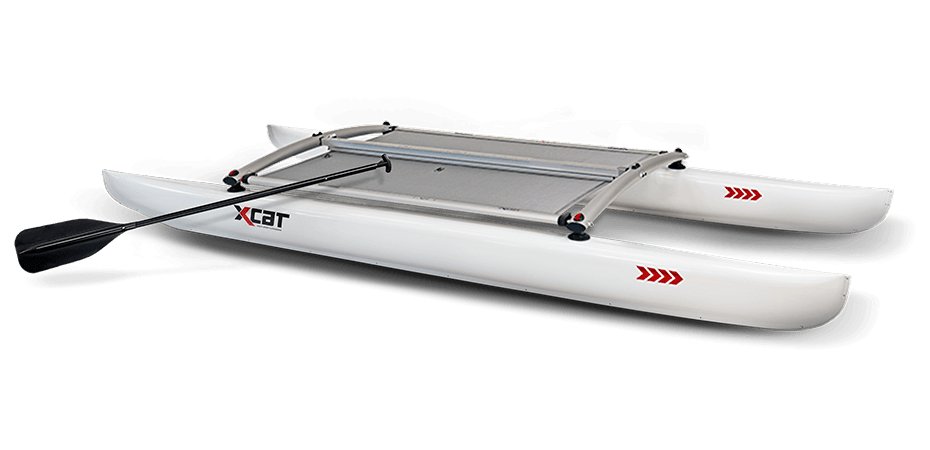 1
2
3
4
5
6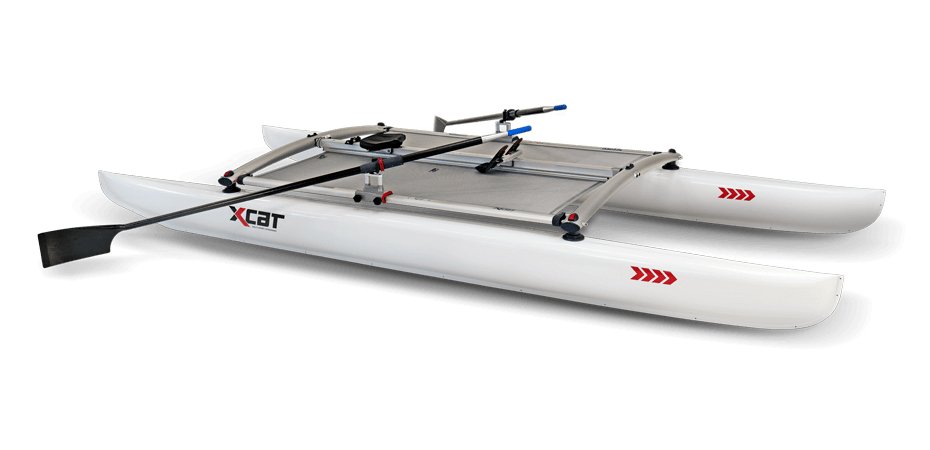 1
2
3
4
5
6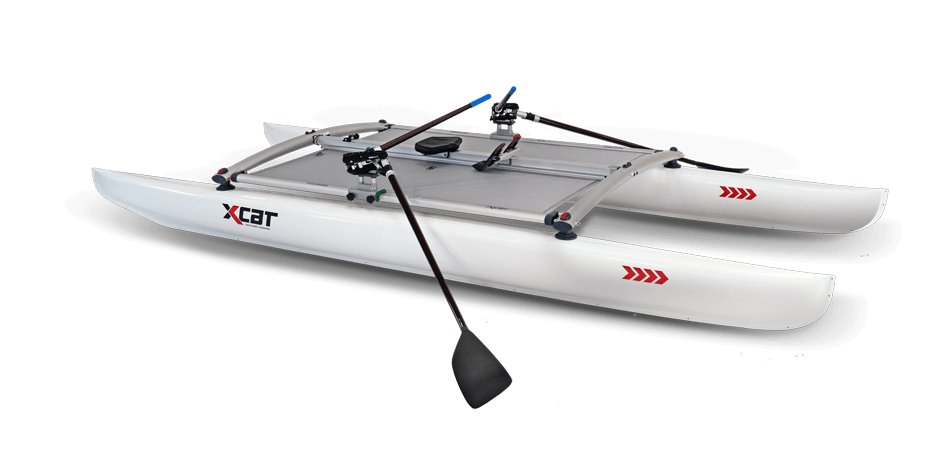 1
2
3
4
5
6
1
Optional Tiller-Fix keeps the rudder off center to countersteer paddling from only one side of the boat.
2
HDPE hulls are ultra durable and can handle hard groundings or collisions with underwater obstructions.
3
Self tensioning trampoline material saves you from unnecessary lacing for a faster assembly.
4
Anodized aluminum frame is corrosion resistant and will keep your boat looking new for years to come.
5
Extra wide platform is ultra stable. The XCAT can easily tackle big waves and rough waters.
6
Long and narrow hulls are fast through the water allowing you to reach high speeds with less effort.
1
Wide catamaran design lets you row in rougher conditions.
2
Low to the water design keeps you in touch with the water.
3
Concept2 oarlocks allow you to use our oars or your old C2 oars from college.
4
Anodized aluminum frame is corrosion resistant and will keep your boat looking new for years to come.
5
HDPE hulls are ultra durable and can handle hard groundings or collisions with underwater obstructions.
6
Fully adjustable positioning for oarlocks, roller seat and foot stretchers.
1
RowVista system has swinging oarlock that allows the oars to swing inboard of the boat for coming alongside docks or other boats.
2
RowVista is designed to allow the same motions as traditional rowing, but the boat moves in the direction you are facing.
3
Wide catamaran design lets you row in rougher conditions.
4
Anodized aluminum frame is corrosion resistant and will keep your boat looking new for years to come.
5
HDPE hulls are ultra durable and can handle hard groundings or collisions with underwater obstructions.
6
Fully adjustable positioning for oarlocks, roller seat and foot stretchers.
Not the right sailboat for you? Let's find your perfect boat.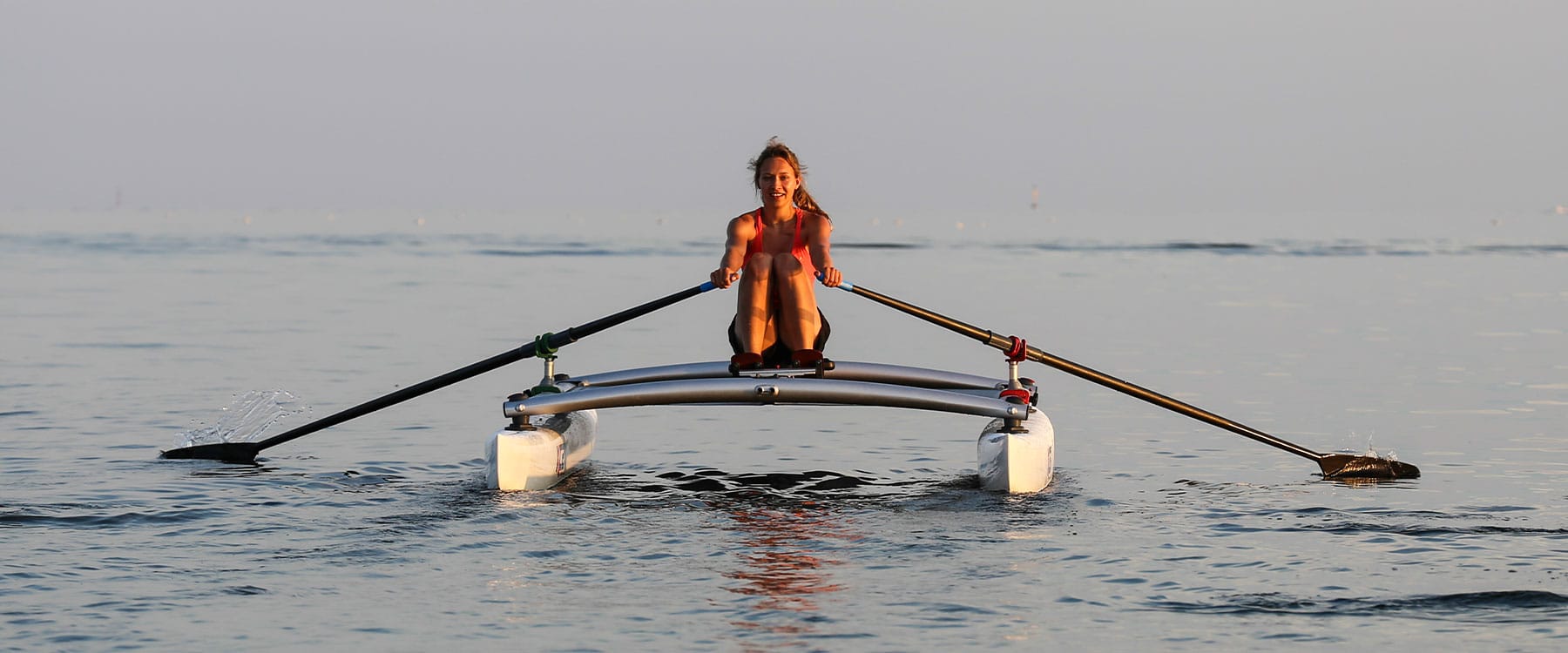 XCAT Row Features & Benefits
The world's first hard-hulled catamaran that can be transported on the roof of your car and assembled in 12 minutes—all without sacrificing quality or performance.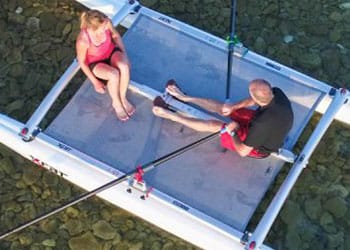 High-Quality Textilene®
This high tech material is used for the trampoline. It is UV resistant, hard wearing, breathable and self tensioning. This material is comfortable enough to sleep on but firm enough to comfortably stand and walk around. It is also durable enough to bring a large dog along without worry of damage.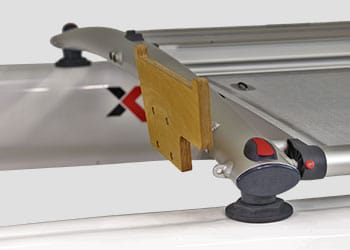 Motor Mount Included
All XCAT boats include a motor mount attached to the rear crossbar. This mount can handle up to a 3 hp outboard (Red Beard recommends either the EP Carry or Torqeedo 1103CL). If you don't want/need the mount, you can unbolt the wooden motor mount from the crossbar for a clean aesthetic with reduced windage. Check out the XCAT Extra Crossbar With Outboard Bracket.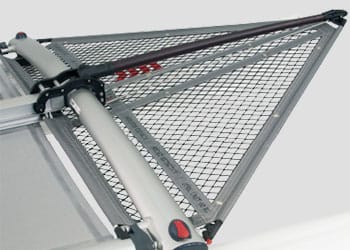 Bow Net Storage (Optional)
This optional bow net and bowsprit allows you to store gear without cluttering the main trampoline area. With a rowing only XCAT, you will need to purchase the rowing version of the Bow Net as it includes a bowsprit.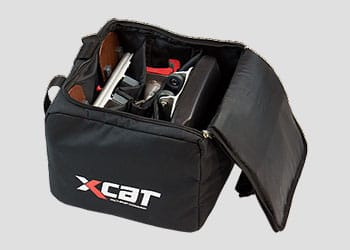 Bags Included
Every XCAT Row includes two high quality padded storage and transport bags. One holds the trampoline and the other has wheels and holds the crossbars, oars, rudder (optional) and most other accessories. There will even be room left over to hold a sailing package as well.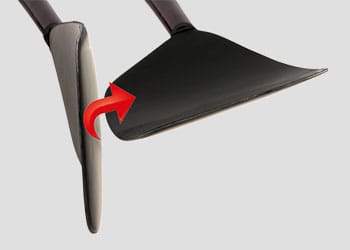 Oar Blade Feathering (RowVista)
The RowVista system allows easy feathering by rolling your hands forward. There are hard stops at the feathered and square positions to make rowing easier for newbies and relaxing for advanced rowers.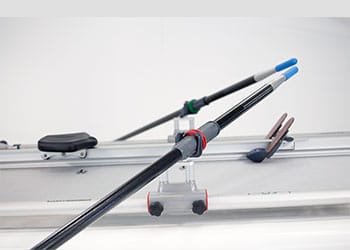 All Carbon Sculls (RowMotion)
Our all carbon 2 piece oars feature Martinoli grips and an adjustable cuff to accommodate any size rower.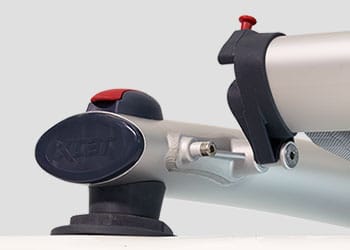 Anodized Aluminum Frame
The high quality anodized aluminum frame resists dings and dents as well as being very resistant to seawater and UV degradation.
EPP Particle Foam Filled Hulls
This foam provides structural support to the HDPE hull skin material but also makes the XCAT unsinkable.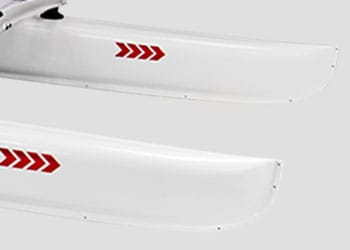 HDPE Hull Skin
Think plastic cutting board material, it is weatherproof, impact resistant and dirt repellent. These hulls are easy to clean and can withstand hard groundings on an oyster bed, even though the boat floats in ankle height water.
Boat Specifications
Keel Type
Full-Length Keels
Packing & Assembly Specifications
Bag for Trampoline/Mast
8' x 6" x 6"
Bag for Crossbeams
6'6" x 15" x 10"
Tools Required for Assembly
No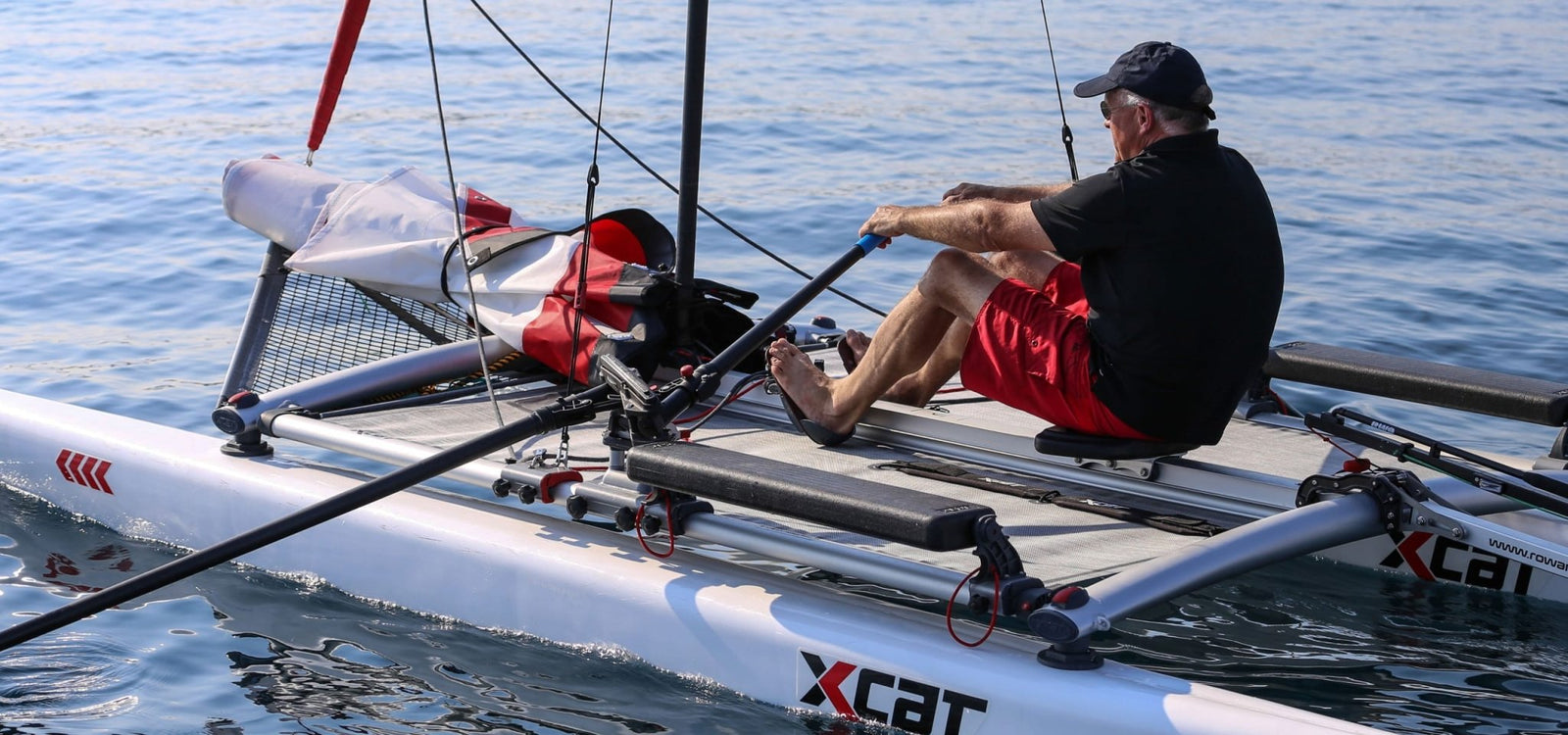 XCAT ROW FEATURED ACCESSORIES
SAIL IT. ROW IT. POWER IT.

GO AHEAD, IT'S YOUR MOVE.
The XCAT combines versatility, portability and performance in a way that no other boat on the market can. The XCAT Row is perfect for achieving your fitness goals, or use it on your next river or lake rowing adventure. You can maximize the XCAT's versatility by powering it with an optional outboard motor, or add a sailing kit to XCAT RowVista for the ability to row and sail at the same time.
XCAT Sailing Kit
Add-On
$3995
If you want the best of both worlds with the ability to row and sail your XCAT Row, this is the accessory for you. The Sailing Kit has everything you need to start harnessing the wind.
Benefits:
When combined with an XCAT Row model you can row it or sail it to your favorite fishing spot, or have versatility for your next adventure.
Easily switch between rowing and sailing in 60 seconds without any hard work or tools.
Easy to sail system allows novice sailors to "learn the ropes" without a large risk of capsizing. If you can't get back upwind, just drop the sails and row home!
Recommended Hiking Seats option allows you to stow your oars behind the seats keeping the trampoline clutter free.
Accessory Kit Includes:
Mast, Mainsail, Genoa, Bowsprit, Rudder and all running and standing rigging.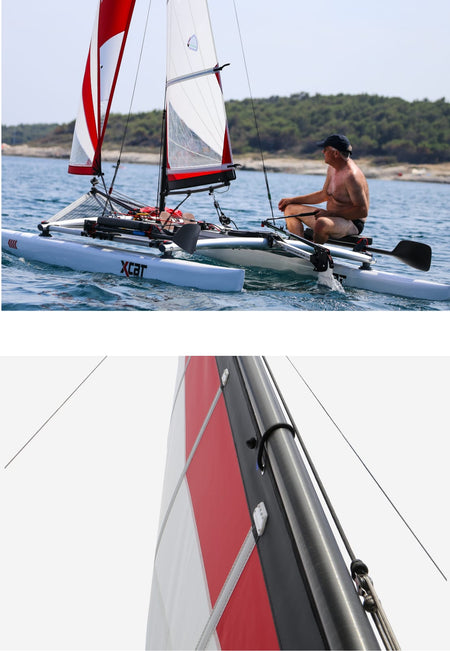 ePropulsion Motor
Electric Inboard Motor with Mount
$1600
The XCAT is a lightweight expertly engineered watercraft, and what better way to power it than a lightweight and expertly engineered electric outboard! This motor configuration was expertly designed for the XCAT. This motor is easily deployed and retracted via uphaul and downhaul control lines and features a bluetooth remote throttle for easy use! This motor is also great for motorsailing out of a narrow creek to help you get out to the big wind and water faster!
Benefits:
Ready for use and folded up again in a flash (can even be used to cheat on tacks)
almost invisibly integrated due to its slim design (no need to mount on the outboard mount)
very light, no negative effects on weight trim when sailing (other outboards leave the starboard side of the boat heavier than port)
collision protection (folds away in case of grounding)
Runtime
Range at full power: approx. 5 miles - runtime approx. 70 minutes | Range at half power: approx. 12.5 miles - runtime approx. 5 hours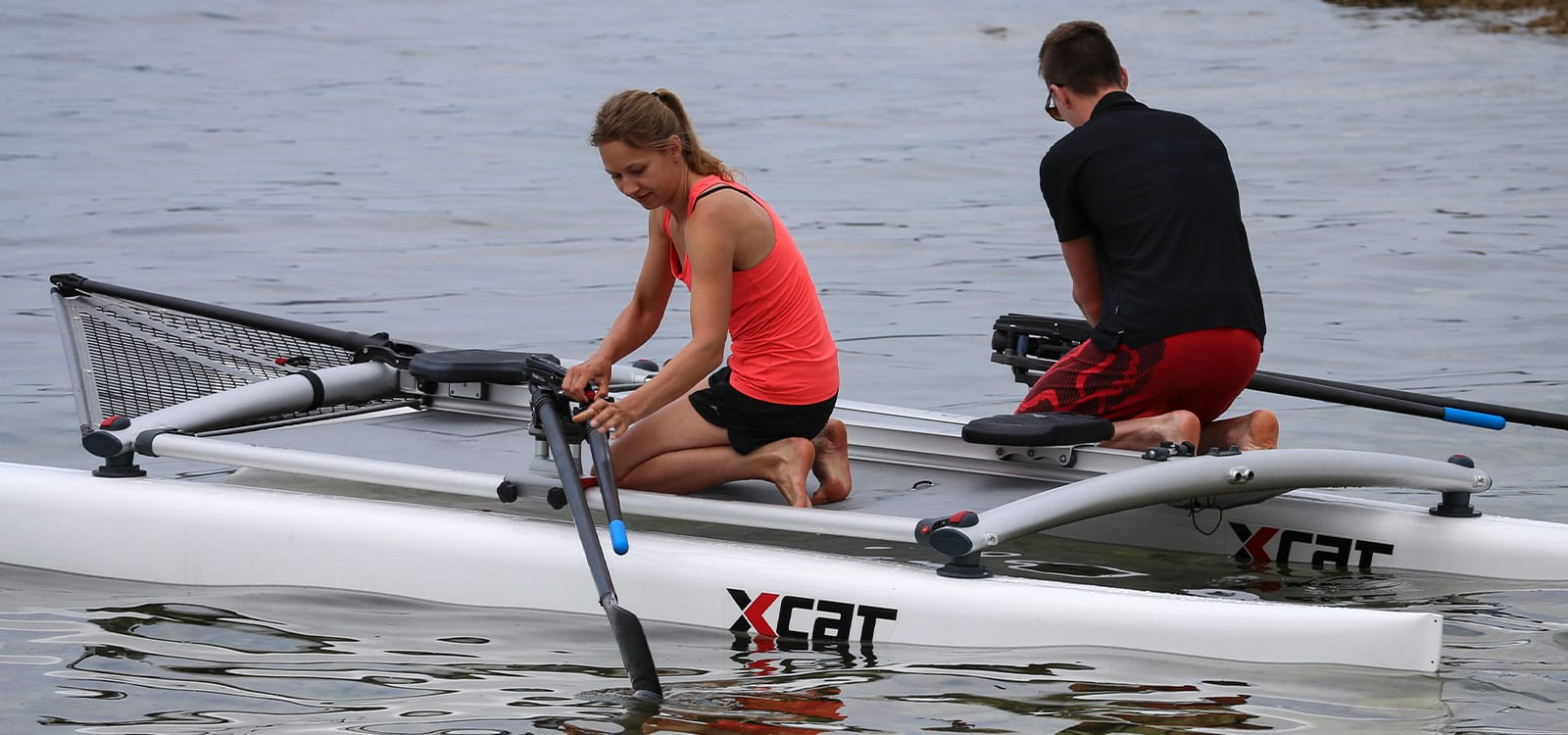 RECOMMENDED ACCESSORIES
CHOOSING THE RIGHT ACCESSORIES TO
MAKE THE ULTIMATE XCAT ROW
Roof Rack Accessory Kit
This bundle of accessories is the perfect kit if you plan to transport your XCAT on the roof of your car. Roof rack not included—but it does include the necessary straps, pads and pegs to secure your XCAT.
$155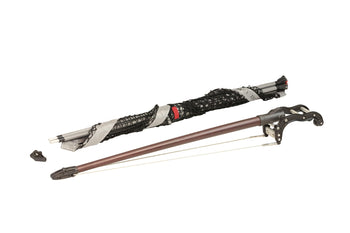 This front trampoline is fantastic for keeping the main trampoline clean and clear for rowing! It can't carry a person, but it can carry about 70 lbs of gear and supplies. This kit includes the trampoline and the bowsprit. If you elect to add a sail kit (which comes with a bowsprit), Red Beard suggests buying the Sailing Equipment Set which includes the bow mesh instead of this accessory.
$665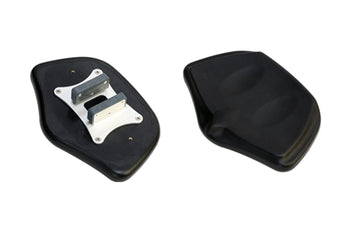 Center Beam Seat
This seat is a great way to add a padded seat to the center of your XCAT. A good comfortable way to seat a passenger while rowing and keeping their weight center-ship.
$115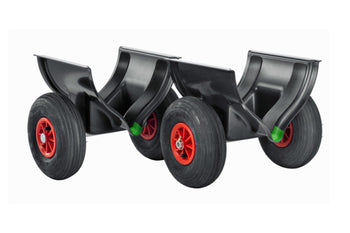 Launching Cradles
The Launching Cradles are the easiest to use as a solo sailor and are perfect for launching and retrieving from concrete boat ramps and moving the boat over hard ground like dirt. It struggles a bit in super soft sand.
$305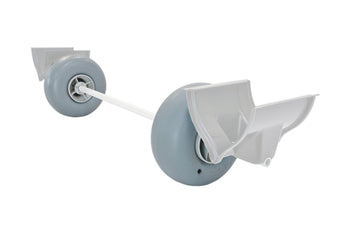 Launching Cart with Balloon Tires
This upgraded Launching Cart comes with purpose built balloon tires which makes moving your XCAT on soft sand much easier.
$750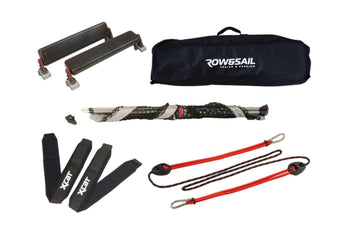 Sailing Equipment Set
This bundle of sailing accessories includes: Hiking Seats, Bow Mesh, Tiller-Fix and Hiking Straps. All of these are highly recommended for sailing on the XCAT and the Hiking Seats allow for easier storage of oars when not in use.
$1050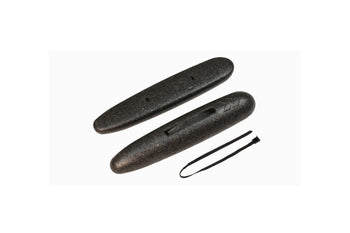 Mast Float
If you've elected to add the Sail kit to your XCAT Row, then this mast float will be your best friend on that fateful day that you do capsize. This float prevents the boat from turtling and makes righting the boat very quick and easy.
$110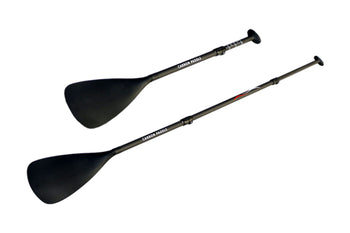 SUP Paddle
The SUP paddle is fairly self-explanatory and stores perfectly behind the optional hiking seats. Red Beard recommends this plus the Tiller-Fix if you opt for no outboard or rowing system. This paddle is collapsible to a small paddle or a full length SUP paddle.
$125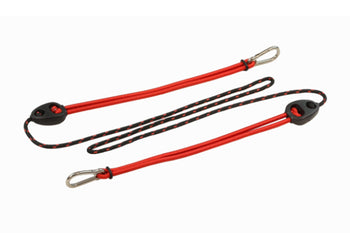 Tiller-Fix
The tiller-fix is a super simple contraption that essentially holds your rudder off to one side. This can be used to hold your course while sailing or to countersteer a solo SUP paddler.
$65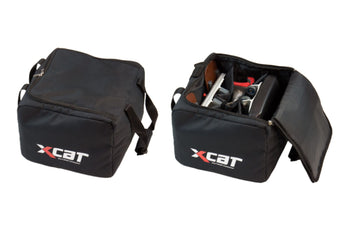 Small Bag
Standard with the XCAT Row RowMotion or RowVista options, but also can be ordered separately. This is a great bag to carry and store your running rigging in, to keep it from getting tangled in transport.
$65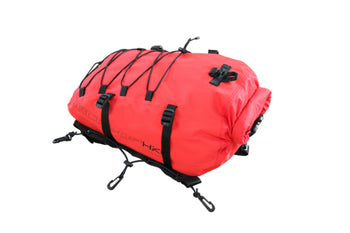 Dry Bag - HIKO
This waterproof bag easily mounts on rowing boards or the XCAT bow net. Includes additional shoulder belts for use as a backpack. Size is 18" x 12" x 6".
$99
Stainless Steel Anchor
This is a beautiful stainless steel folding anchor that will give you some peace of mind when it comes to docking your XCAT. Includes a length of line appropriate for anchoring in waist deep water.
$85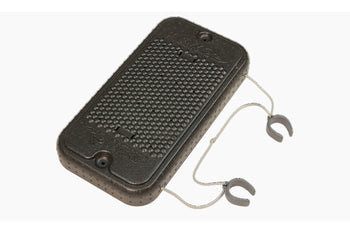 Fender
These fenders are cleverly upcycled, spending their former life as seats. These fenders will help protect your XCAT from damage when rubbing against anything such as another boat or a pier. This is just for one fender, so if you think you need more, be sure to add more in your cart.
$55
Resources & Support
What's Included
Warranty & Registration
Assembly Information
Reviews
XCAT Basic, RowVista Oarlocks, Pair of RowVista Oars, Sliding Seat, Foot Stretcher w/ Foot Straps, Seat Stopper, Crossbar Bag, Long Bag and RV Oar Bag
XCAT Basic, Concept 2 Oarlocks, Pair of RowMotion 2pc Oars, Sliding Seat, Foot Stretcher w/ Foot Straps, Seat Stopper, Crossbar Bag, Long Bag and RM Oar Bag.
XCAT RowMotion without Oars
XCAT Basic, Concept 2 Oarlocks, Sliding Seat, Foot Stretcher w/ Foot Straps, Seat Stopper, Crossbar Bag and Long Bag.
XCAT Basic, Rudder, Tiller-Fix, Crossbar Bag and Long Bag.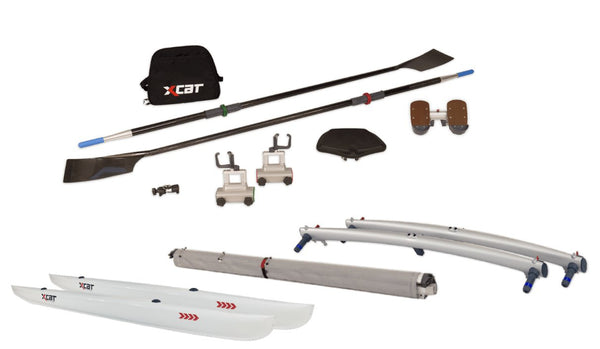 XCAT WARRANTY
The XCAT provides a 2-year warranty on fabrication defects. This warranty does not cover normal wear and tear of parts and components. For more information on the warranty, reach out to the Red Beard Sailing team. We're happy to answer any questions you have!
Assembly Video
Don't see what you need? We carry a full line of XCAT, and other sailing accessories for your next adventure.