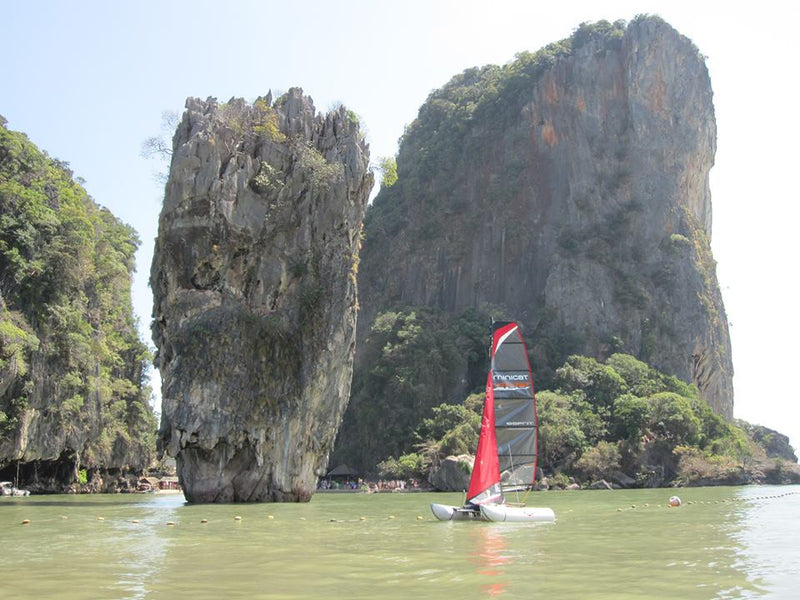 Have you ever wanted to own your own sailboat, but you just can't get past all of the other issues with owning one, such as the cost to store a boat, cost to buy used boat, cost to maintain a used boat, cost to transport any boat, and just how much it costs to store a boat (oh wait, I said that one already)!
Let's start with the big one, storage.  If you live in a row home or apartment or anywhere where space is limited, you might be forced to store your boat in a marina; I am not sure if you know but marinas are in the business of renting space, and space is not cheap.  Here on the Upper Chesapeake Bay, the average marina cost is about $2000 a year for boat storage.  For most shoestring sailors, like my wife and me, that number alone is unsustainable for owning a boat.  What if I told you that you could store your boat in your hallway closet?  I am talking about a 14 foot sailboat that is capable of carrying you and three of your friends or family members for a day of relaxation and fun on the water.  This solves your issue of storage completely, except you need to figure out where to store that old guitar from high school now. 
Now that we have storage taken care of, I think transportation is a good segue.  Transporting your boat can be impossible if you have a large keel boat.  But let's say you've taken a leap on buying a small beach catamaran sailboat, or dinghy, the next issue is how do you get the thing home and back to the water?  Still lingering on the storage topic, you have this big boat sitting in your driveway or front yard on a trailer, now you need to sell your gas sipper and buy a pickup truck to tow this boat.  Towing a boat is a craft in and of itself, you have to maintain the trailer, and wait your turn at the boat ramp to lower your boat into the water, tie your boat up, then quickly park before a neighborhood ruffian makes off with your pride and joy.  Wouldn't it just be nicer to pull a few bags out of your trunk and assemble a boat in about 30 minutes and be on your merry way?  Wouldn't it be nice to launch from any shoreline, not just the local boat slip?
My last two points are kind of a joint topic.  Some of you may remember my last post about why buy used parts.  That post plays very nicely into this point.  When you buy a used boat, it typically has a budget and cost analysis chart similar to balloon payments on a car or house; while the boat itself is inexpensive, you end up paying through the nose trying to repair everything that is broken, and end up spending half of your free time working on your boat instead of enjoying it on the water.  Every used boat I have ever bought had me closing my eyes and wondering what it would be like if it were a new boat.  I was instantly snapped back into reality when my wife reminded me of the price tags on even the smallest of boats at the Annapolis Sailboat Show every October.  While it would be nice to have a new boat, not because nothing has been Jerry rigged back together, but because I imagine myself enjoying a clean functioning boat that much more often.  You can own a new sailboat for the cost of a used boat and it comes with a 24 month no hassle warranty!
Check out our line of MiniCat sailboats.  We offer the full line, and these really are the best of the best.  These inflatable sailboats rival their solid hulled beach cat brethren.
Check out my post about MiniCat coming to America.  And also check out our store.  If you have any questions or need to hear a real voice give us a call!