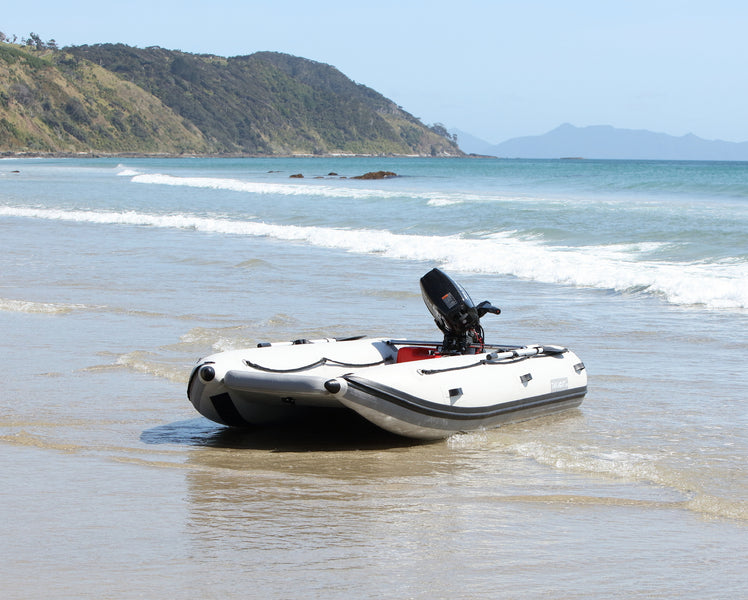 We are proud to announce that Red Beard Sailing is now carrying Takacat inflatable catamaran boats!
Takacat designs and manufacturers innovative and premium quality inflatable boats. Takacat boats are extremely versatile. Their innovative design makes them great not only as a sailboat tender/dinghy but also as your primary vessel for fishing, scuba diving, snorkeling, swimming and a variety of other activities. In 2017, we were able to adapt a T380LX to meet the needs of the National Oceanic and Atmospheric Administration for the use of leather back turtle research!
Below are just a few of the key features that Takacat offers with all of their boats: 
Catamaran hull design - Very stable, from stopped to top speed. Lower HP required for same speeds as traditional inflatable dinghies.
Open Bow - Easy boarding from the water, a must have for scuba and snorkeling. Walk off beach exiting and boarding for staying dry on trips to shore.
Open Transom - Free flow drainage means no more swamping or filling up from rain! Removable transom allows for inexpensive and easy re-tubing!
Roll Away Design - The removable floor and transom allow Takacat boats to roll away into two duffel bags for easy storage and transport! From bag to water in roughly 10 minutes!
Quick Release Beach Wheels - This must have accessory makes launching and landing your dinghy effortless. Tip: Put wheels in the down position when landing on a beach to prevent your outboard prop from hitting bottom.
5 Year Material / 3 Year Construction Warranties - Takacat stands behind their quality materials and construction with long warranties. Warranty claims are quick and painless through the local dealer!
The Models
The perfect little tender for 1-3 people! The T260LX provides a lightweight (55 pounds) super compact option for smaller motherships that still need a tender to get to shore! The T260LX would be a great personal fishing / snorkeling craft for the solo adventurer!
This is the original tender that started the open bow craze! The T300LX is the most popular sailboat tender / RV leisure craft. Weighing in at 66 pounds, it is lightweight and provides a lot of capacity! Squeeze 4 people on board for ferrying to shore or take a buddy fishing, with room to spare for gear!
Big enough for 5 and comfortable for a few to fish for the day! A tender that is as good for getting groceries as it is for getting a few scuba enthusiasts to their favorite dive site. The T340LX gives that little bit of extra elbow room over the T300LX and is a no-brainer, if you have the space to store the slightly larger boat. The T340LX weighs in a little heavier at 80 pounds, but is a bit beamier for added stability and better cornering at speed.
The perfect fishing boat. When stored, it takes up less space than a pair of large Yeti coolers but can easily handle up to 6 people plus gear! A boat this big still weighs in at under 100 pounds (92 pounds) so it is manageable by even one person! This boat is big enough for the whole family so don't forget to take them with you!
This is the big Bertha. The T420LX is the largest in the Takacat line and makes for the perfect safety boat or coastal water craft. Weighing in at 110 pounds and measuring almost 14' long, this boat is an absolute monster! If you need a boat capable of taking on bigger water and is still capable of fitting in the trunk of your car, the T420LX is the perfect fit! 
| | | | | | | | |
| --- | --- | --- | --- | --- | --- | --- | --- |
| Model | Length | Beam | Boat Weight | Max HP | Rec HP | Max Passengers | Max Payload |
| T260LX | 8' 6" | 5' 1" | 55 lbs | 8 | 2.5 - 6 | 3 | 793 lbs |
| T300LX | 9' 10" | 5' 1" | 66 lbs | 10 | 2.5 - 8 | 4 | 810 lbs |
| T340LX | 11' 2" | 5' 5" | 79 lbs | 15 | 2.5 - 10 | 5 | 1135 lbs |
| T380LX | 12' 6" | 5' 5" | 92 lbs | 20 | 6 - 15 | 6 | 1410 lbs |
| T420LX | 13' 9" | 6' 1" | 110 lbs | 25 | 15 | 7 | 1576 lbs |
The Accessories
If you had to pick just one accessory for the Takacat, this is the one. The quick release wheels can be deployed in just seconds and make launching and retrieving your Takacat boat effortless. The wheels also allow for installation of the outboard in the vertical position as the the extra height prevents the outboard from touching the ground. Deploy the wheels while beaching to prevent propeller collision with the ground.
These are high quality stainless rod holders. They attach simply to the transom bars and are sold, very affordably, in a pair. Great for mounting that night time white all-round navigation light when caught out after dusk.
The Takacat boats are easy to fold away into their bags but sometimes leaving the boat inflated and ready to use is necessary for life out at sea. The Takacat being made from PVC can suffer from long exposure to the Sun's damaging UV rays. This simple boat cover is perfect for preventing that damage when deflating and stowing your Takacat isn't practical.
This has all the advantages of the above Speedy Electric Pump, but this one inflates 3x faster and has a gauge so you can be sure that your boat is inflated properly. I have personally found this pump to be more accurate than the cheaper pump.
*These pumps require a separate 12v power source via alligator clamps. I personally use our family jump box that we use to jump-start our cars when someone leaves the overhead light on overnight.