$1995
Buy today or finance with Bread
click Finance below to Learn More.
Get your mojo working.
Designed to work specifically with ROWonAIR's Universal Rowing Units, the Mojo '18 is an inflatable rowing I-board designed for high-performance rowing. ROWonAIR I-boards are not flat bottom boards, they have a slight V-shaped bottom that aids with tracking and hydrodynamics to cut through through the water. The MOJO 18 is long and narrow and turns every stroke into effortless gliding. This is the perfect board for more experienced rowers looking for performance and feel similar to a rowing shell. Easily stowed away and comes with a backpack, repair kit, fin, pump, and strap.
The Mojo '18 can be purchased as a standalone board, or preconfigured with ROWonAIR's exclusive RowVista®, or RowMotion® (with or without oars) rowing units. Select the option from the dropdown on the left that best suits your rowing style.
Board Capabilities
ROW on AIR Mojo 18'
Max Rowers / Paddlers
2 People
Max Carry Capacity
440 lbs
Seaworthiness
Lakes & Bays
Mojo 18 Innovations
The Mojo 18 is the perfect multi-tool for flexible and performance-driven rowing. With portability of this magnitude nothing will stand in your way of serious fun or rowing training whenever and wherever you want.

1
2
3
4
5
6
1
Unparalleled construction quality with Woven-Fusion Drop Stitch technology provides more strength and rigidity at a reduced weight.
2
Elastic luggage netting for longer rowing tours — compatible with Hiko 20L Dry Bag accessory.
3
Pre-mounted D-rings for quick and easy attachment of the RowVista or RowMotion rowing units.
4
Row alone or in company: take along a passenger or row tandem.
5
High-tech adhesives and materials provide long life with resistance against UV and high temperatures.
6
Reliable Halkey-Roberts valve makes inflation and deflation fast and simple.
Not the right rowing board for you? Let's find your perfect row boat.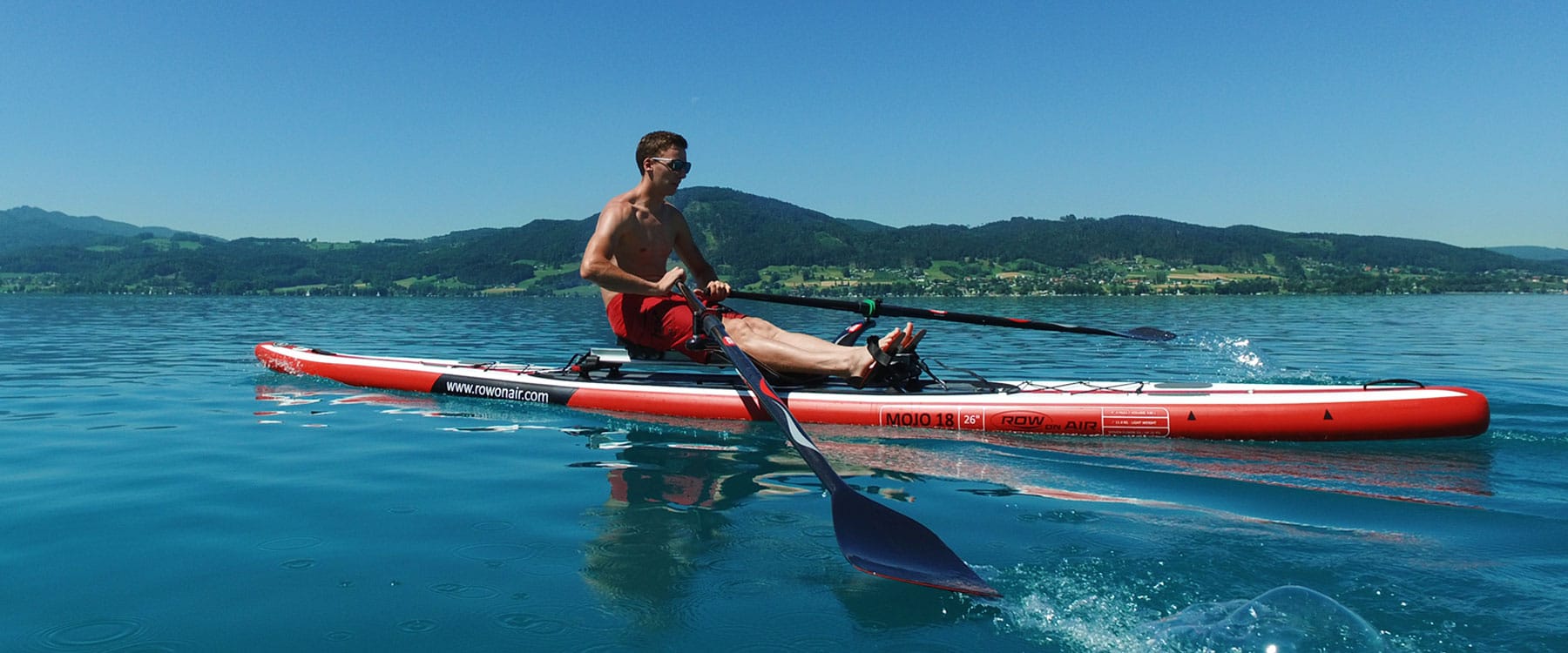 Mojo 18 Features & Benefits
The Mojo 18 is the pinnacle of rowing performance in the ROWonAIR lineup. It has a long waterline, which means it is fast. It is wide enough to stand up on, which means it is stable. It also has front mini skegs and one large aft skeg. In conjunction with the iconic 4º V-bottom design, the Mojo 18 rows and handles just like a performance rowing shell, but may be a bit harder to tip.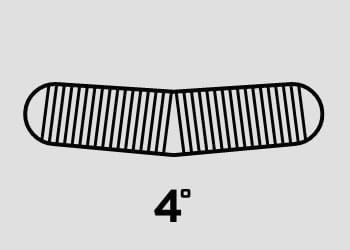 4º V-Bottom & Rocker Line
The world's only V-bottom board specifically designed for rowing. The Mojo 18 has a fast waterline and smooth gliding between strokes.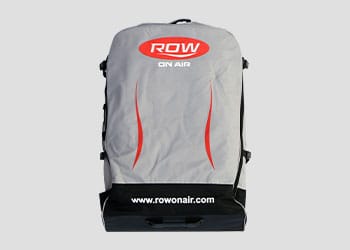 Backpack Storage
High quality backpack with luggage wheels has enough room to store the pump and even a life jacket.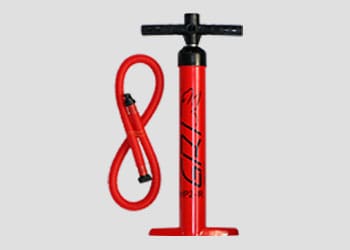 Rapid-style Air Pump
The included high quality hand pump can pump up the Mojo in less than 9 minutes. Built in gauge adds assurance that the proper pressure has been reached.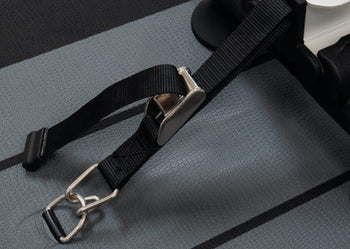 Rugged Construction
High tech materials, precision engineering, and quality manufacturing practices come together to provide products with the longest lifetime withstanding high temperatures and extended UV exposure.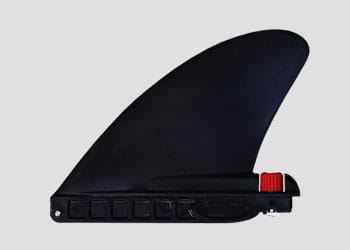 Easy-Mount Fin
Simple attachment fin requires no tools to install and keeps the Mojo 18 tracking straight.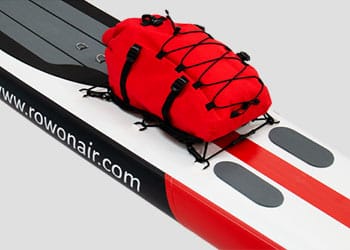 Elastic Luggage Netting
This netting gives you an easy place to store some gear, your shoes, and/or a backup paddle.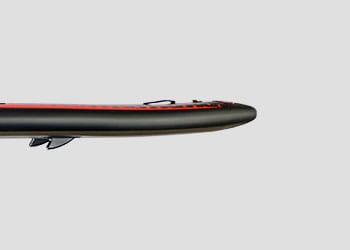 Bow Fins
A pair of small fins close to the bow are a special touch to provide the Mojo with even better tracking.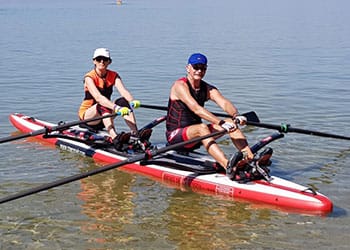 Row with a Passenger or RowTandem
Bring a passenger or dog (check out our Ruff Wear K9 Float Coat Life Jacket) along on your next rowing adventure. If you purchase a second ROWonAIR rowing unit, you can row on the Mojo 18 in tandem. You can even mix RowVista and RowMotion!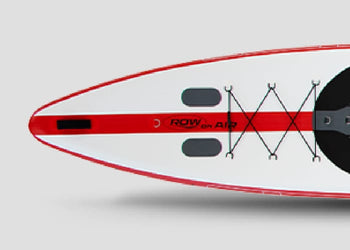 Woven-Fusion Drop Stitch Materials
This special construction method was pioneered by the ROWonAIR team. They needed a material that could withstand high pressures, provide more rigidity than normal drop stitch, and weigh as little as possible.
Mojo 18 Rowing Board Technical Specs
Boat Specifications
Boat Weight without Rowing Unit
25.1 lbs
Rowing Style
Single / Tandem
Material
Woven-Fusion Drop Stitch
Packing & Assembly Specifications
Packed-Down Bag Size
28" x 22" x 12"
Tools Required for Assembly
No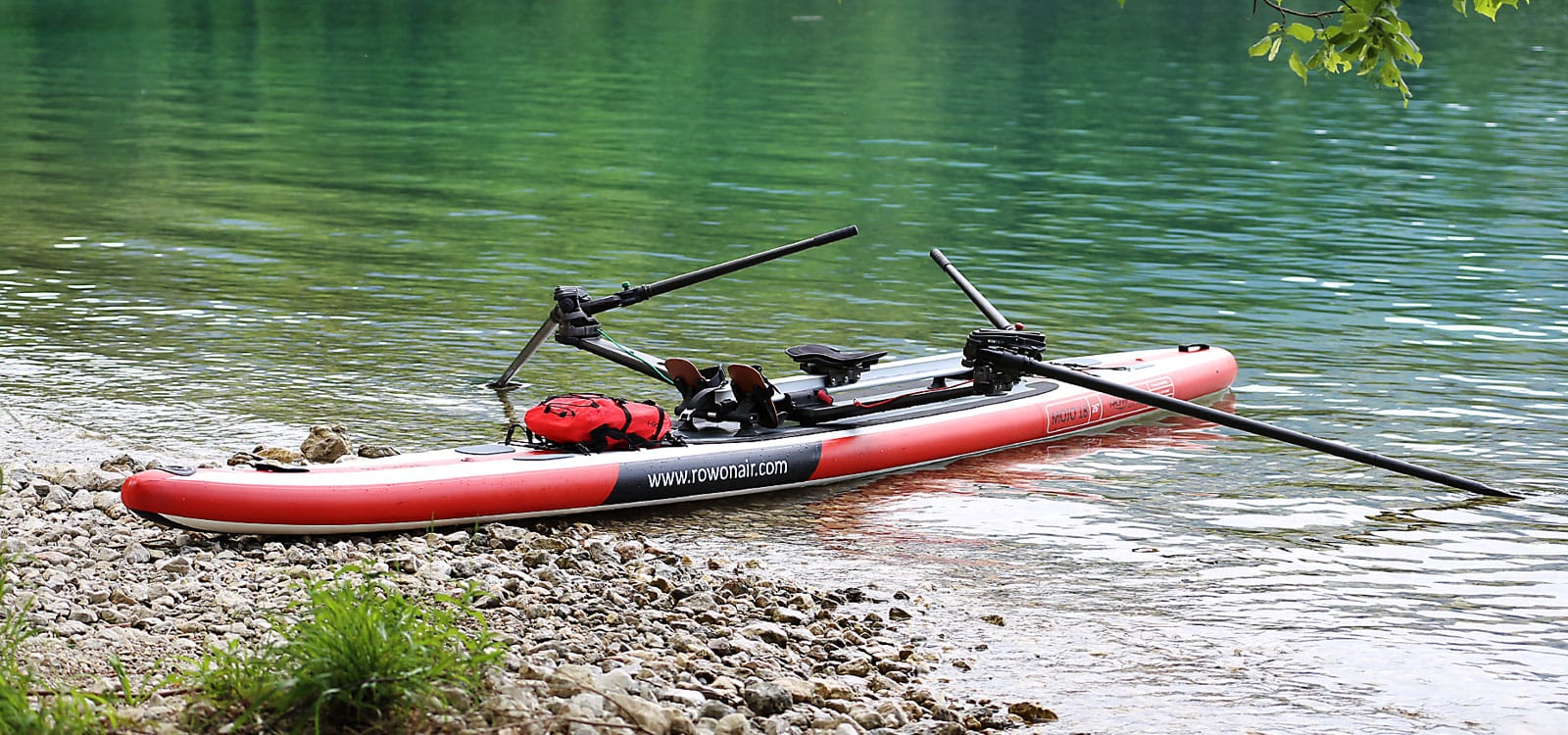 RECOMMENDED ACCESSORIES
MAKE IT YOUR OWN WITH
ROWONAIR ACCESSORIES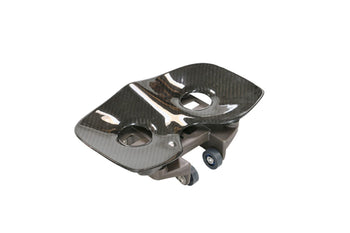 Carbon Seat Upgrade
This carbon fiber seat replaces the standard foam seat for the hard seat feel experienced rowing derrieres are used to.
$120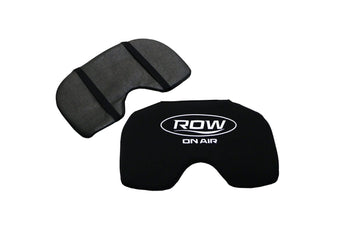 Row Pad for Carbon Seat
This pad is specifically designed for the carbon fiber seat. This pad is a real butt-saver. A must-have for anyone that has to have the carbon, but isn't ready to commit to a hard seat.
$69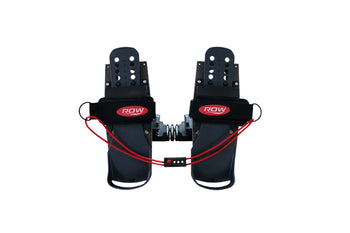 Concept2 Foot Stretcher Upgrade
This foot stretcher upgrade switches out the normal axle style stretcher for the Concept2 Flex Foot stretcher that is common on their new generation of ergs.
$90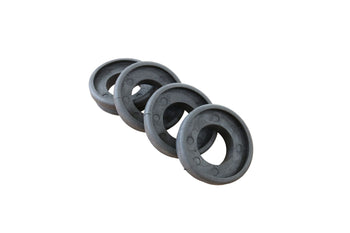 Foot Raisers (4 Pc)
These foot raisers are stackable as a spacer/shim for mounting the ROWonAIR rowing system into other boats. You can also use them to lift the skid a little which could be advantageous in very choppy waters.
$35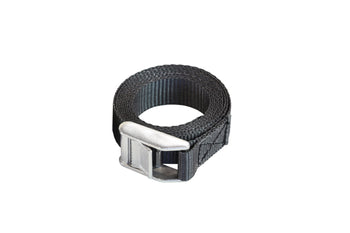 Universal Mounting Straps (Pair)
If you plan to mount your new ROWonAIR rowing unit on anything that isn't Mojo 18, Dude 18, Lite 15, or Air Kayak 16, you'll probably need these straps to mount it to any other paddleboard.
$35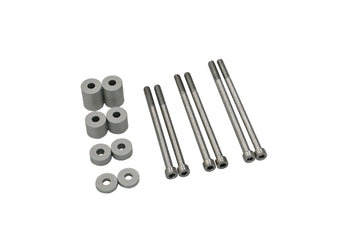 RowMotion Oarlock Spacer Kit
This spacer set allows you to set the oarlocks to different heights or to generally raise them to best suit your style of rowing and the sea state conditions. Raising the oarlocks might make rowing in larger waves easier.
$55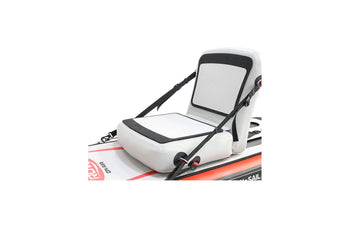 iSeat
This very comfortable, inflatable seat can be used for a passenger or mounted to convert your Mojo 18' into a sit-on-top kayak.
$125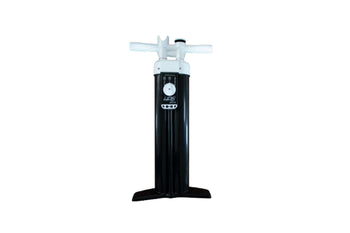 Triple Action High Efficiency Hand Pump
An upgrade from the standard pump, it moves more air per pump and is easier to get the I-boards to higher pressures. This is one of the highest quality inflatable boat pumps on the market.
$135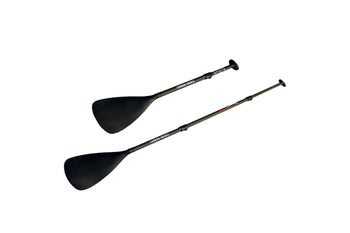 Carbon SUP Paddle (3 Piece)
This paddle is collapsible to a small rescue paddle or a full length SUP paddle.
$135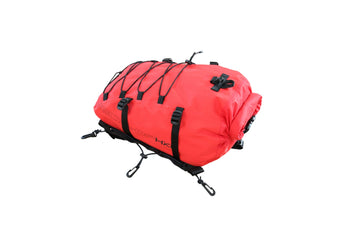 Dry Bag - Hiko
This waterproof bag easily mounts on rowing boards elastic mesh. Includes additional shoulder belts for use as a backpack. Size is 18" x 12" x 6".
$99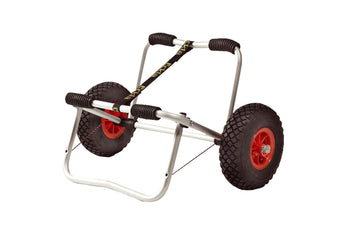 Collapsible Kayak Dolly
Lightweight dolly for transporting fully inflated ROWonAIR boards and rowing units on land. Can be collapsed and taken with you for portages along the way.
$115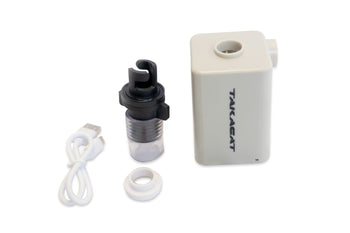 Takacat Volume Inflator
This fast and easy battery-operated inflation pump is easy to use, smaller than a soda can, and has a built-in battery that will run the pump for a total of 45 minutes. It will work with any boat that uses a Halkey-Roberts valve. The pump fills most of the air volume in the chambers, so you only need to top up the pressure with a hand or foot pump (usually included with your inflatable boat).
$59
Resources & Support
What's Included
Warranty & Registration
Brochures & Manuals
Assembly Information
Reviews
Mojo 18 Standalone Board®
ROWonAir Mojo 18 Inflatable Rowing Board, Mojo 18 Backpack, Rapid-style Air Pump, 5.4" Fin, Repair Kit, and Strap.
Mojo 18 with RowVista Rowing Unit & Oars
In addition to everything included with the Mojo 18 board, this unit also includes:
RowVista rowing unit, RowVista oars, storage and transport bags
Mojo 18 with RowMotion Rowing Unit - No Oars
In addition to everything included with the Mojo 18 board, this unit also includes:
RowMotion rowing unit, storage and transport bags
Mojo 18 with RowMotion Rowing Unit & Oars
In addition to everything included with the Mojo 18 board, this unit also includes:
RowMotion rowing unit, RowMotion carbon 2 piece oars, storage and transport bags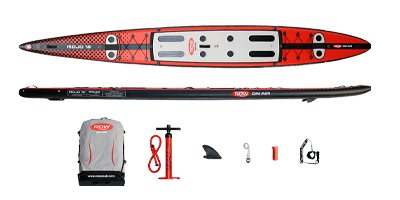 ROWonAIR Warranty
ROWonAIR provides a 24-month warranty against any defects in material or workmanship.
Device Assembly
Don't see what you need? We carry a full line of rowing, paddling and other sailing accessories for your next adventure.