$3000
Buy today or finance with Bread
click Finance below to Learn More.
The Best Entry-Level Inflatable Kayak in the World
The Tramper is the perfect 1-2 person, entry-level kayak. It has a wide interior and comfortable seats as well as a very stable design. The boat is very lightweight and compact when not in use. The Tramper is a reliable friend when living in an apartment or traveling as it packs into a small bag and can be easily carried by anyone. You won't regret starting with a Tramper over cheaper and lower quality PVC kayaks.
Boat Capabilities
Grabner Holiday 2
Max Rowers / Paddlers
2 People
Max Carry Capacity
441 lbs
Whitewater Rating
Class 2
Tramper Features & Innovations
Stable and safe, the Tramper brings big value in a lightweight formfactor. The lowest cost kayak in the Grabner lineup.

1
2
3
1
Fixed carry handles on the bow and stern make it easy to carry or tie up to a dock.
2
Low sidewalls get you closer to nature and give you plenty of room for paddlers of all sizes and with room to spare for gear.
3
Included pressure check valve ensures the fastest inflation time of any inflatable. Perfect pressure without the need for a gauge.
Not the right fit for you? Let's find your perfect boat.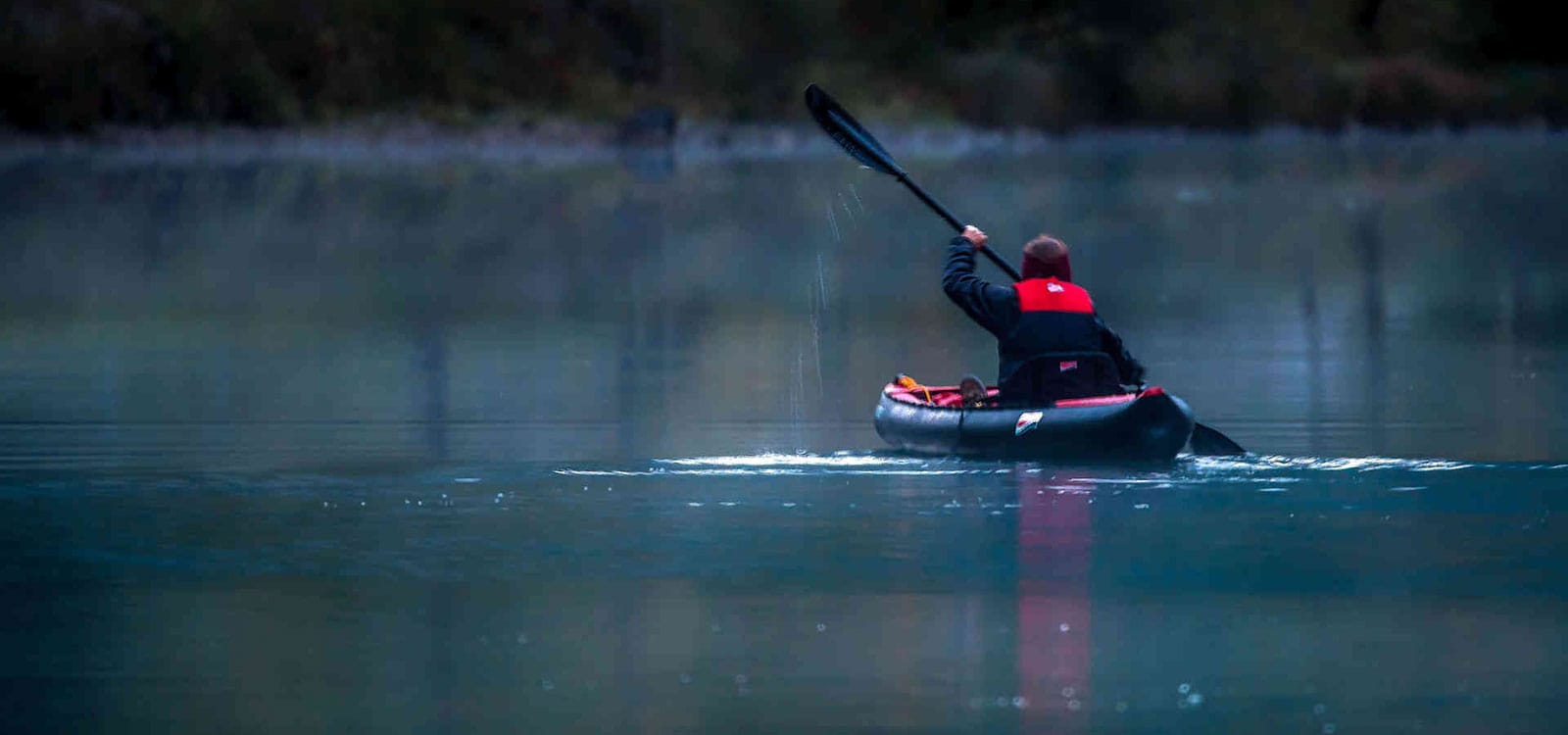 Tramper Features & Innovations
The Grabner Tramper is a fantastic premium quality, entry-level kayak that will provide years of enjoyment in a wide range of conditions and waterways. The Tramper has a lot of features to offer that make this a great boat for kayak newbies as well as enthusiasts.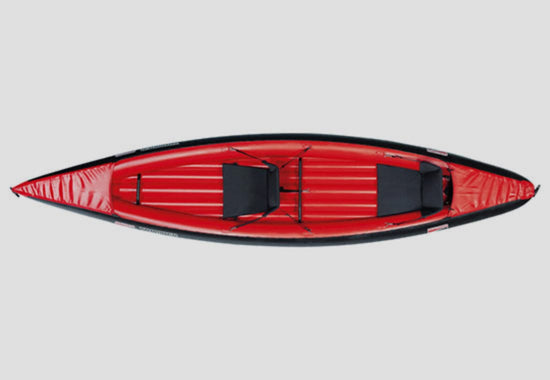 Wide Base for Stability
Very stable and safe due to a wide beam. This boat is easy to get into and out of (from land or water). This is especially beneficial for children and seniors.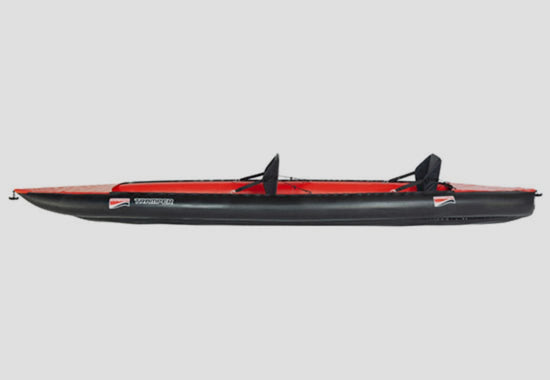 Flat Bow and Low Windage
The flat bow cuts through waves with ease and the low freeboard makes this boat easy to navigate through all sorts of waters, even when caught in a crosswind.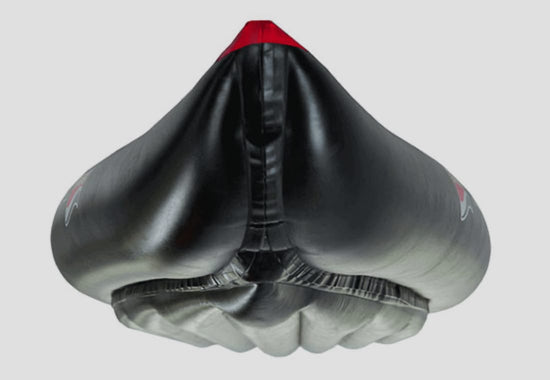 V-Hull Design
The floor sits below the waterline, and in conjunction with the V-Shaped hull design, this boat will track very well without the need for a skeg or fin. A rudder further improves the handling characteristics of this awesome kayak design.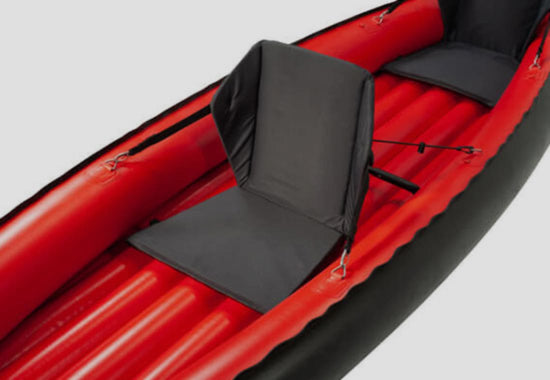 Comfortable Seating
The high-backed and infinitely adjustable seats are ideal for any kayaker. A comfortable seat will allow you to paddle faster and for longer distances with less strain on your back and shoulders.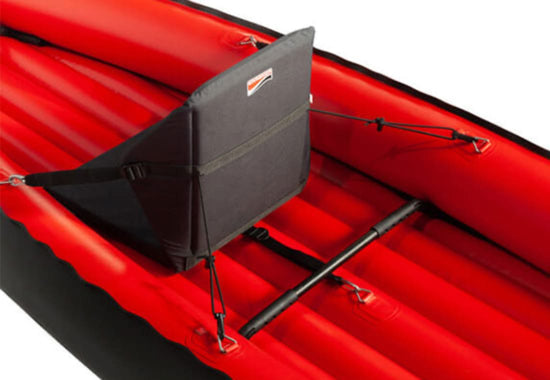 Adjustable Footrests
Infinitely adjustable footrests provide a firm place to push your feet on. This saves your lower back from fatigue on long trips, it also helps you feel connected to the boat.
The optional rudder pedals mount onto these footrests for easy steerage!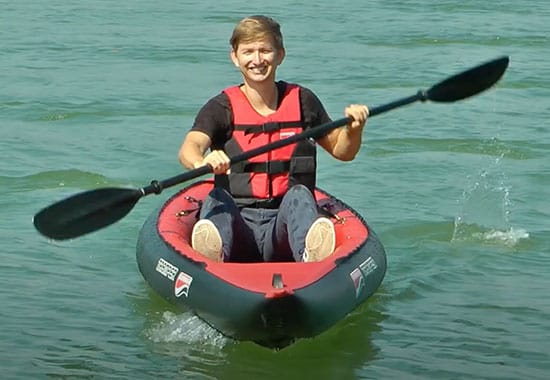 Durable and Robust
The rubber material is strong and capable of withstanding collision with rocks and scraping on shallow bottoms. A strong plastic strake protects the bow from any head on impacts.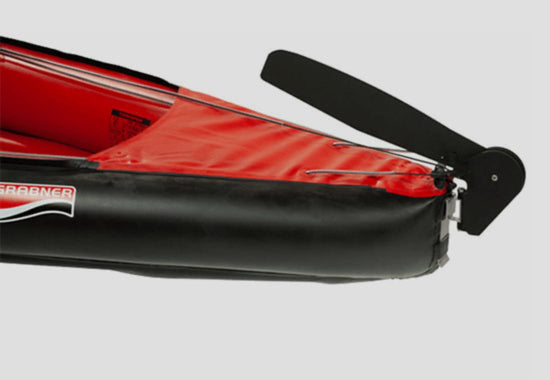 Additional Equipment
The included stern bracket allows you to mount an optional rudder or Torqeedo Ultra-Light outboard.
If you are paddling with two people, we strongly recommend a rudder to avoid any issues with winds, currents or paddlers that aren't perfectly coordinated.
Boat Specifications
Capacity
2 People / 441 lbs
Packing & Assembly Specifications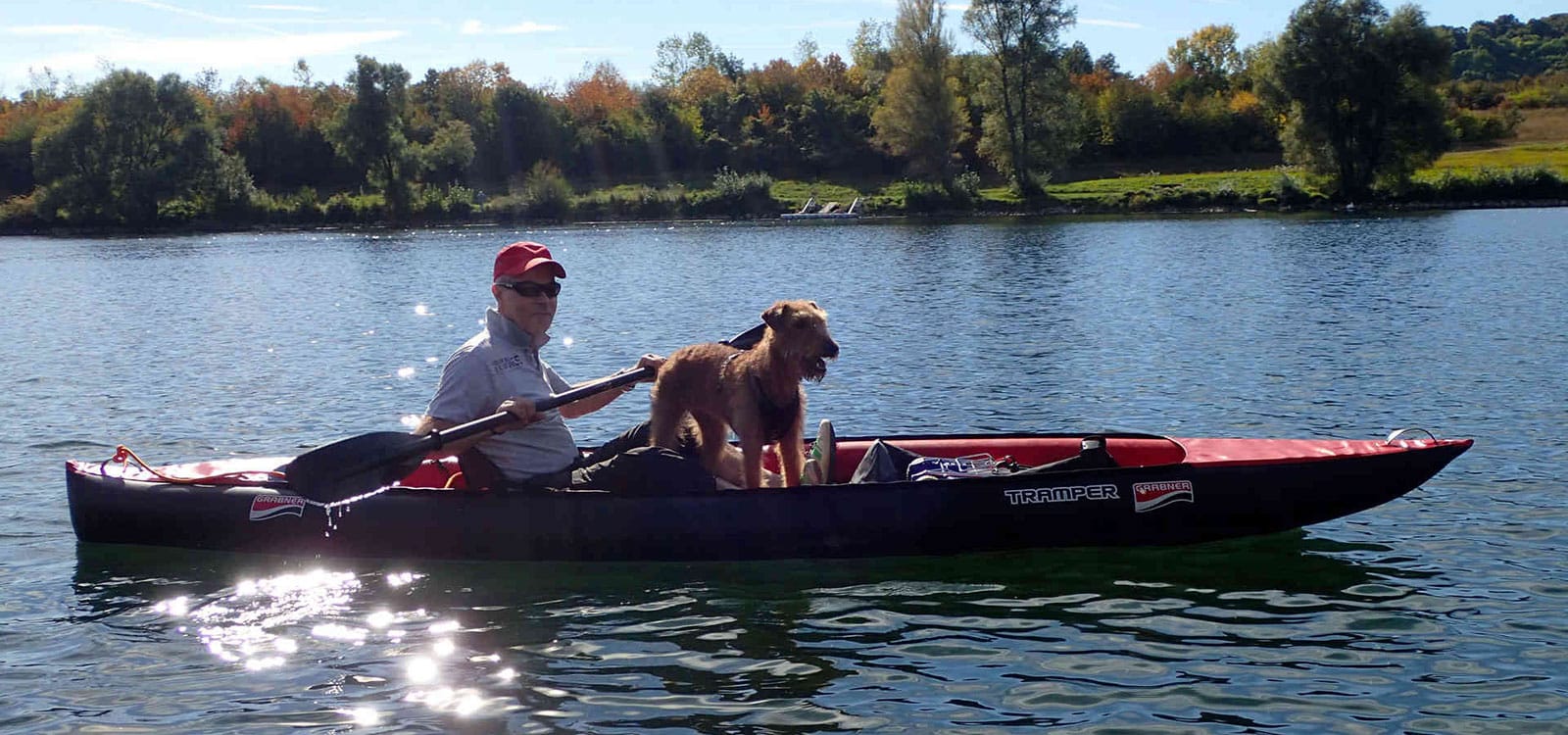 HIGH-PERFORMANCE ACCESSORIES
TAME THE WHITEWATER
OR CRUISE THE LAKE
Grabner offers their boats in a unique way. They sell the base boat, with no extras so you can use the gear you already have or purchase the perfect loadout for your adventures from their expansive accessory offering. Please check out our recommendations below for how to properly outfit your new kayak to best suit your use case and needs.

The Right Paddle, Right Now
Everyone who kayaks paddles their own way. It is sometimes an expensive game of trial and error to find the paddle that best fits you and your style. Grabner and Red Beard Sailing have a narrow and specific selection of paddles so that you can determine the right paddle for your needs, the first time.
$450
This accessory kit rounds out your kayak purchase. This kit provides a bag, pump and paddles so you can get on the water and start enjoying your new kayak right away!
Why Red Beard Recommends
Everything in this kit is carefully selected to provide a perfect starting point when selecting the gear you need to get the best possible experience in your new kayak.
Accessory Kit Includes:
1 Hand Air Pump, 2 Aluminum Low Angle 3-Piece Double Paddles, 1 Pack Sack Carry Bag, 1 16ft Boat Line, 1 Bottle of Boat Skin Conditioner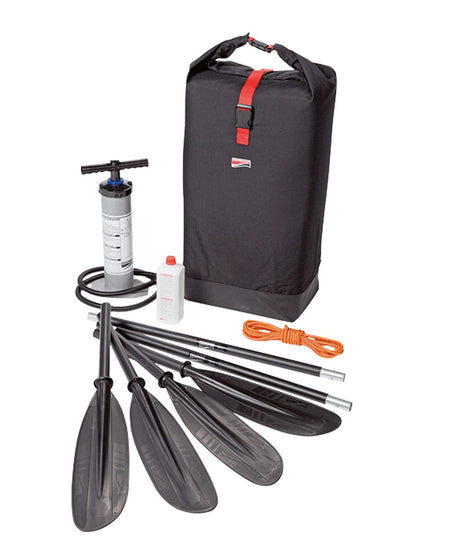 $560
This professional accessory kit includes everything in the standard accessory kit plus the addition of the rudder, control pedals and the rudder hardware.
Why Red Beard Recommends
This is the best buy. This kit includes everything from the standard accessory kit, but with a bag upgrade (why carry it when you can drag it behind you on wheels?) and also a rudder. Paddling with two people or in larger waters is always more enjoyable with a rudder, so bring one along! It will only take an extra 5 minutes to install the rudder after inflation.
Accessory Kit Includes:
1 Hand Air Pump, 2 Aluminum Low Angle 3-Piece Double Paddles, 1 Backpack Carry Bag With Wheels, 1 Tramper Rudder Kit, 1 16ft Boat Line, 1 Bottle of Boat Skin Conditioner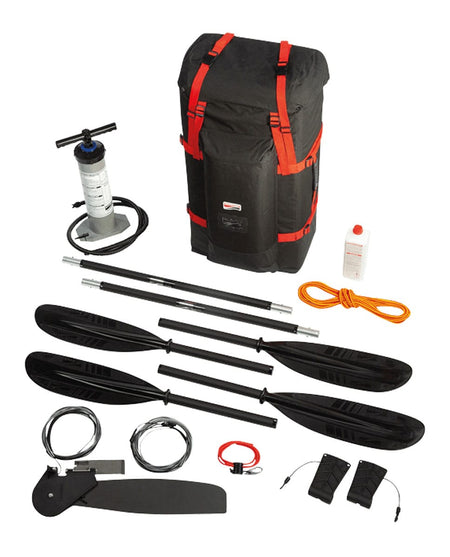 Additional Accessories
The best way to make a kayak the perfect fit for you, is to make it your own with Grabner's world class selection of kayak accessories. Below you will find all of the available accessories for the Grabner Tramper kayak.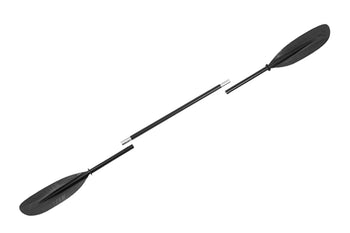 Low Angle Aluminum Kayak Paddle
This low-angle kayak paddle, similar in ergonomics to a greenland paddle, is ideal for relaxed recreational kayaking or for touring. Also great for any paddlers with back or shoulder pain. This is the ideal paddle for the Tramper.
$120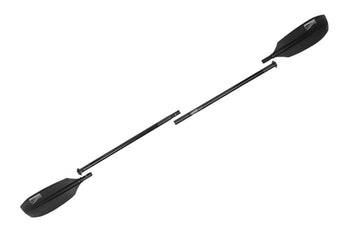 High Angle Fiberglass / Carbon Kayak Paddle
Ultra-lightweight and balanced power. This paddle is very comfortable to use and generates a lot of power with each stroke.
$165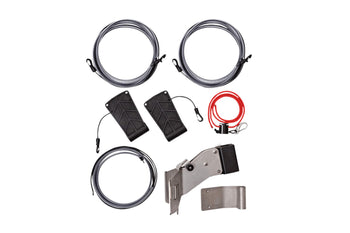 Motor Bracket
This motor bracket is required to mount a Torqeedo 403 A motor. Add this accessory to your cart when adding one of the motors listed below.
$455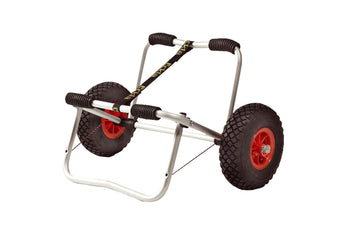 Collapsible Kayak Dolly
Lightweight dolly for transporting fully inflated kayaks on land. Can be collapsed and taken with you for portages along the way.
$115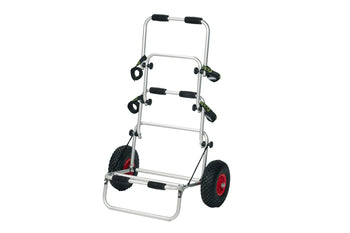 Collapsible Transport Cart
Lightweight 2-wheel cart for transporting gear or un-inflated kayaks. Can be collapsed and taken with you for transport assistance on your journeys.
$235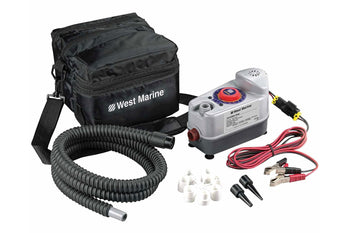 Deluxe Inflator Pump
Automatic 2-stage inflator pump with a built in gauge. This is objectively the best and most reliable electric inflator on the market.
$149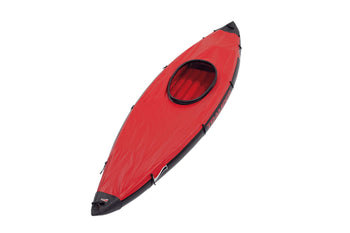 Keep your gear and your body dry! This converts the Tramper into a one seat sit-in kayak.
$265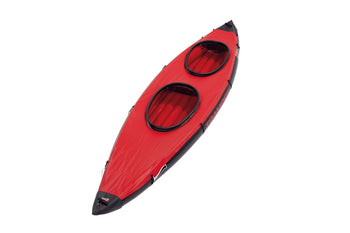 Keep everything dry! This cover converts the Tramper into a two seat sit-in kayak.
$375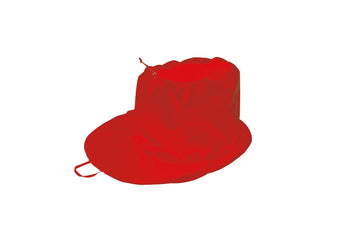 Apron
This accessory goes hand-in-hand with the Spray Cover accessories. You will need 1 apron per person.
$80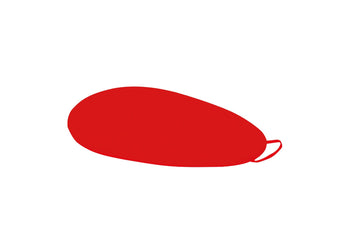 Cockpit Hatch Cover
You will need this cover if you plan to use the 2 seater Spray Cover and only paddle with 1 person. This cover blocks off one cockpit opening to create a watertight seal.
$40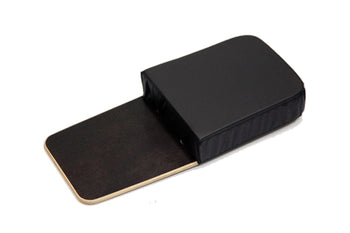 High Backrest Add-on
If you don't elect to get the accessory kit, be sure to get these back rests to save your back for longer paddles. This backrest really does wonders for paddling comfort.
$59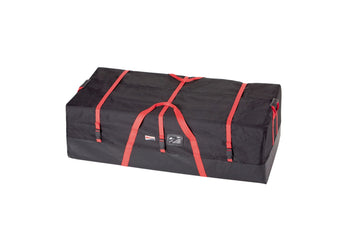 Universal Boat Bag
This bag is easy to put the boat and all gear inside. Simply put everything in a neat pile then fold the flaps around it all. Cinch straps and buckles make it easy to keep everything in place for your next adventure.
$155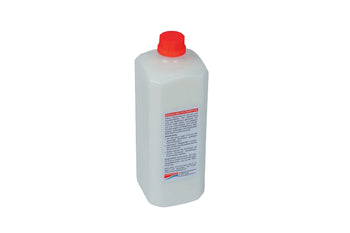 Boat Skin Conditioner 1L
This proprietary conditioner keeps your rubber hulls in great condition. Keeps fabric from drying out, prevents aquatic growth and even makes the boat faster through the water!
$45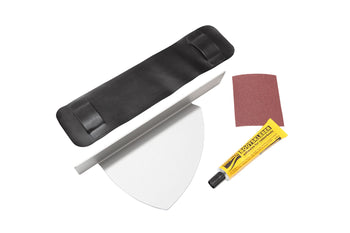 Glue-on Stabilizing Fin
In some cases, you may prefer a skeg over a rudder. This glue-on fin is what you will want in those cases.
$85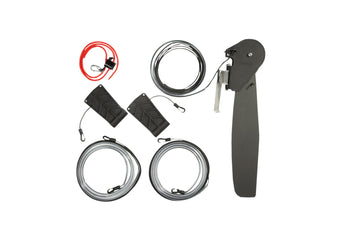 Rudders make every padding experience better. More control is never a bad thing! This complete rudder kit comes with everything you need to install a rudder onto a Tramper.
$195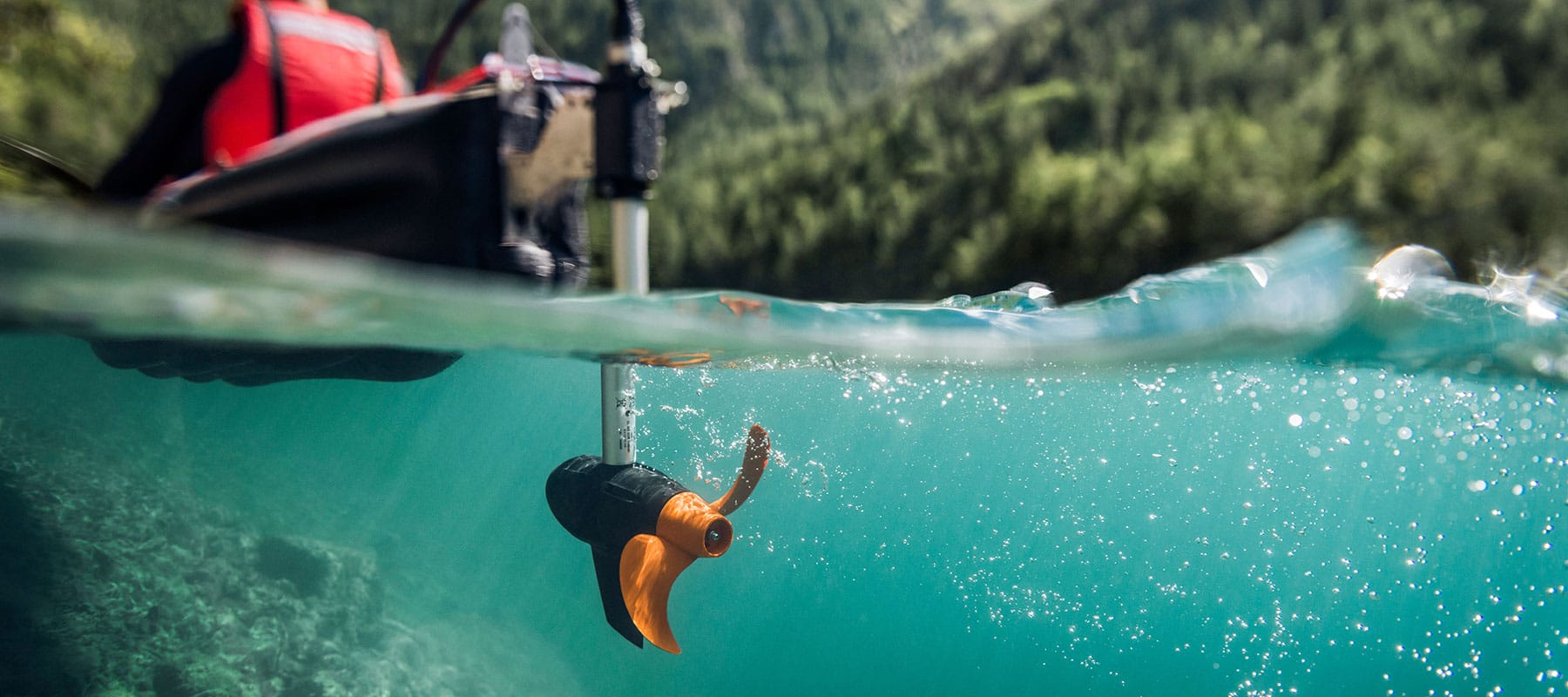 OUTBOARD MOTORS
Let Technology
Do the Paddling for You!
Kayaks are amazingly well designed boats. They are stable due to their low center of gravity and are very hydrodynamic allowing them to be propelled easily, even by small muscle groups such as shoulders and arms. It is time to take advantage of the kayak's design and leave behind manual paddling! Electric motors are reliable, efficient and environmentally friendly. An electric motor will free your hands so you can dedicate them to a fishing rod for easier landing of the big catch, a pair of binoculars for easier bird watching, or any other activity that would require two hands. Give in to the dark side and embrace the way of electric propulsion!

Built in GPS
Did you know that Torqeedo motors have built in GPS and a screen that displays real time range, runtime and speed? It also allows you to easily troubleshoot with error code readouts. Don't guess with other brand's display free designs. Torqeedo makes it easy to own and use an electric outboard!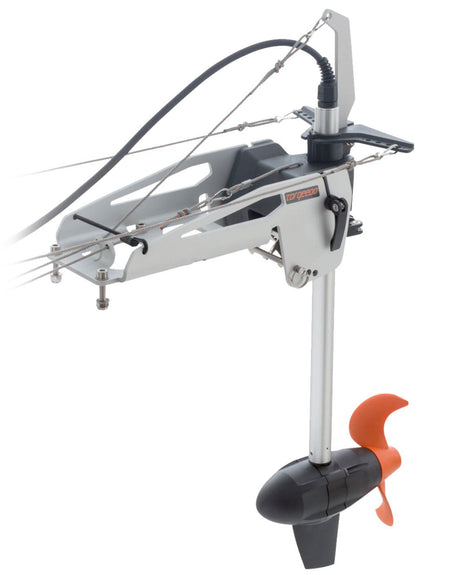 Torqeedo 403 AC
$2299
This electric motor is light in weight and provides ample propulsion to get you to your destination (or back) with ease! The Grabner motor mount (add to your cart from the above accessory list) provides a perfect and custom fit of this little motor so you can mount and be on the water in mere minutes.
Benefits:
Faster than paddling
Easier than paddling
Extends paddling
Paddling into the wind becomes trivial
Rechargeable via wall outlet or solar
Environmentally friendly
Kit Includes:
1 Motor, 1 915Wh Lithium Battery, 1 Control Unit, 1 90w AC Charger, 1 USB Adapter for charging other devices from battery, 1 Magnetic Kill Switch
Additional Compatible Outboards
Sometimes the motor we recommend isn't the best for everyone's particular needs or situation. Please check out these other motors for alternatives to our above recommendation.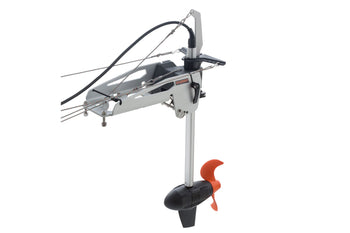 Torqeedo 403 A
The exact same motor as the 403 AC, but with a lower capacity and less expensive battery.
$1799
Resources & Support
Warranty & Registration
Brochures & Manuals
Assembly Information
Reviews
Sustainability
Grabner Warranty
Grabner provides a 24-month total warranty on all boats and a 7-year warranty on the boat-skin. For full details on what is covered in the warranty reference the Grabner manual here.
24 months total-warranty / 7 years boat-skin-warranty
Boat Assembly
Tramper Reviews
Highly environmentally friendly and sustainable, Grabner boats are the most environmentally friendly on the world market.
The boat skin inside coating is made of renewable natural rubber.
The boat skin can be 100% recycled. This recovers 95% of the primary energy.
The boat skin does not contain PVC! No toxic plasticizers! No poisonous chlorine!
Grabner boats have an unsurpassed lifespan of several decades, instead of throwing away after a short time!
The boat skin is manufactured to the highest EU environmental standards in Germany.
Easy to repair: The Grabner factory service handles repairs quickly, professionally and will not let you down.