$4500
Buy today or finance with Bread
click Finance below to Learn More.
Half-Canoe and Half Powerboat
This hybrid canoe offers the best of both worlds to take three adults through the bayou or mangroves with ease. This design is also well suited for when you want to paddle down-river then travel back up-river via a motor. A 6 hp will push this sleek boat up to 15 mph!
Speed Features & Innovations
The Speed combines its sleek canoe bow with a long water line for efficient performance. The Speed utilizes famous canoe performance traits like the ability to track a straight course and to slice through waves with ease with the pinched bow.

1
2
3
1
Flexible Seating: Two included bench seats and an optional third bench seat provide ample seating with the flexibility of position for optimal boat performance.
2
Canoe Style Bow: The bow of the Speed is identical to the famous Adventure canoe bow. This tried and tested design gives this boat the flexibility to be paddled like a canoe, kayak or add oarlocks and row it like a performance rowing skiff!
3
Outboard Mount: The Speed is a canoe but instead of being a double ender, it sports a standard outboard mount transom. This transom can support up to 6 hp and can propel the boat as fast as 15 mph! The addition of an outboard makes this boat a fantastic tender alternative to traditional style tenders and dinghies.
Not the right fit for you? Let's find your perfect boat.
Speed Features & Innovations
The Speed, upon first look, seems like a goofy hybrid of two different boats, but when you take a step back you'll realize that this boat is so much more. The Speed is made of EPDM rubber, which is better than Hypalon. It can be rowed, paddled or motor propelled as well as carry nearly 900 pounds. The Speed is a well rounded boat that can be used as a fun boat or a work boat (or both) and will last for decades!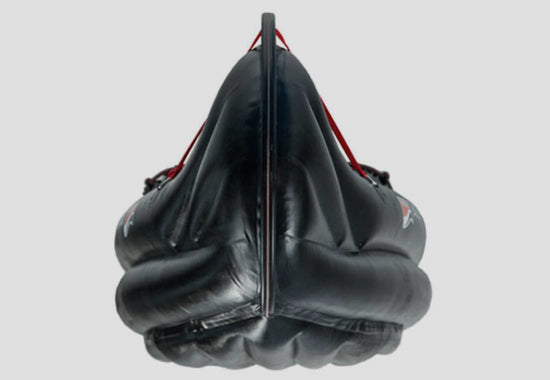 Tracks Like a Canoe
The canoe hull shape of the Speed helps it maintain excellent directional stability. The ribs in the floor get larger towards the middle and also help maintain course without the need for a skeg.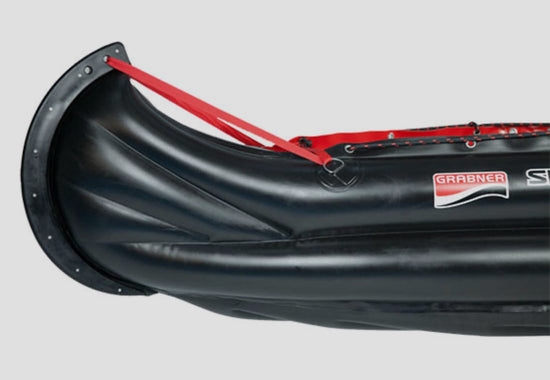 Durable and Robust
The strong bow reinforcement strake protects the boat when hitting docks, rocks or other hazards. The webbed belt that provides additional support for the bow can be used to carry the boat and to fasten gear and equipment. It also provides a handhold in the event of rough seas or a capsize.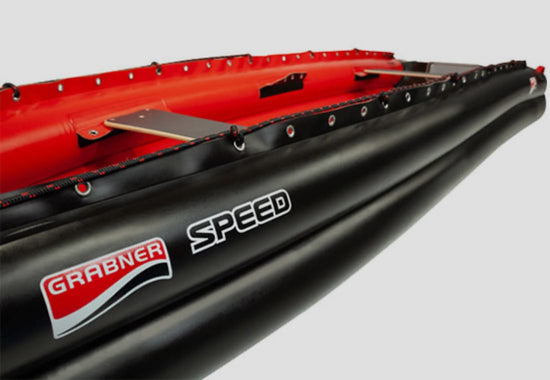 Grommet & Rope Rail
The grommet rail that runs the length of each side of the Speed offers splash protection as well as infinite possibilities for gear fastening and accessory attachment. Some possibilities include ability to attach a bimini or oarlocks (the Speed is a dream to row). The rope that runs in the grommet rail is well suited as a safety line in rough seas as well as a hand-hold for carrying the boat on land.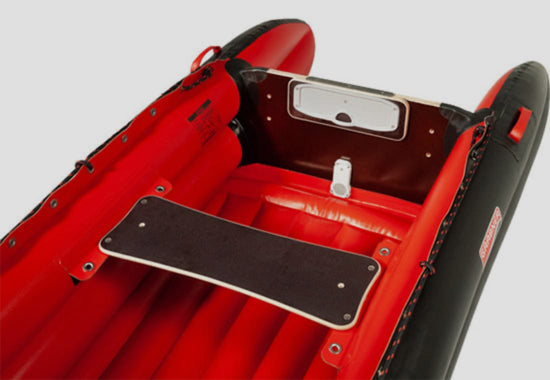 Robust Transom
The robust transom can mount environmentally-conscious electric outboards as well as gas outboards up to 6 hp. The transom scupper drains off splashed water while under way and can be closed when the boat is sitting still to prevent any water ingress.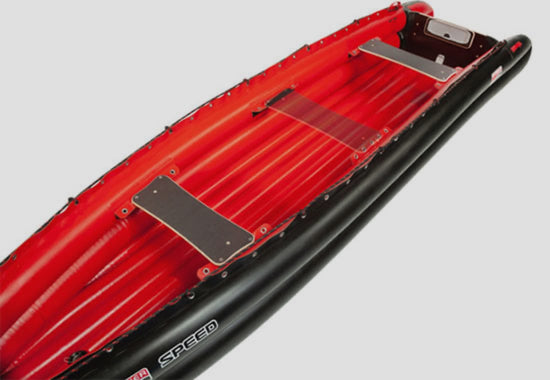 Three Seat Positions
The large interior space with the wide stern can carry more than a traditional canoe. There are three seat positions to comfortably carry passengers and gear while balancing weight onboard to optimize performance.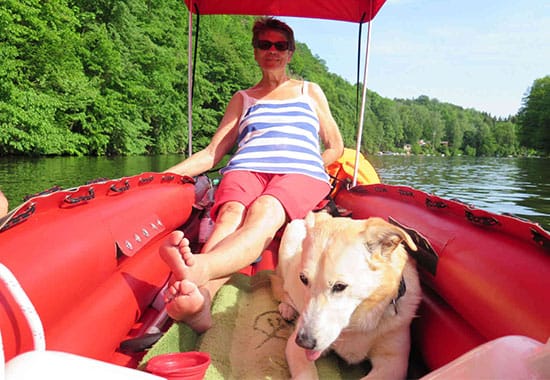 High Freeboard
The high freeboard of the Speed protects against splashing water and spray. These raised walls also help keep small pets and children safely inboard with less risk of them falling overboard. Your luggage can also be positioned low in the boat for a lower center of gravity and protection from the elements.
Boat Specifications
Hose Diameter
1' 6" x 0' 7"
Capacity
3 People / 838 lbs
Packing & Assembly Specifications
HIGH-PERFORMANCE ACCESSORIES
TAME THE WHITEWATER
OR CRUISE THE LAKE
Grabner offers their boats in a unique way. They sell the base boat, with no extras so you can use the gear you already have or purchase the perfect loadout for your adventures from their expansive accessory offering. Please check out our recommendations below for how to properly outfit your new canoe to best suit your use case and needs.

The Right Paddle, Right Now
Everyone who kayaks paddles their own way. It is sometimes an expensive game of trial and error to find the paddle that best fits you and your style. Grabner and Red Beard Sailing have a narrow and specific selection of paddles so that you can determine the right paddle for your needs, the first time.
$425
This accessory kit rounds out your new canoe purchase. This kit provides a bag, pump and paddles so you can get on the water and start enjoying your new canoe right away!
Why Red Beard Recommends
This is a baseline accessory kit that will get you up and running as quickly as possible. The paddles are collapsible and everything can store in and on the backpack. The Speed is a nearly 15' long canoe, so moving it in a wheel bag is always easier on the back than carrying it.
Accessory Kit Includes:
1 Hand Air Pump, 2 Single Blade 3pc Canoe Paddles, 1 Backpack With Wheels, 1 16ft Boat Line, 1 Bottle of Boat Skin Conditioner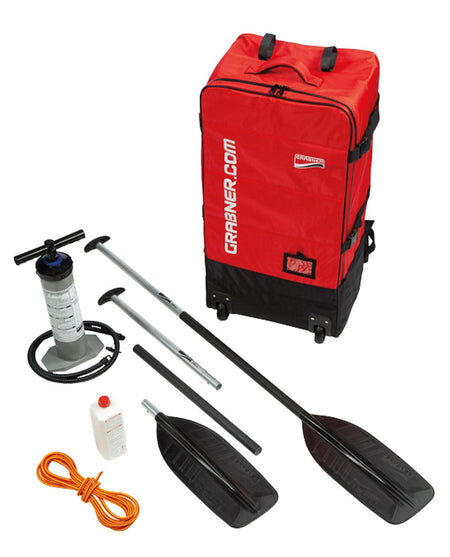 Speed Combi-Paddle Accessory Kit
$365
The Combi-Paddle accessory kit is a great starting point for learning what the Speed has to offer. Including all of the necessary bits to get you hurtling down your favorite river or cruising across your favorite lake.
Why Red Beard Recommends
The Combi-paddle can be 2 single blade paddles for when you are out with a friend, but when you want to get upstream (or downstream) faster, this paddle can turn into a double-blade kayak paddle for more power. This is a kit that maximizes utility without breaking the bank.
Accessory Kit Includes:
1 Hand Air Pump, 1 Combi-Paddle, 1 Backpack With Wheels, 1 16ft Boat Line, 1 Bottle of Boat Skin Conditioner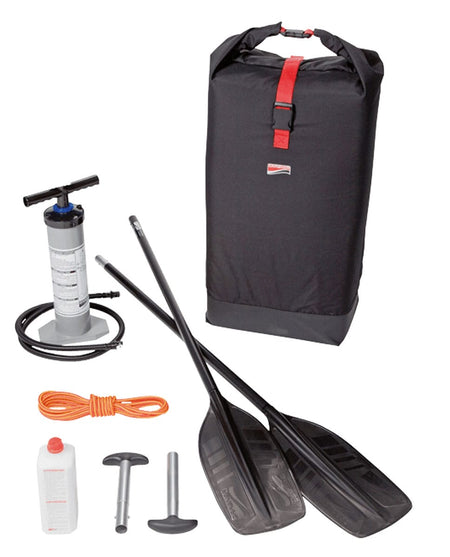 Additional Accessories
The best way to make a motor boat the perfect fit for you, is to make it your own with Grabner's world class selection of boat accessories. Below you will find all of the available accessories for the Grabner Speed.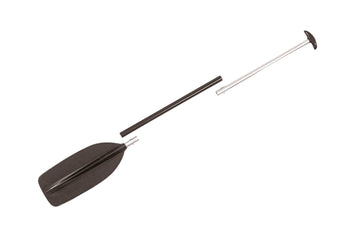 Single Blade 3pc Canoe Paddle
These are robust, reliable, ergonomic and collapsible paddles. They break down to fit in the storage bag or pack in luggage for a trip aboard a plane.
$125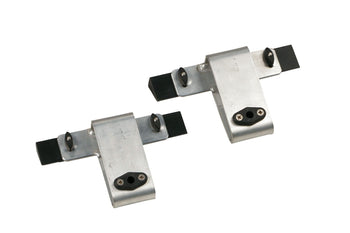 The Speed is narrow and slippery in the water. Rowing it is pleasurable and powerful with long oars. Use these oarlocks to give this boat a standard pin-receiver for a set of oars.
$163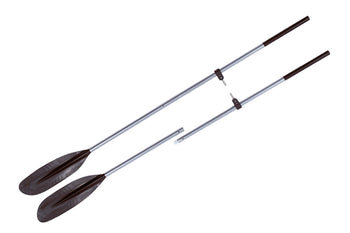 These high quality oars use lightweight, rugged aluminum shafts with Grabner's famous blade shape and rugged polycarbonate construction.
$208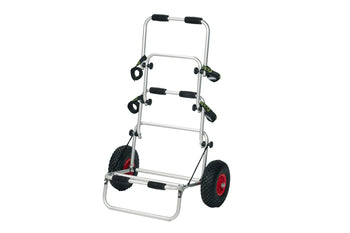 Collapsible Transport Cart
Lightweight 2-wheel cart for transporting gear or un-inflated boats. Can be collapsed and taken with you for transport assistance on your journeys.
$235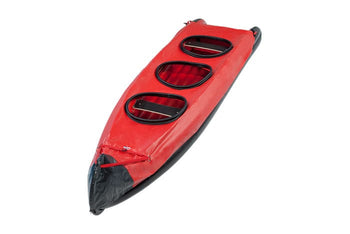 Keep you, your friends and your gear dry with this removable spray cover! Use aprons to make a watertight seal with paddlers, use a hatch cover if you are paddling fewer people.
$547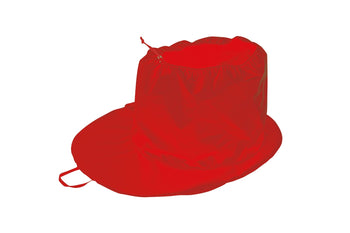 Apron
The apron will keep your lower body and inside of the boat dry in whitewater and wet weather. Universal fit is perfect for any paddler.
$80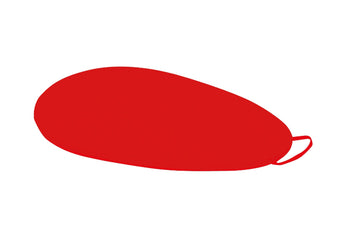 Cockpit Hatch Cover
You will need this cover if you plan to paddle with fewer than 3 people (with the spray cover installed). This cover blocks off one cockpit opening to create a watertight seal. Great for keeping gear dry on those wet runs!
$40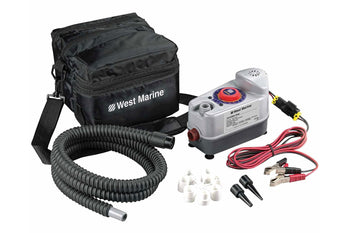 Deluxe Inflator Pump
Automatic 2-stage inflator pump with a built in gauge. This is objectively the best and most reliable electric inflator on the market.
$149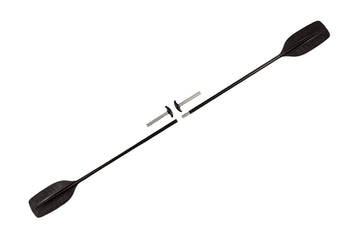 Combi-Paddle Single-Double Paddle
This high quality aluminum paddle can be two single-blade paddles or one double-bladed kayak paddle. The Speed begs to be paddled with a double-blade paddle, answer the call!
$130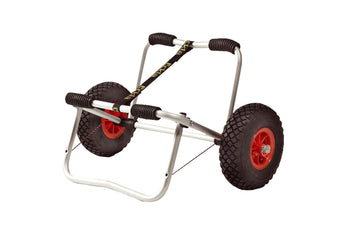 Collapsible Canoe Dolly
Lightweight dolly for transporting fully inflated powerboats on land. Can be collapsed and taken with you for portages along the way.
$115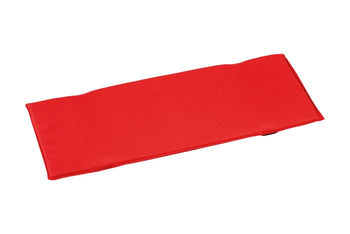 Seat Pad
The seat boards for the Grabner Speed are made of marine plywood, Get these pads, your butt will thank you.
$33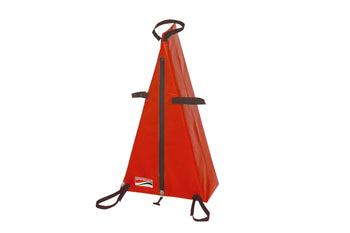 Bow Bag
This shaped bag will fit perfectly in the otherwise wasted space of the bow and stern peaks. This bag maximizes storage for any adventure!
$182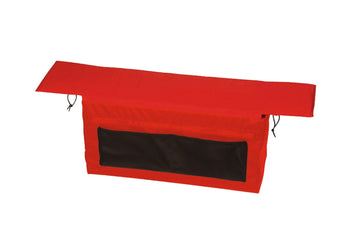 This is a padded seat cushion with an attached under seat storage compartment. This helps keep gear close at hand, but safe from the elements.
$91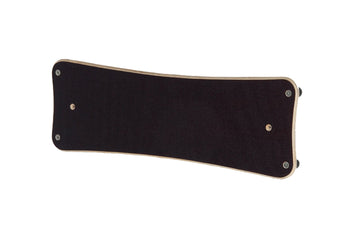 Center Seat Board
The Speed comes with a front and rear seat, but a third seat can be fitted amidship. This is that third seat board.
$39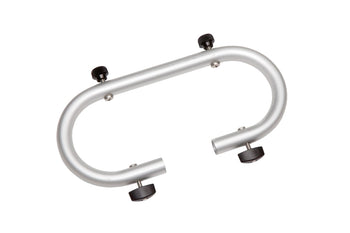 Drop Seat Bracket Set
Sometimes you want to sit lower in the boat, this accessory will lower the standard height of the seat by about 5".
$91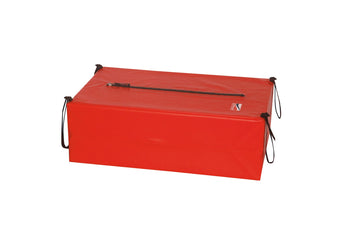 Center Bag
This high quality bag is designed to sit in the center of the boat. It has a waterproof zipper to keep all of your gear safe and dry from spray and rain.
$208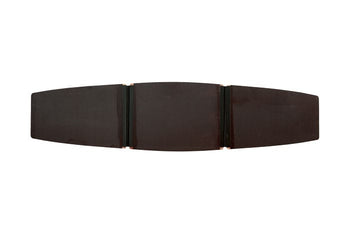 This foldable rigid floor increases the torsional rigidity and provides a solid under-foot feel. This would be a great accessory for fishermen and hunters who need firm footing.
$469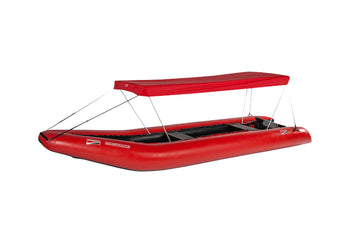 Sun Awning
Bring the shade with you on your adventures on the Grabner Speed with this full boat sun awning / bimini.
$248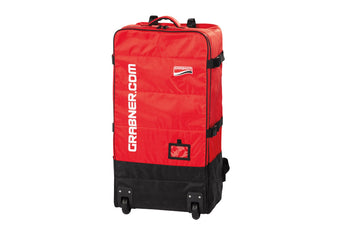 Backpack (Size 2)
If you don't purchase an accessory kit, then you may want this backpack to store and transport your Speed powerboat in.
$169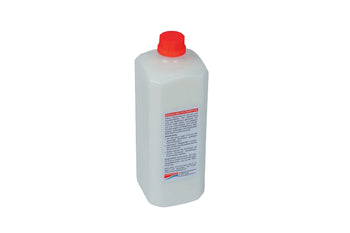 Boat Skin Conditioner 1L
This proprietary conditioner keeps your rubber hulls in great condition. Keeps fabric from drying out, prevents aquatic growth and even makes the boat faster through the water!
$45
OUTBOARD MOTORS
Sometimes You Just Need
A Little Push.
The Grabner Mustang is very easily powered and is efficiently pushed by small outboards. With a capacity to accept up to a 10 horsepower gas outboard, the Mustang can achieve speeds as high as 22 MPH!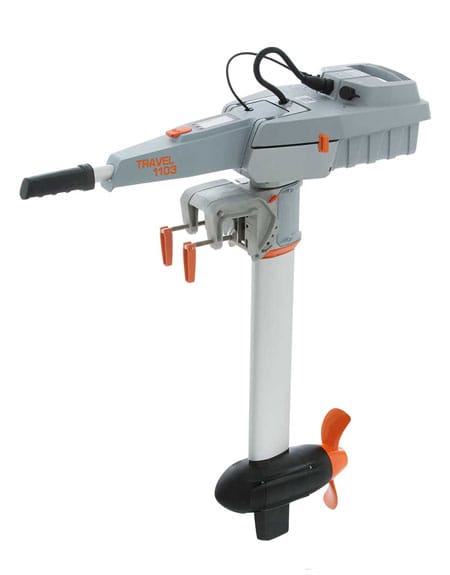 Torqeedo 1103CS
$2799
For the ultimate portable setup, the 1103CS allows you to motor along at a top speed of 6 MPH, with the standard propeller. This motor requires very little maintenance and will never have a gummed up carburetor to ruin your adventure.
Benefits:
Only 38 lbs including battery
Available in two shaft lengths. The short shaft is recommended for the Mustang GT.
Easy to manage and handle as the battery is integrated into the body of the motor, like a built-in gas tank.
The LCD display will give you current speed, battery capacity readings, remaining range and even error codes!
Kit Includes:
1 Short Shaft Motor, 1 915Wh Lithium Battery, 1 AC Charger, 1 USB Adapter for charging other devices from battery, 1 Magnetic Kill Switch
Additional Compatible Outboards
Sometimes the motor we recommend isn't the best for everyone's particular needs or situation. Please check out these other motors for alternatives to our above recommendation.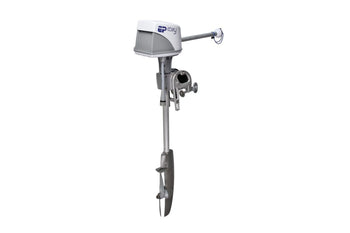 Electric Paddle EP Carry
This 1 hp equivalent outboard is a lightweight simple solution to get your Speed moving!
$1600
Resources & Support
Warranty & Registration
Brochures & Manuals
Reviews
Sustainability
Grabner Warranty
Grabner provides a 24-month total warranty on all boats and a 7-year warranty on the boat-skin. For full details on what is covered in the warranty reference the Grabner manual here.
24 months total-warranty / 7 years boat-skin-warranty
Speed Reviews
Highly environmentally friendly and sustainable, Grabner boats are the most environmentally friendly on the world market.
The boat skin inside coating is made of renewable natural rubber.
The boat skin can be 100% recycled. This recovers 95% of the primary energy.
The boat skin does not contain PVC! No toxic plasticizers! No poisonous chlorine!
Grabner boats have an unsurpassed lifespan of several decades, instead of throwing away after a short time!
The boat skin is manufactured to the highest EU environmental standards in Germany.
Easy to repair: The Grabner factory service handles repairs quickly, professionally and will not let you down.