The Long Speedster
Long and sleek, this inflatable power boat is more efficient through the water than traditional dinghies. Thanks, in part, to the long waterline and narrow beam, it glides over the water effortlessly, allowing for a smaller outboard to be used. The Mustang is capable of speeds of up to 18 miles per hour with only a 9.9 hp outboard! This boat will carry up to 3 adults and can be easily piloted by one person.
Mustang Features & Innovations
Making easy headway with low power outboards makes the Mustang a great option for your next yacht tender. The EPDM hull material outperforms PVC and Hypalon in every category and is ideal for tropical sun exposure.

1
2
3
1
EPDM Rubber: Rubber hull material offers superior UV protection and is incredibly abrasion resistant all while being safe to bump into your larger boat without worry of damage to either boat.
2
Grommet Rail: Full length grommet rail allows for flexible seat positioning as well as ample space to stow and tie down gear.
3
Robust Transom: The transom can mount outboards up to 10 hp. The transom scupper drains off splashed water while under way and can be closed when the boat is sitting still to prevent any water ingress.
Mustang Features & Innovations
The sleek design with wide side tubes provides multiple benefits: impressive performance under low power; impressive rigidity; and great stability thanks to a 47" beam. The inner width of 20" provides comfortable seating for all passengers and equipment.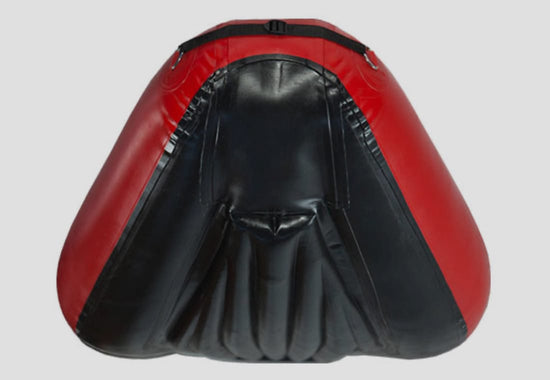 Triple Contact Hull Design
The tubes and floor are designed to create a tunnel effect that provides performance and stability similar to a catamaran. This is the key to the low power performance that the Mustang boasts.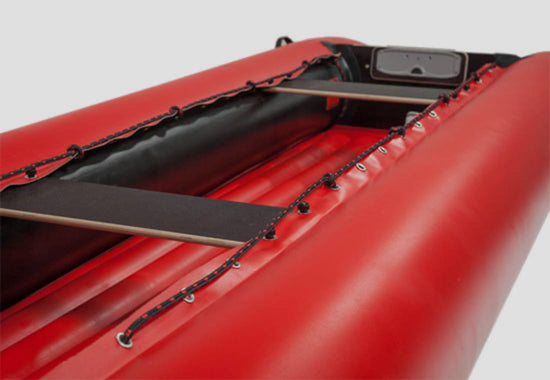 Grommet & Rope Rail
The grommet rail that runs the length of each side of the Mustang offers some splash protection as well as infinite possibilities for gear fastening and accessory attachment. Some possibilities include ability to attach a bimini or oarlocks (the Mustang is very pleasurable and fast to row). The rope that runs in the grommet rail is well suited as a safety line in rough seas as well as a hand-hold for carrying the boat on land.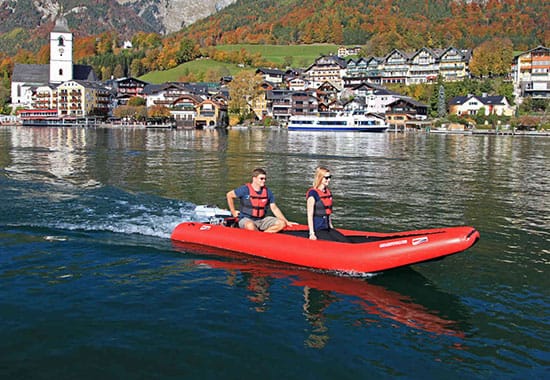 Proven Performance
With a Torqeedo 1103 you can expect a max speed of 7mph.
With a 6 hp gas outboard you can expect a max speed of 16 mph.
With a 9.9 hp gas outboard you can expect a max speed of 21 mph.
*actual speeds may vary based on sea state, outboard, and load.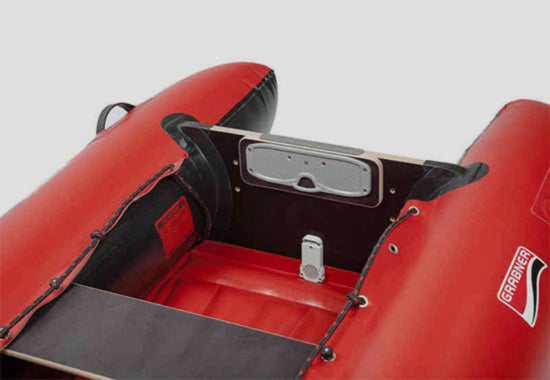 Robust Transom
The robust transom can mount environmentally-conscious electric outboards as well as gas outboards up to 6 hp. The transom scupper drains off splashed water while under way and can be closed when the boat is sitting still to prevent any water ingress.
The compact slipping wheels can easily be mounted to the transom via the pre-drilled installation holes. The wheels will make it easy to launch and retrieve your Mustang from the water at the ramp or beach.
Boat Specifications
Capacity
3 People / 882 lbs
Packing & Assembly Specifications
Resources & Support
Warranty & Registration
Brochures & Manuals
Reviews
Sustainability
Grabner Warranty
Grabner provides a 24-month total warranty on all boats and a 7-year warranty on the boat-skin. For full details on what is covered in the warranty reference the Grabner manual here.
24 months total-warranty / 7 years boat-skin-warranty
Mustang Reviews
Highly environmentally friendly and sustainable, Grabner boats are the most environmentally friendly on the world market.
The boat skin inside coating is made of renewable natural rubber.
The boat skin can be 100% recycled. This recovers 95% of the primary energy.
The boat skin does not contain PVC! No toxic plasticizers! No poisonous chlorine!
Grabner boats have an unsurpassed lifespan of several decades, instead of throwing away after a short time!
The boat skin is manufactured to the highest EU environmental standards in Germany.
Easy to repair: The Grabner factory service handles repairs quickly, professionally and will not let you down.