$8750
Buy today or finance with Bread
click Finance below to Learn More.
A Giant Canoe for Group Paddling
The Adventure Team is a very large canoe designed originally for Dragon Boat racing. With the long symmetrical waterline, this boat has immense directional stability, an absolute dream for any professional. This massive boat packs down into a manageable storage and transport size so it can travel or stay safe when not in use. Designed for 10 people, this canoe is sure to impress any group of paddlers!
Adventure Team Features & Innovations
The symmetrical design and long waterline makes this boat fast through the water and comfortable to paddle.

1
2
3
1
Inflated seats make for comfortable seating for up to 10 paddlers and provide a lightweight seating option that keeps the boat portable when in storage.
2
Canoe style bow and stern keeps this boat looking traditional and sleek. Hard plastic bow and stern strake keep this boat safe from any hard collisions.
3
Pressure relief valves in each section ensure that the boat is never damaged, even when left on the beach. Leave it in the sun on a hot day without worry.
Not the right fit for you? Let's find your perfect boat.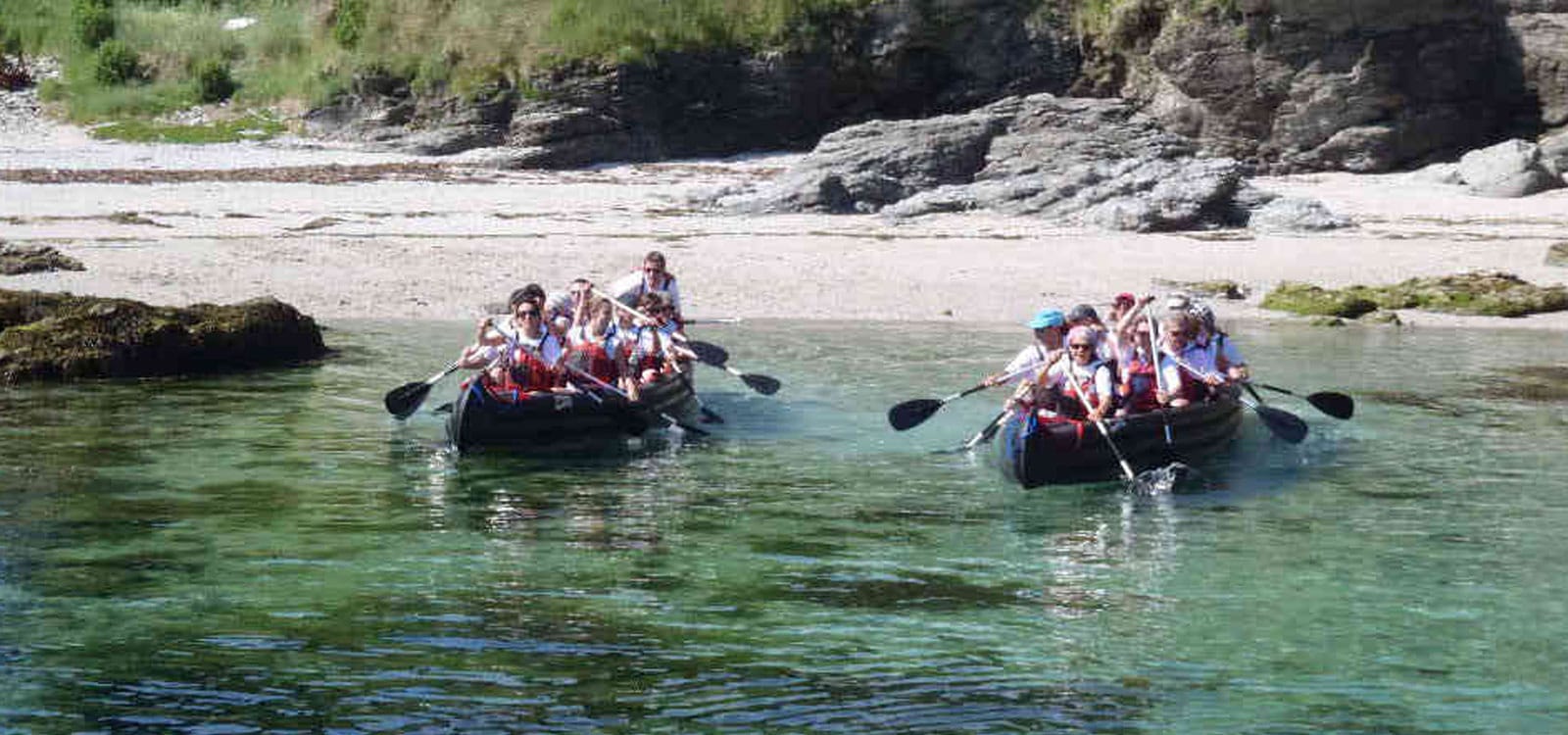 Adventure Team Features & Innovations
The Adventure Team is the faster alternative to a raft for lakes and light water courses. This is the perfect choice for group events, school trips, corporate events and commercial rafting operations.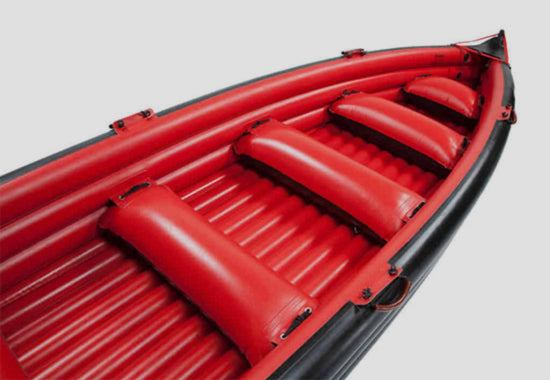 High Freeboard
High interior sidewalls are great for keeping all passengers safely aboard the boat, this can be especially useful when children are on board.
Thinly tubed sidewalls make for easier paddling and granting the maximum amount of interior space so adult paddlers can sit two to a seat.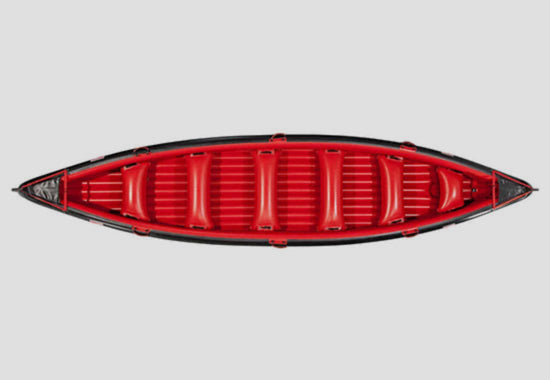 Symmetrical Shape
The long and symmetrical shape of the Adventure Team makes this boat a bit of a speedster, especially when driven by a team of strong paddlers. Novice paddlers will still find this canoe to be fast and fun.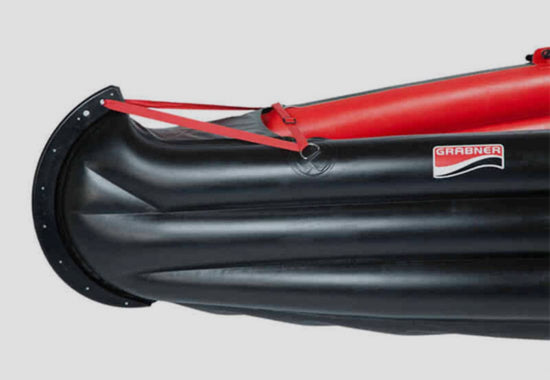 Durable and Robust
The strong bow and stern reinforcement strakes protect the boat when hitting docks, rocks or other hazards. The webbed belt that provides additional support for the bow can be used to carry the boat and to fasten gear and equipment. It also provides a handhold in the event of rough seas or a capsize.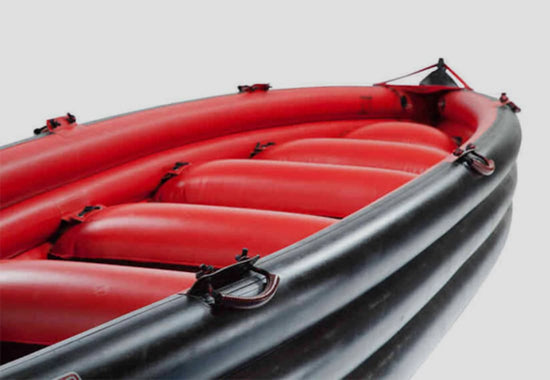 Easy to Carry
Enough handles for 10 people to lift this canoe and move it in and out of the water. This canoe is designed to instill teamwork and camaraderie, the best place to start is by bringing this 21 foot long canoe to the water's edge.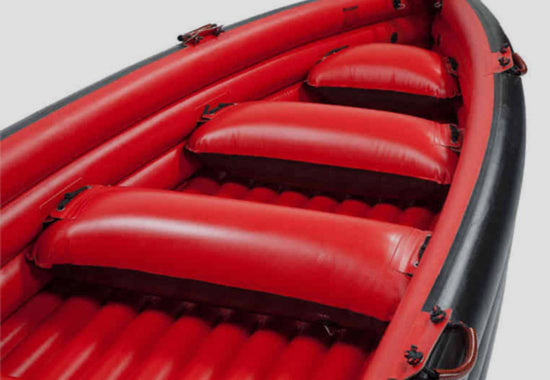 Comfortable Seats
The Adventure Team has 6 air-filled tube seats, similar to the rolls on the Invader line of whitewater rafts. These seats provide amazing comfort for paddlers but also grant this monster of a canoe with rigidity typically only possible with hard hulled boats.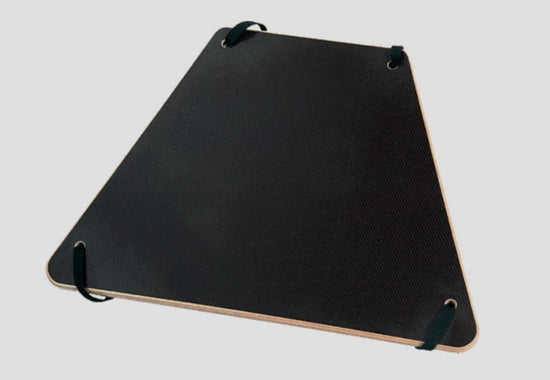 Helmsman Seat Available
It is always best to have an experienced helmsman aboard this oversized canoe. This optional seat will give the helmsman better access and increased leverage to safely guide and steer this boat to where it needs to go.
Adventure Team Technical Specs
Boat Specifications
Hose Diameter
1' 10" x 0' 6"
Capacity
10 People / 2359 lbs
Packing & Assembly Specifications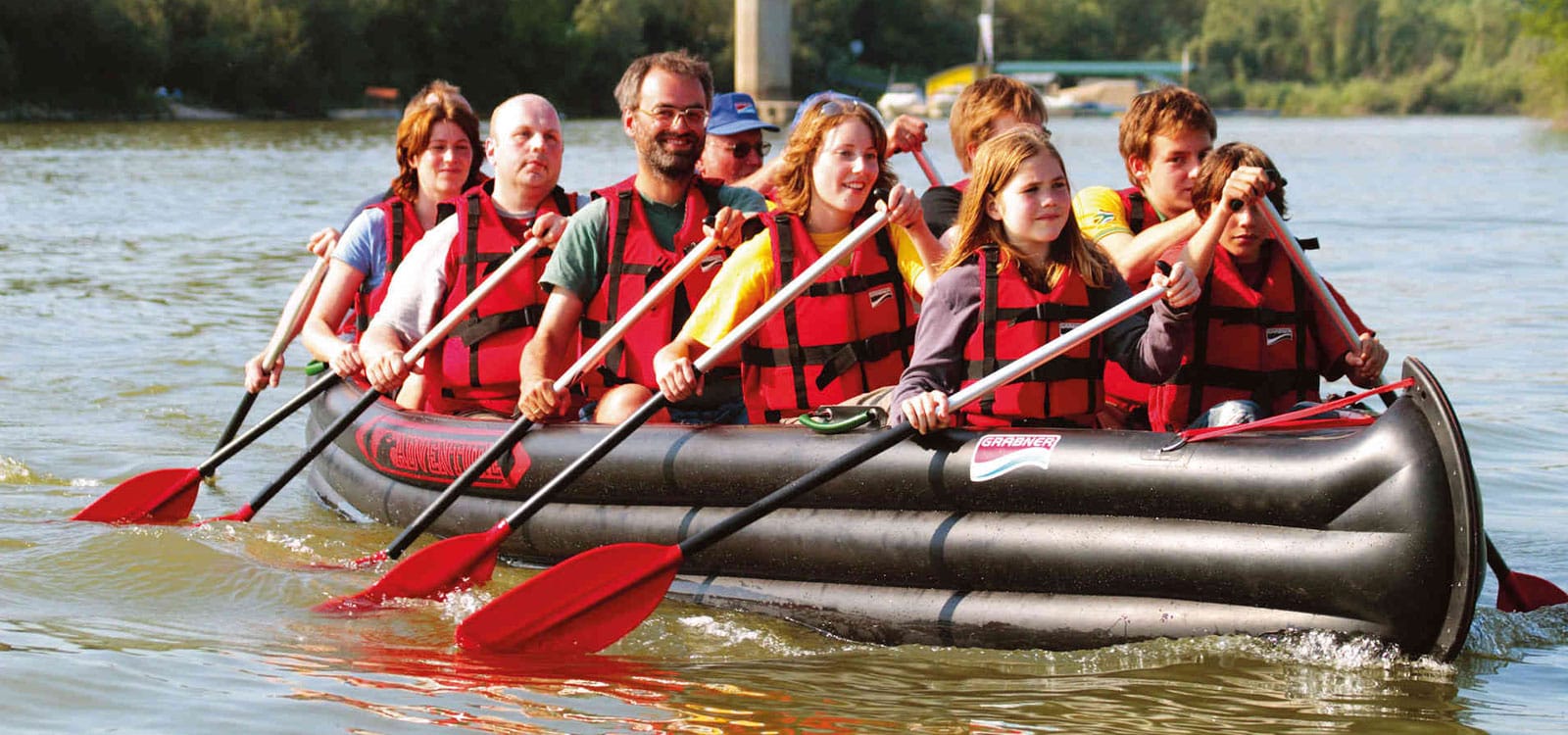 HIGH-PERFORMANCE ACCESSORIES
TAME THE
WILD
Grabner offers their boats in a unique way. They sell the base boat, with no extras so you can use the gear you already have or purchase the perfect loadout for your adventures from their expansive accessory offering. The Invader raft can be used for a multitude of things, from personal rafting trips down the Colorado River to professional whitewater businesses. Call us if you have any questions or specific use cases that beg for more customization.
Adventure Team Accessories
The best way to make a motor boat the perfect fit for you, is to make it your own with Grabner's world class selection of boat accessories. Below you will find all of the available accessories for the Grabner Adventure Team.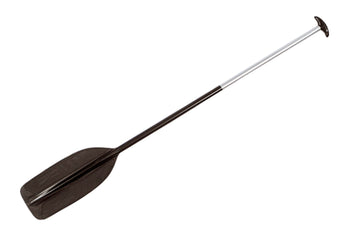 Single Blade 1pc Paddle
High quality paddles for canoeing; the rugged plastic blades and aluminum shafts won't break or bend even when hitting rocks and other hard surfaces. These are available in multiple lengths: 50" (128cm, best for kids), 61" (155cm) and 67" (170cm).
$70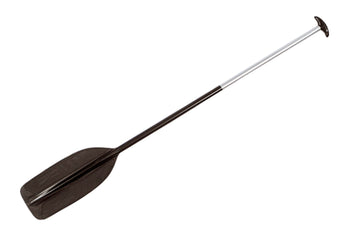 These are robust, reliable, ergonomic and collapsible paddles. This is a 1 part paddle for superior durability over a segmented paddle. This paddle is ideal for a helmsman/guide. It is a bit longer for better traction in rough waters, coming in at 67".
$79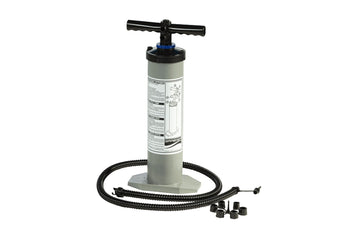 Hand Pump
A premium quality hand pump. With the included pressure valve adapter, you pump until you hear the hiss, then your raft is at the optimal pressure!
$71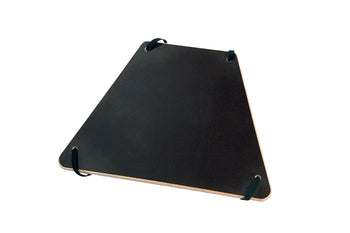 An additional raised seat in position for a helmsman or guide to sit and steer the boat.
$52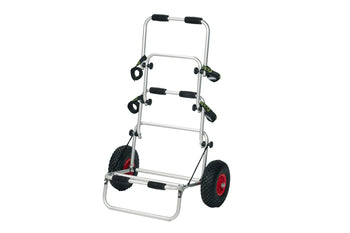 Collapsible Transport Cart
Lightweight 2-wheel cart for transporting gear or un-inflated canoes. Can be collapsed and taken with you for transport assistance on your journeys.
$235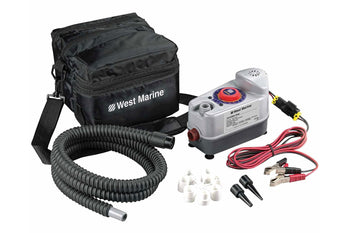 Deluxe Inflator Pump
Automatic 2-stage inflator pump with a built in gauge. This is objectively the best and most reliable electric inflator on the market.
$149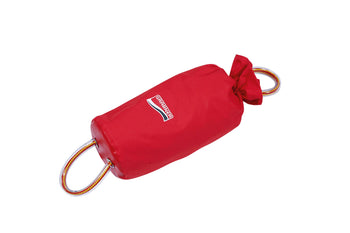 Rescue Throw Bag
This is a rescue bag for man overboard situations. Conforms to rafting OENORM V5868. This accessory or equivalent is required safety equipment for every raft.
$85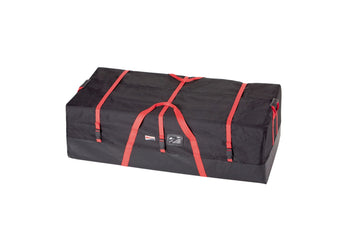 Universal Boat Bag
This bag is easy to put the boat and all gear inside. Simply put everything in a neat pile then fold the flaps around it all. Cinch straps and buckles make it easy to keep everything in place for your next adventure.
$155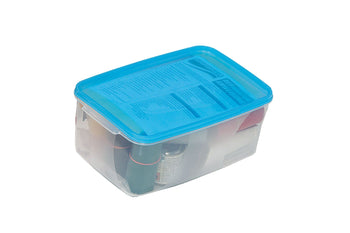 Service Box
A waterproof plastic container complete with service materials to keep your rafts running, even in the unlikely event of a puncture or damage to the raft.
$130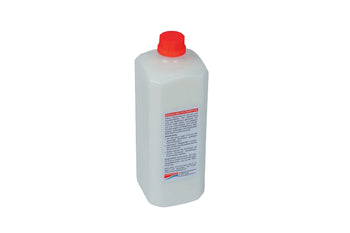 Boat Skin Conditioner 1L
This proprietary conditioner keeps your rubber hulls in great condition. Keeps fabric from drying out, prevents aquatic growth and even makes the boat faster through the water!
$45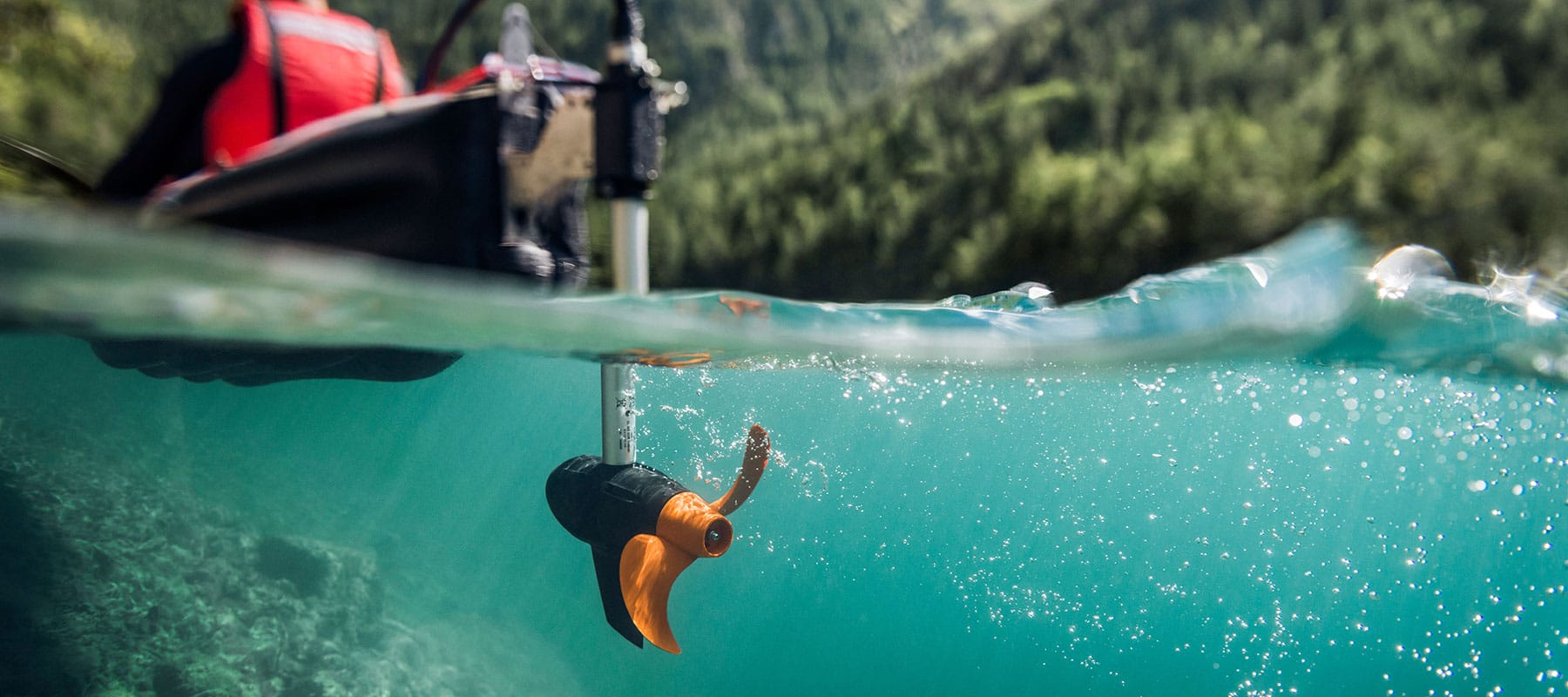 OUTBOARD MOTORS
Let Technology
Do the Paddling for You!
Kayaks are amazingly well designed boats. They are stable due to their low center of gravity and are very hydrodynamic allowing them to be propelled easily, even by small muscle groups such as shoulders and arms. It is time to take advantage of the kayak's design and leave behind manual paddling! Electric motors are reliable, efficient and environmentally friendly. An electric motor will free your hands so you can dedicate them to a fishing rod for easier landing of the big catch, a pair of binoculars for easier bird watching, or any other activity that would require two hands. Give in to the dark side and embrace the way of electric propulsion!

Built in GPS
Did you know that Torqeedo motors have built in GPS and a screen that displays real time range, runtime and speed? It also allows you to easily troubleshoot with error code readouts. Don't guess with other brand's display free designs. Torqeedo makes it easy to own and use an electric outboard!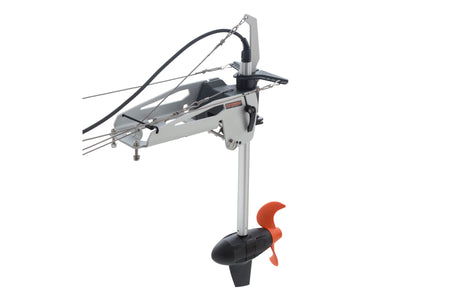 Torqeedo 403 AC
$2299
This electric motor is light in weight and provides ample propulsion to get you to your destination (or back) with ease! The Grabner motor mount (add to your cart from the above accessory list) provides a perfect and custom fit of this little motor so you can mount and be on the water in mere minutes.
Benefits:
Faster than paddling
Easier than paddling
Extends paddling
Paddling into the wind becomes trivial
Rechargeable via wall outlet or solar
Environmentally friendly
Kit Includes:
1 Motor, 1 915Wh Lithium Battery, 1 Control Unit, 1 90w AC Charger, 1 USB Adapter for charging other devices from battery, 1 Magnetic Kill Switch
Additional Compatible Outboards
Sometimes the motor we recommend isn't the best for everyone's particular needs or situation. Please check out these other motors for alternatives to our above recommendation.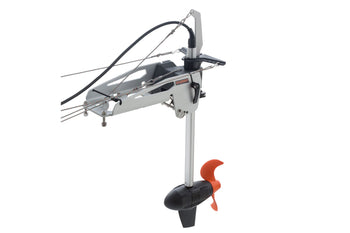 Torqeedo 403 A
The exact same motor as the 403 AC, but with a lower capacity and less expensive battery.
$1799
Resources & Support
Warranty & Registration
Brochures & Manuals
Assembly Information
Reviews
Sustainability
Grabner Warranty
Grabner provides a 24-month total warranty on all boats and a 7-year warranty on the boat-skin. For full details on what is covered in the warranty reference the Grabner manual here.
24 months total-warranty / 7 years boat-skin-warranty
Boat Assembly
Adventure Team Reviews
Highly environmentally friendly and sustainable, Grabner boats are the most environmentally friendly on the world market.
The boat skin inside coating is made of renewable natural rubber.
The boat skin can be 100% recycled. This recovers 95% of the primary energy.
The boat skin does not contain PVC! No toxic plasticizers! No poisonous chlorine!
Grabner boats have an unsurpassed lifespan of several decades, instead of throwing away after a short time!
The boat skin is manufactured to the highest EU environmental standards in Germany.
Easy to repair: The Grabner factory service handles repairs quickly, professionally and will not let you down.