$5300
Buy today or finance with Bread
click Finance below to Learn More.
Performs as good as it looks.
The all new MiniCat 310 Sport is newly redesigned! It is a fun and sporty sailboat that fits in a small bag. Offering a combination of performance and price, the 310 Sport is a great value for a solo sailor or an adult with a child. Capable of carrying over 500 pounds and equipping a wide variety of accessories, the 310 is great for apartment dwellers as well as cruisers looking for fun in the sun but limited by storage space.
Setup is easy! Click here to watch the full MiniCat 310 setup video.
Boat Capabilities
MiniCat 310
Max Crew Capacity
2 People
Max Carry Capacity
529 lbs
Capsize Resistance
Excellent
Seaworthiness
Lakes & Bays
Innovative MiniCat 310 Sport
The MiniCat 310 Sport is our best selling MiniCat model. It fits a wide range of functionality, and makes the perfect family sailor. It's very fast, easy to sail, and can even be outfitted with an outboard for use as a tender, or for when the wind dies down.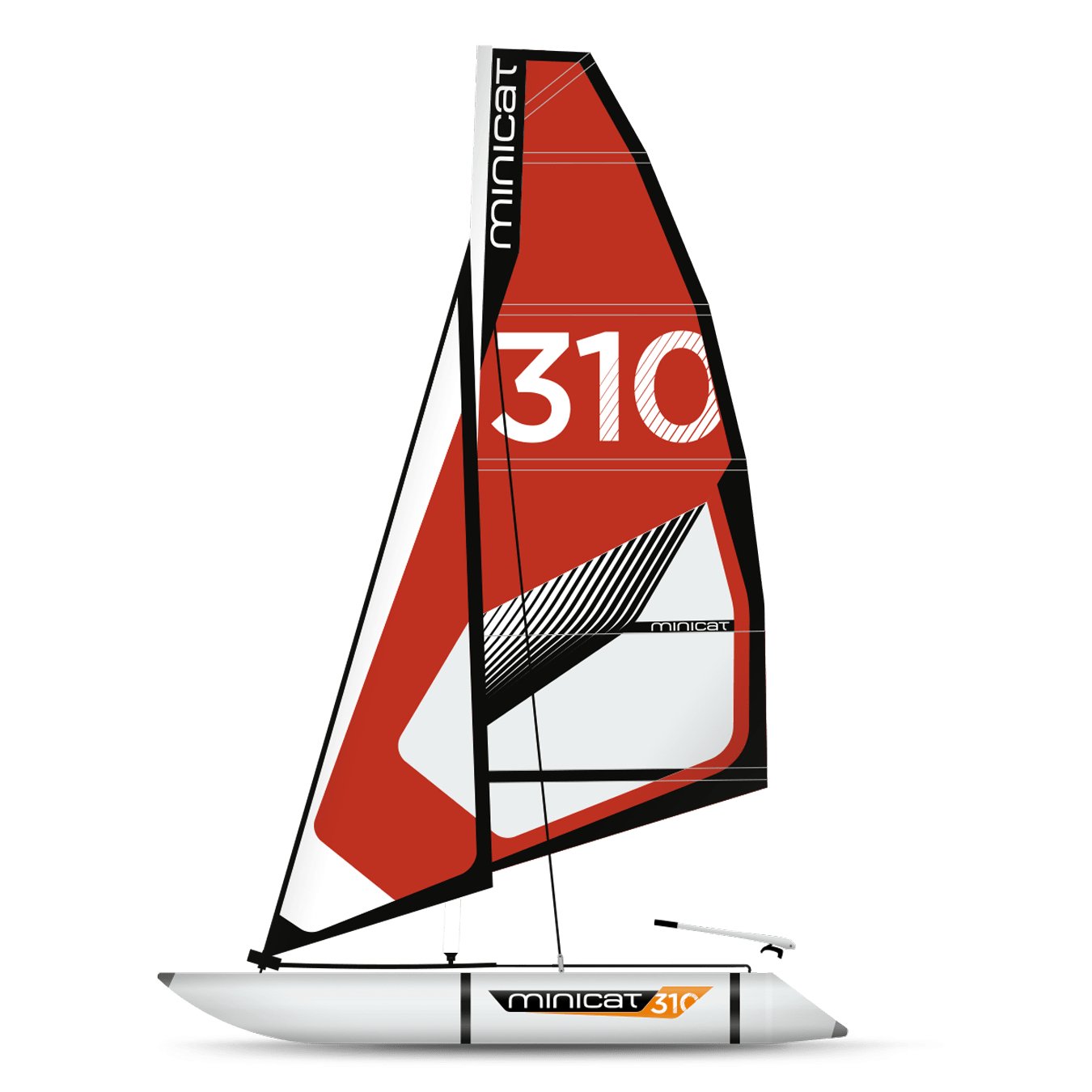 1
2
3
1
Lightweight mast is easy to step, making assembly worry-free.
2
Foam padded seats are comfortable and prevent slipping for all day sailing comfort.
3
Windowed sails make it easy to see 360° for added safety on the water.
Not the right portable sailboat for you? Let's find your perfect boat.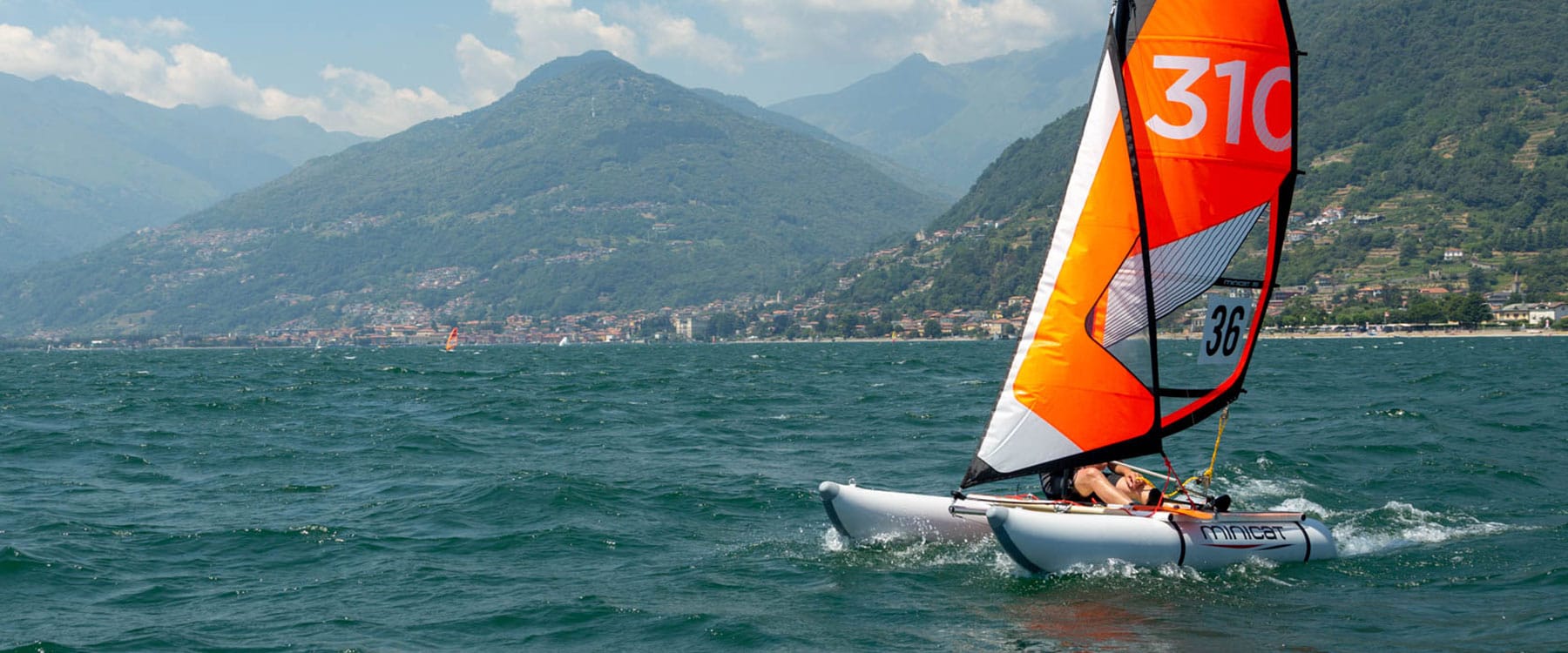 MiniCat 310 Features & Benefits
The MiniCat 310 is a boat that combines premium and lightweight materials that make it easy to carry on land and fast and efficient on the water. The 310 is the perfect boat for an adult or youngster to sail solo for a fun day on the water!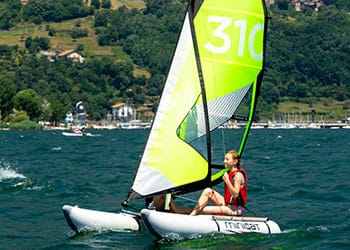 Continuous Line Roller Furling Jib
The MiniCat 310 Sport model is equipped with a continuous line roller furler. This allows you to put away the jib sail, on either tack without any worry or possibility of a snag, clog, or line override that the single-line furlers are notorious for.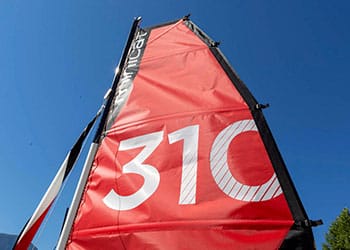 Fully Battened Square-top Mainsail
The square-top mainsail provides this beachcat with more than enough power to have a fun day on the water. Fully battened with fiberglass battens provides great sail shape, even in light winds. Some 310 sailors have reported surfing waves up to 15 knots, but average reaching speeds of 8-10 knots have been seen.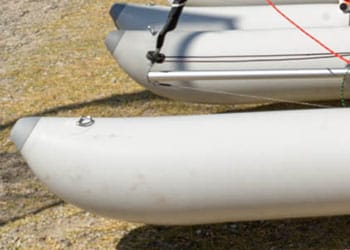 Heytex 5509 PVC
All MiniCats, including the MiniCat 310, have hulls made in Germany with Heytex 5509 PVC. This is top shelf PVC and has an extended life expectancy of typical boat PVC. This boat fabric is no different than other PVC with regards to repair. It is easily repairable by an amateur, so no more expensive boat yard repair bills!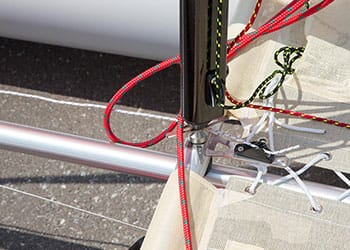 Powder Coated Lightweight Frame
MiniCats are built with lightweight aluminum frames that have been powder coated using techniques that are time tested and durable. The rugged, long-lasting frame uses the lightest weight materials for both transport ease and sailing performance.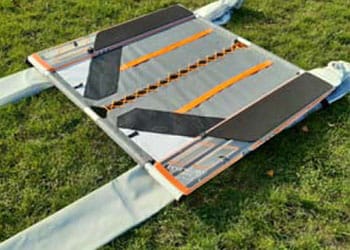 Ergonomic Trampoline
The MiniCat 310 has a feature rich trampoline. There are also pockets for the halyards and drybags, to keep the trampoline tidy and free of snagging points. There is a hiking strap long enough for at least 2 pairs of feet and bungee lacing at the base of the mast for stowing larger gear. There are also diagonal webbed straps sewn on the trampoline to provide extra grip.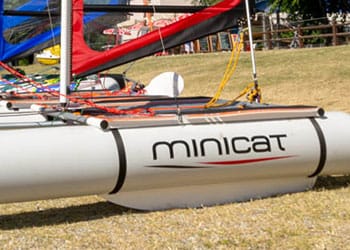 Low Aspect Ratio Keels
The MiniCat 310 is rocking long shallow keels under each hull which contribute to the MiniCat's ease of use and great sailing characteristics. The keels allow the MiniCat to be sailed in very shallow waters. You need only fly a hull when you want; it is very easy to prevent capsizes thanks to these keels that resist rotation of the hulls. The keels are set aft of the mast, which allows the 310 to tack much quicker than other hard hulled catamarans.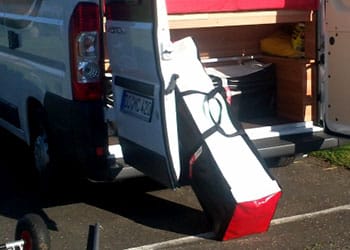 Small Pack-down for Easy Storage and Transport
The MiniCat 310 packs away into one bag. You can optionally choose to upgrade to two smaller bags, which makes transport and carrying the boat much easier. These bags are well organized to keep things from getting damaged in storage and transport. The MiniCat bags and packaway are better than other portable boats on the market. These bags can be stored under your bed, in a closet or checked as luggage on an airplane. Call your airline for a quote on oversized luggage fees, they can vary by airline.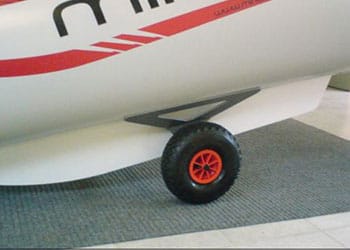 Additional Equipment
MiniCat has a comprehensive catalog of accessories for their boats. From front trampolines to motor mounts, there is a way to spice up your next adventure!
MiniCat 310 Techincal Specs
Boat Specifications
Optional Motor Bracket
Yes
Packing & Assembly Specifications
Bag Sizes
4' 5" x 1' x 1' 4"
Setup/Rigging Time
25 mins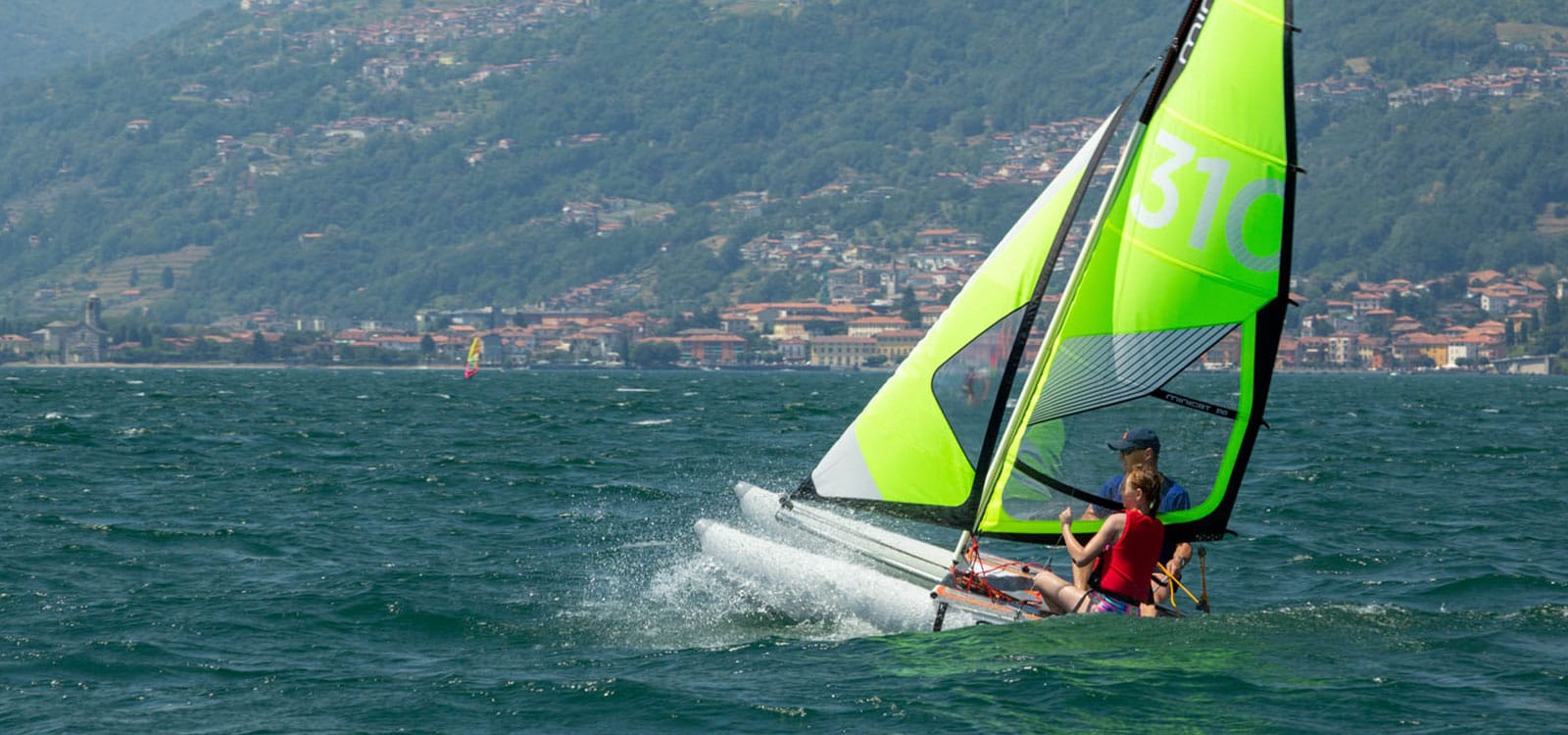 MINICAT 310 SPORT FEATURED ACCESSORY
PUMP UP YOUR
NEXT ADVENTURE
Pumping up a MiniCat is absolutely possible with the included hand pump, but Red Beard prefers letting technology do the work for him.
DELUXE
INFLATOR PUMP
$149
The Deluxe Inflator Pump is the perfect companion for MiniCat boats. These boats need a lot of air to fully inflate, doing that by hand is a chore and is much slower than using this automatic pump. Hook the pump up to a 12v source and set the dial to the pressure needed (.25 BAR / 3.7 psi) and press the 'On' button. The 2-stage pump will start to inflate with its high volume stage, then click to the high pressure stage and automatically stop when the proper pressure is reached.
Benefits:
2-stage pump for fast and accurate inflation
Lightweight and easy storage in included storage bag
Fits the MiniCat inflation valve (use the MiniCat hand pump gasket for a perfect seal)
Work on other assembly procedures while the hulls are inflating to shorten assembly time
Accessory Kit Includes:
Bravo BTP 12 Deluxe Inflator Pumps, 1 Soft Carry Bag with Shoulder Strap, Assorted Adapters Including Halkey-Roberts Adapter, Alligator Clamps for Attaching to Battery or Battery Pack, 1 Year Warranty Serviced by West Marine.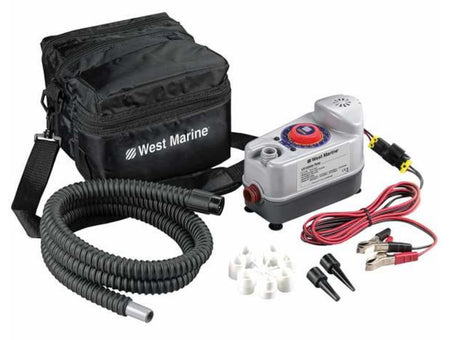 Additional Accessories
MiniCat has been at this for over a decade and after thousands of boats sold they have created the largest selection of accessories of any inflatable sailboat manufacturer. With a large selection comes a bit of confusion about what accessories you need and what accessories you don't. The last thing Red Beard wants is for you to buy something you will never use!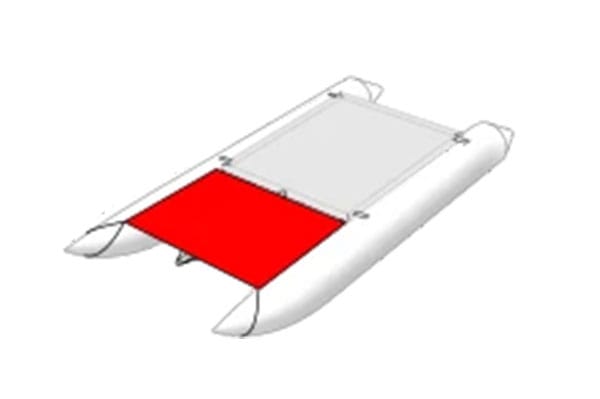 Front Trampoline
The Front Trampoline for the MiniCat models are fantastic. They cut down on spray, and instead of being just a netting, it is shaped like a bag. A great storage option that'll keep the main trampoline uncluttered!
$195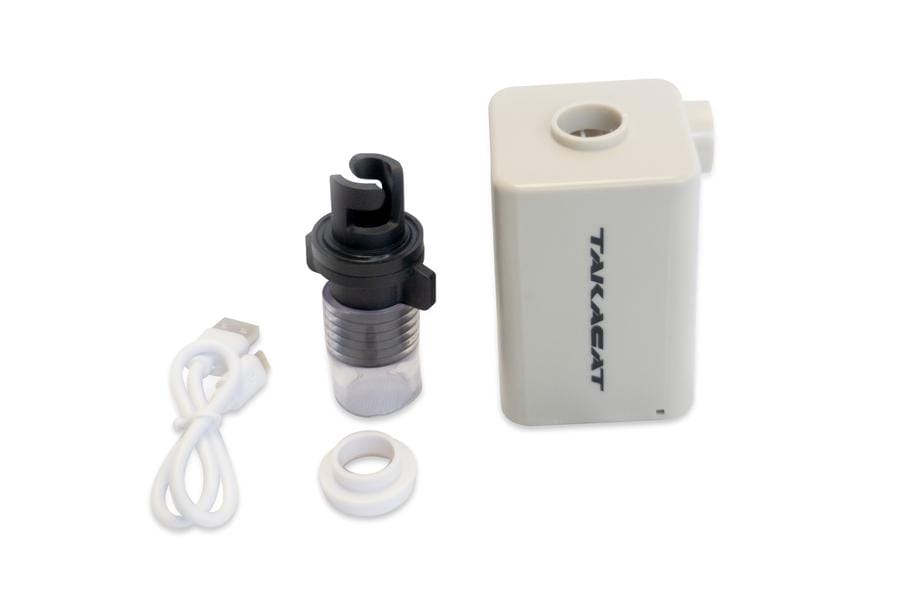 Takacat Volume Inflator
This fast and easy battery-operated inflation pump is easy to use, smaller than a soda can, and has a built-in battery that will run the pump for a total of 45 minutes. It will work with any boat that uses a Halkey-Roberts valve. The pump fills most of the air volume in the chambers, so you only need to top up the pressure with a hand or foot pump (usually included with your inflatable boat).
$59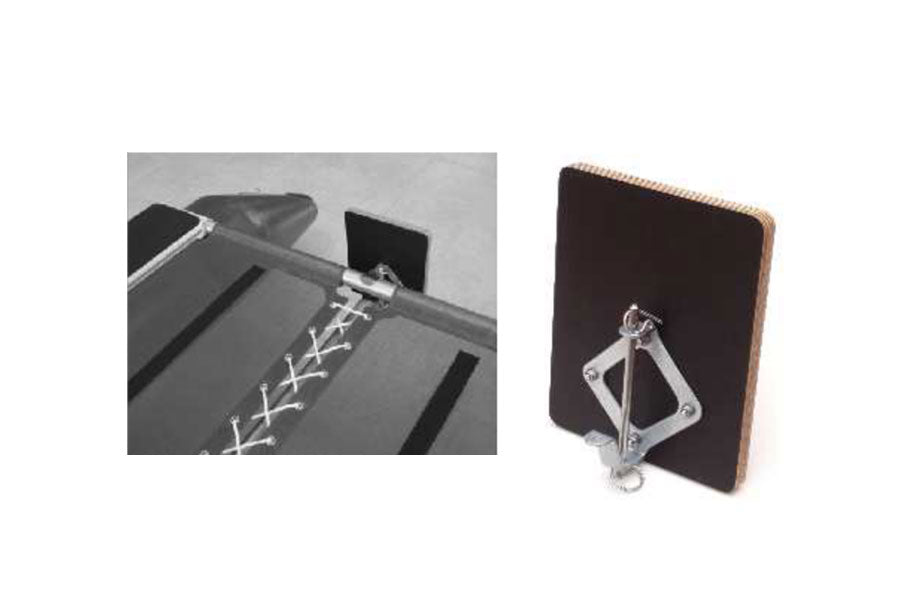 Motor Mount
This is pretty straightforward. If you think you will need a motor for the MiniCat this is the accessory for you! Pair this with the EP Carry outboard and you have a dual purpose boat for maximum versatility. This engine support attaches to the rudder mount, you will need to store the motor on the bow when you are sailing.
$165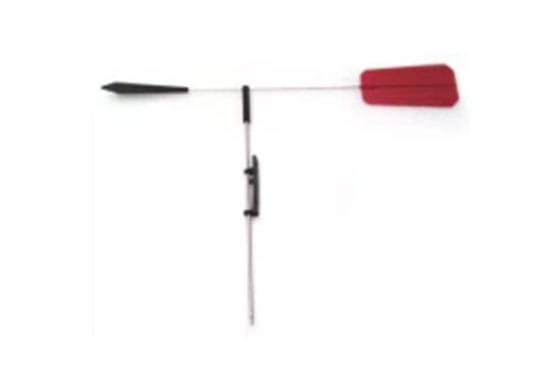 Wind Vane
A great tool for sailors who prefer a wind indicator at the top of the mast. Points to your apparent wind direction while underway so you know what point of sail you are on.
$55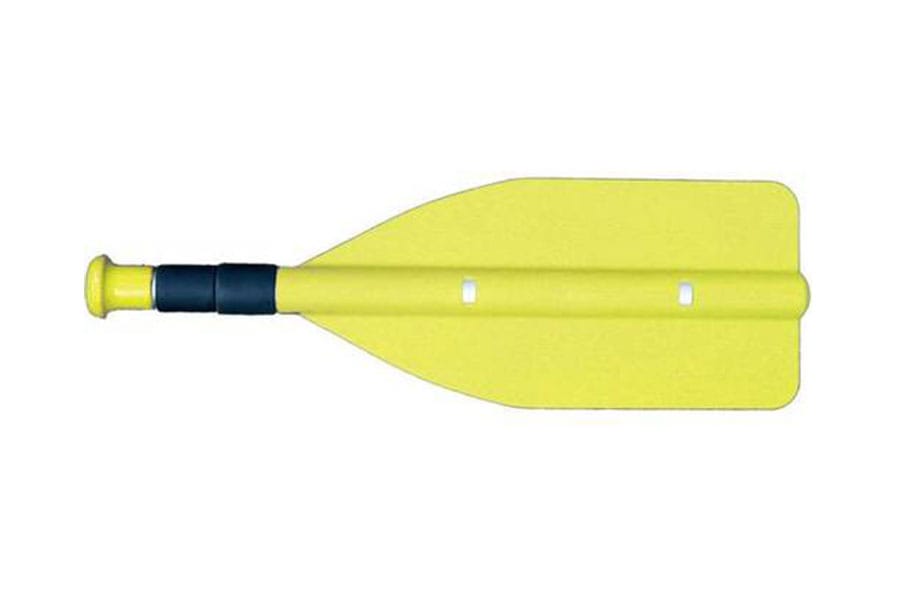 Telescopic Paddle
This paddles takes up a little more room than a shoe box, but is nice to paddle the boat along. The MiniCat boats are all very lightweight and move very nicely under paddle.
$30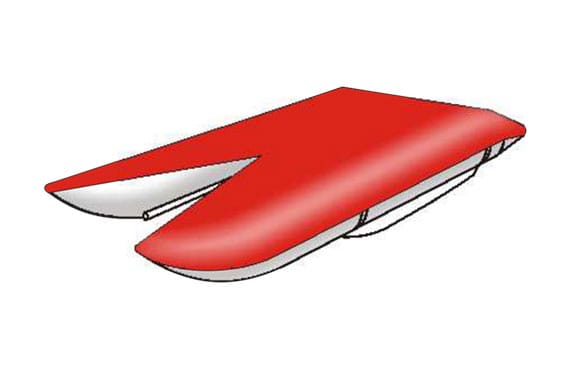 Protective Boat Cover
This is for those who want to leave their MiniCat assembled for weeks or months at a time. It's good at keeping sunlight exposure at a minimum, or for keeping the bird poop off of your trampoline. Red Beard recommends tying down or weighing down the boat to prevent the wind knocking the boat over.
$500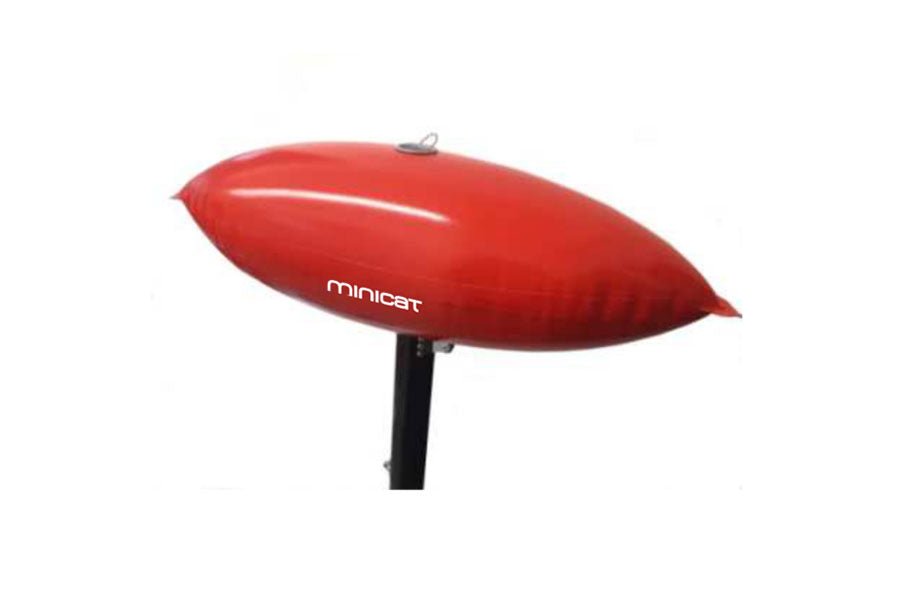 An inflatable mast float that is aesthetically pleasing and functional if you capsize your boat. This will prevent the boat from flipping upside down, aka turtling, making it much easier to right and get back to sailing. An empty milk jug can be used as a budget mast float, but that is much less aerodynamic and high tech looking.
$300 This accessory exchanges the one large wheel bag with two smaller bags that split the 77 pound boat into two ~40 pound bags, which can be more manageable for the average person or to meet airline checked luggage requirements.
$200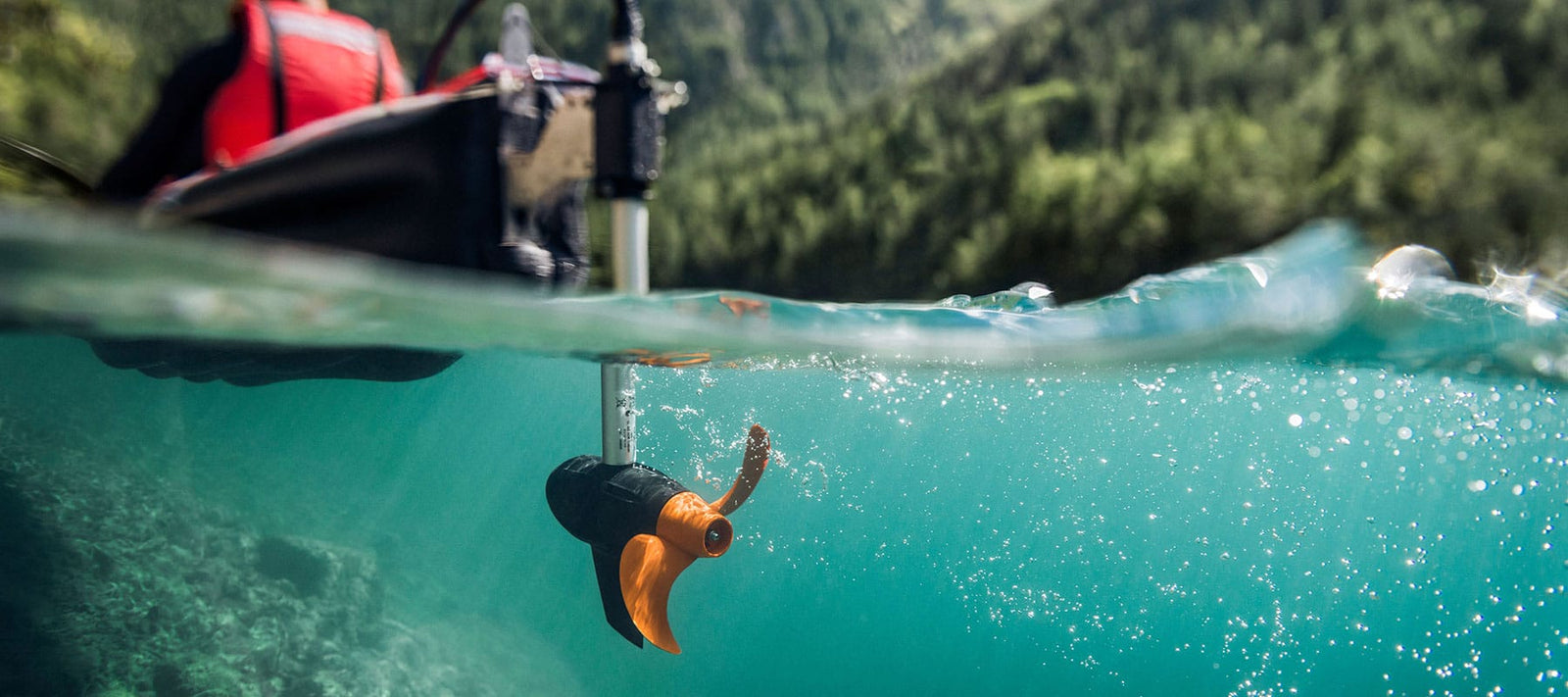 OUTBOARD MOTORS
SOMETIMES YOU
JUST NEED A LITTLE PUSH
For the times when the wind dies down, or when you want to use your MiniCat as a tender, it's easy to add an outboard motor. Lower the outboard into the water, press the power button and off you go. To use the Minicat as a tender we recommend a motor up to 3 hp with a long shaft (20" or longer) like the EP Carry Motor or Torqeedo 1103CL below.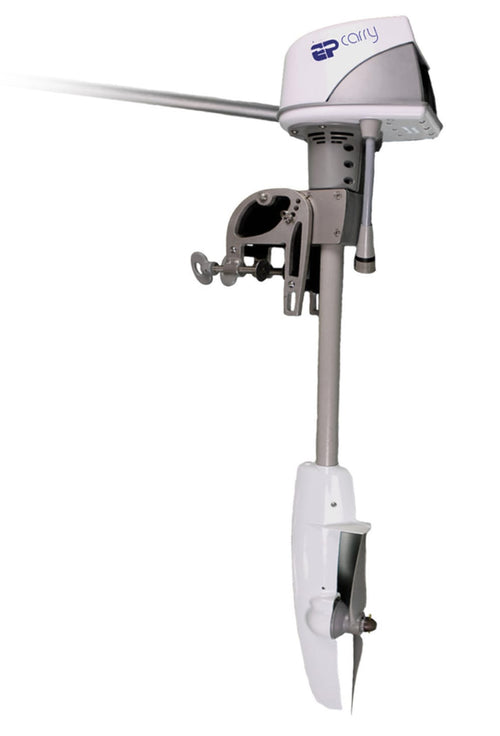 EP Carry Electric Outboard Motor
$1600
The MiniCat is very easily pushed along by a simple paddle, but to make way against wind, waves and currents, sometimes it is necessary to use a small outboard. The Electric Paddle is lightweight, waterproof and a great value. This motor can even be charged via solar while underway for an extended range! The EP Carry is the motor that Red Beard recommends for all MiniCats.
Benefits:
Only 21 lbs including battery.
Available in three shaft lengths. Long is recommended.
The easiest motor to lift, mount, and operate on a transport dinghy due to its compact size.
Efficient battery charges quickly and gives you plenty of range to get out and back without breaking a sweat.
Kit Includes:
One long shaft motor, Soft motor carry bag with shoulder strap, 5-hour smart charger, Lock and key for security, Buoyant lithium battery in a drybag, and a 2-Year warranty.
Additional Compatible Outboards
Sometimes the motor we recommend isn't the best for everyone's particular needs or situation. Please check out these other motors for alternatives to our above recommendation.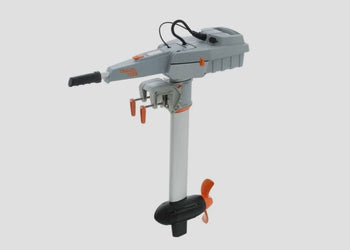 Torqeedo 1103CL
This 3HP equivalent outboard is more powerful than the EP Carry, but it comes at a higher price point.
$2699
Resources & Support
Warranty & Registration
Assembly Information
Reviews
Minicat Warranty
Full 24-month warranty for defects in material or workmanship. Contact Red Beard Sailing or the dealer you purchased from to file a warranty claim. Be sure to fill out the warranty registration from in the back of your Owner's Manual and email it to us or directly to MiniCat to activate your warranty.
Assembly Video
Don't see what you need? We carry a full line of MiniCat, and other sailing accessories for your next adventure.