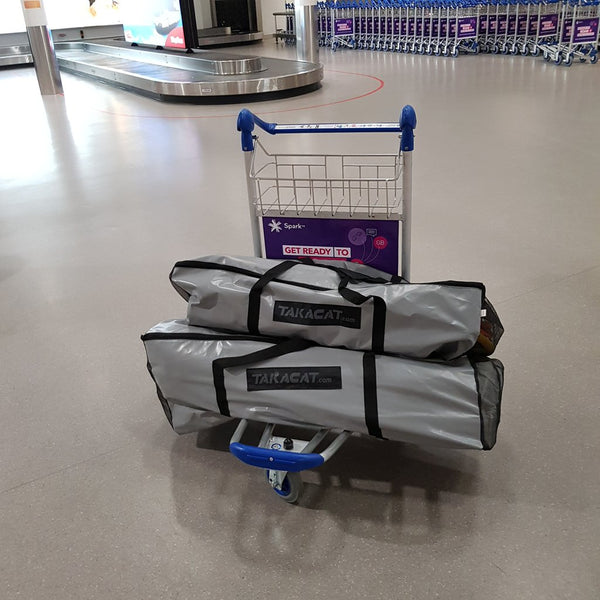 One of the distinguishing features of the Takacat Lite X is how easy it can be stored in two bags. This makes the boat ideal for enthusiasts with limited storage space, smaller vehicles, or a desire to travel with their Takacat.
Below is an easy-to-follow guide for packing away the Takacat Lite X, as well as a video tutorial.
Tools You'll Need:
Takacat Lite X storage bags
Instructions for Packing Away Your Takacat Lite X
1) Make sure your Takacat Lite X is completely dry and clean before deflating.
2) Remove the following parts prior to deflating: tube transom bars, outboard motor mount, oars, floor insert.
3) Deflate the boat by opening the Halkey Roberts valves; see the infographic below about how these valves work.
4) Beginning with the bow, fold the boat into thirds.
5) Roll-up side to side, pushing out any residual air as you go.
6) Once rolled up, wrap the webbing straps around the rolled-up boat to hold shape. The straps also make lifting the boat easier.
7) Place the opened storage bag over the top of the rolled-up boat.
8) Roll the bag over and zip it closed.
9) Place tube transom bars and other accessories inside the second storage bad and zip it closed.
10) Store bags in a dry area without direct sunlight.
Tube Pack-Down Sizes of Takcat Lite X Models
Transom Pack-Down Sizes of Takcat Lite X Models