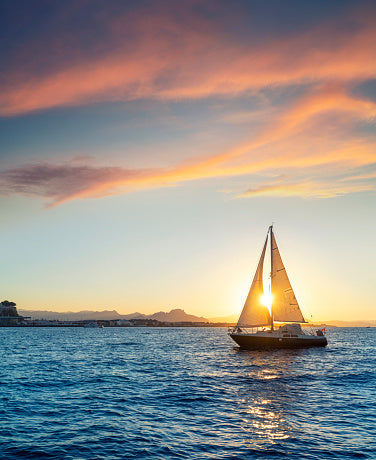 Thinking about buying a traditional boat instead of a non-inflatable boat? You might want to think again. Sure, traditional boats have a few features and perks that make them unique. However, when you consider the cost of owning a traditional boat, an inflatable may be a smarter option. 
With traditional boats, you will pay more in operational costs, maintenance, insurance, and storage. You'll also fork over more money for accessories and equipment. Inflatable boats such as MiniCat, Happy Cat, Takacat, and Grabner can provide just as much performance and fun but at a fraction of the cost. 
Why Do Traditional Boats Cost So Much?
Before we break down the cost of boat ownership, it's important to provide some context that helps you understand why traditional boats are so expensive. When it comes down to it, the cost of a boat is largely dictated by these five main factors: 
1. Size and Boat Type
While size is not the main factor here, it stands to reason that a larger boat will often be more expensive simply because it requires more materials. The type of boat you buy will also determine the price tag. Boats with cabins and enclosed cockpits are likely to be more expensive than open-top boats. High-performance boats can increase the price by several thousand dollars.
2. Brand
Sometimes, a boat's brand can influence how much a buyer will spend on a boat. While it is true that some boats live up to their reputation, others are high-priced based on reputation alone. Popular manufacturers such as Bertram, Boston Whaler, Chaparral, Grady-White, and Lund come with a pretty hefty price tag. However, they do not necessarily deliver a better boating experience.
3. New vs. Used
A new boat is expected to depreciate significantly 7 to 10 years after purchase. After that ten-year mark, you can generally expect your boat to be worth $100 per foot. So, if you are planning to buy your boat brand new, expect to pay several thousand dollars more than buying a used boat. 
4. The Local Market
Like any other product, boats are far more expensive during periods of high demand or in high-demand areas. You could buy a boat for $100,000 during the off-season or offshore. You could pay $500,000 for that same boat during boating season or in a market closer to a lake or the ocean. 
5. Features and Accessories
Like any car, it is possible to buy a base model boat. However, one of the selling points of expensive boats is the features or accessories they provide - and these add-ons can run up the price on a boat quickly. Popular (and expensive) features include
| | |
| --- | --- |
| | |
| | State-of-the-art Chartplotters |
| | |
| Custom finishes and flooring | |
| | |
| | |
| Satellite Weather Tracking | |
How Much Is the Sticker Price for a Traditional Boat?
As we stated before, how much you pay upfront for a boat is determined by the type of boat, the boat size, and how many features you load on it. With that in mind, let's take a look at the average cost of popular boat models, including inflatable boats:
| | |
| --- | --- |
| Boat Type | Average Starting Cost |
| Jon boat | $500 |
| Inflatable boat | $1,000 |
| Inflatable catamaran | $3,000 |
| Pontoon | $15,000 |
| Deck boat | $20,000 |
| Motorized Fishing boat | $25,000 |
| Airboat | $30,000 |
| Small cabin boat | $50,000 |
| Speed boat | $75,000 |
| Sailboat | $80,000 |
| Trawlers | $90,000 |
| Houseboat | $100,000 |
| Cabin cruiser | $100,000 |
| Yacht | $300,000 |
What Am I Going to Have to Pay Upfront to Buy a Boat?
You may not realize that when you buy a boat, you don't just buy the boat. Instead, you're really purchasing is the lifestyle of owning and maintaining the boat over its expected lifespan. Many of your expenses occur right out of the game. 
Transportation
If you buy a boat, the first thing you need to know in advance is how you will transport that boat to and from your destination. You may need to buy a truck/SUV and a trailer. A trailer can cost between $500 and $10,000 - and, by the way, they also come with their list of accessories. If you decide to buy a used truck, you can still expect to pay as much as $15,000 to $20,000 minimum for a decent model. 
Education & Boating License
Most states require some type of boaters' safety course and operator's license depending on what type of boat you have and where you live. Many states combine the cost of safety courses and licensing. On average, you can expect to pay between $30 and $100 for both. 
Equipment & Accessories
Always remember to buy safety gear (such as life jackets, paddles, horns, signal flares, etc.) buy a boat. Outside of your safety gear, you may also want to buy some accessories upfront so that your boating trips are more fun. However, the cost of boat accessories can add up quickly. 
Boat Fuel
If you own a motorboat, you better set aside a good portion of money in your budget for fuel. And quite often, the price of fuel on the water is much higher than you would pay when filling up your car at the gas station.
Although the price of fuel varies across the country, $2.50 a gallon is a fair average rate - it is higher than that in many places. Motorboats use between 20 and 30 gallons of fuel per hour when cruising at speed; average that to 25 gallons per hour, and a five-hour trip could cost you more than $300 per outing.
Once you consider the upfront cost, you are looking at thousands of dollars of added expenses just to get the boat on the water. Also, if you buy the boat used, you may have to pay for some inspections and repairs to get the boat back in top working condition. 
Long-Term Expenses
Now that we have the upfront expenses out of the way, you'll still need to deal with the long-term expenses. After all, if you're going to pay a hundred grand to buy a boat, you want it to last. 
Your long-term costs will vary greatly between a motorized and non-motorized boat. For instance, you'll be performing more maintenance on a speed boat than you will on a sailboat. Some long-term expenses may include
Repairs and Maintenance
When estimating your annual maintenance costs, it is good to use the 10% rule. Generally speaking, it costs 10% of the purchase price of a used boat to maintain it every year. If you buy your boat brand new, ​​it costs 2% of the price of your new boat to maintain it every year. There are six main things you need to add to your checklist when maintaining your boat.
Engine

The boat's hull and topsides

Electrical systems

Plumbing and HVAC systems

Moving parts

Canvass and upholstery
While you can perform some maintenance on your own, other types of maintenance are better off in the hands of a professional, although it will cost more. Most boaters leave annual boat care and maintenance chores to professionals, like changing engine oil, lubricating fittings, and painting the hull bottom. 
Storage
Before you even get the boat home, you will need to have a long-term plan for storing it. If you decide to store it at home, you may have to build a separate storage shed for your vessel. Some storage facilities offer units for larger items such as boats and cars. Or, you could join a marina or boating club. Regardless, you can expect to pay a lot to keep your boat out of the weather. Mooring fees range from $3,000 to $15,000 annually.
Boat Insurance
Boat insurance is not only expensive - it's also complicated. Insurers account for a variety of factors before giving you a quote. Your cruising area determines coverage, driving record, liability limits, deductibles, add-ons, and whether you took a boating safety course. With that in mind, average annual premiums at $200 to $2500. 
Hidden Costs
Before we finish out, it is important to know that there are a few costs of owning a traditional boat that people don't bring in most conversations. While these costs are not always significant, they add to the total price of ownership. 
Depreciation
You may not see depreciation as an expense, per se, but you'll feel its sting at resale. Remember, unless you buy a marquis or historical boat, it's NOT an investment. Therefore, you will lose money at resale, which is the same as an expense from a financial standpoint. Several factors determine how much your boat will depreciate over time, including boat type, use, condition at resale, and current market value.
Extended Warranty
Chances are, your boat will come with some kind of warranty. You'll also have some options for buying an extended warranty either at the sale or down the road. Warranty costs differ based on the type of warranty you get. You can break down common warranties into the following main categories:
Bow to Stern Warranty

Structural Warranty

Hull Warranty

Blister or Gel Coat Warranty
Most defects in new boats and engines show up within the warranty period, so spending money upfront on a service contract may not make sense. You need to look into the reliability history of your vessels and engines. Some models with higher-than-average problems might necessitate an extended warranty.